Build internal tools on top of existing data sources
Gayatri on January 12, 2022
Speed is everything in business. Moving quickly is a natural instinct for entrepreneurs and business owners. Speed is and has been a critical factor in building a successful business — and this is not just limited to your speedy order deliveries. It could mean faster sending of invoices for on-time payments, faster refund executions, faster request approvals, instant access to business information. 
However, it is not merely a matter of moving quickly. It requires adopting agile methodologies, emerging technology, and building a better internal engine that keeps powering strategic business decisions.
Enter – internal tools, or tools facing the internal stakeholders and operations of the organization. 
Internal tools are software designed to operate the internal functions of an organization. These tools have various functionalities like platforms and libraries built to increase the productivity of other product teams or CRUD interfaces that enable customer support to resolve support queries. They are built to improve day-to-day enterprise operations, remain competitive, expand competitive advantage, and drive value for the business. 
Using low-code internal tools to enable speed
Right internal tools help move faster and more efficiently. Needless to say, this kind of speed is enabling high-growth organizations to outpace the competition and succeed in tough markets. 
Whether it's a simple dashboard, a CRM to help out your sales team, or a full-blown admin panel, the right tool will always bring immense value to the table. Through them, you'll not only increase the efficiency of your teams, handle data better, and streamline your processes, but consequently, you'll also be able to achieve an all-around better customer experience.
Building these tools, however, can often be a hassle for any company. It takes time, money, and development resources – all of which is predominantly spent on new feature development, site maintenance, and customer-facing aspects.
Low-code provides a way out. Low-code internal tool builders aim at automating all the boilerplate parts of building internal tools, all the way from integrating data sources to creating front end for user interactions. Further giving its users the opportunity to customize the tools as and when necessary
Let's take a look at how fast-growing startups are using low-code to build internal tools and how you can too build internal tools that enable business agility. 
Check out the most popular use cases of internal tools built using DronaHQ
Make data visible and available in one place for customer success teams Every time a customer submits a query, the team would have to seek out and comb through all the relevant data by hand to take appropriate action and resolve the query. The information could be sitting in their customer database, their payment gateway, the e-commerce platform. By creating an internal tool, they have eliminated the manual effort as the tool joins data from various data sources and reflects it on a unified front end application. Endy Sleep gives customer success team instant access to essential data, speeds up customer ticket resolution.
Modernizing employee engagement A Japan-based beverage company that needed to launch sales engagement tools chose low-code over traditional development over traditional development. With DronaHQ's low-code platform, they gamified salesforce engagement to derive essential KPIs using game-based task management for processes like store certifications, new product promotions, and product knowledge. With their innovative solutions, they are encouraging participation and productivity of the employees towards the company. A low-code centre of excellence is helping the team realize major productivity gains and reusable functionality, letting them create production-ready tools in shorter spans for a wide range of use cases.
Give non-technical teams control of their workflows As important as internal tools are, studies show that most engineering teams are too busy to tackle new internal process automation needs. They already have their hands full with external feature requirements, app maintenance, and development.Such inefficiencies were keeping a young startup from improving its internal processes or it had to monopolize engineers who would have been better allocated to customer-facing challenges. Either way, a big problem for a high-growth startup.That is when the team used low-code to enable non-technical employees to build any tool they wanted. There was no longer a trade-off between internal tool development and external feature development; non-technical employees could handle the former while engineers could handle the latter. To give an example, HR created an internal tool to do away with manually gathered data from timesheets and track a spreadsheet – a process that often took five days to finish otherwise.
Building internal tools with DronaHQ is easy
1. Lay the Foundation
Just like building houses, while building internal tools start with listing out the team's requirements from the internal tool you need. Start asking broad questions. What problem do we need to address? What data do you need to collect? Which existing database do you need to build the tool on? How does the piece of data relate to each other—do you need to sort products by category or contacts by company or industry, for instance? Who will be interacting with the tool?
Keep all the answers ready. Once you're ready with clear requirements from the tool, let's get to building internal tools.
2. Pick a data source
To build an internal tool over your existing database, you can start by integrating the source using a ready connector or configure the API in a couple of steps. Using low-code platform DronaHQ, you can connect to anything with a REST, GraphQL, or a gRPC API.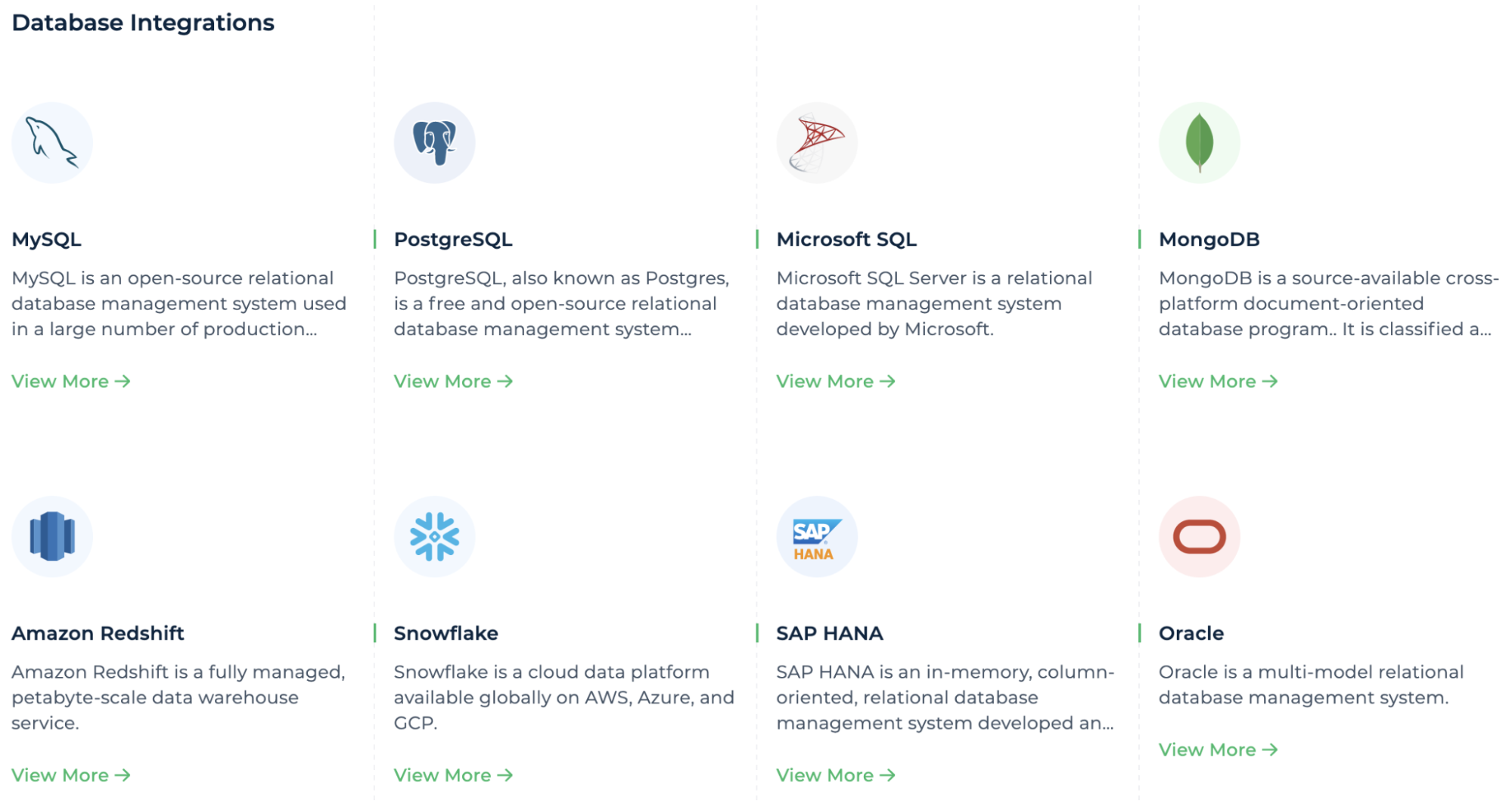 You can also configure data environments to define staging, production, beta, or any environment you need as per your app development and lifecycle management needs.
Each one makes it easy to make forms, collect data, and sort through that data. Plus, they each have features to make them unique. Browse through this list of ready connectors on DronaHQ. 
3. Pick a ready internal tool template
Now you can start building a frontend from scratch by dragging and dropping UI controls in the builder. Alternatively  you can also choose from a list of ready to use internal tool templates. We take an example of a sales dashboard in which all the required features like charts, statistics have been added.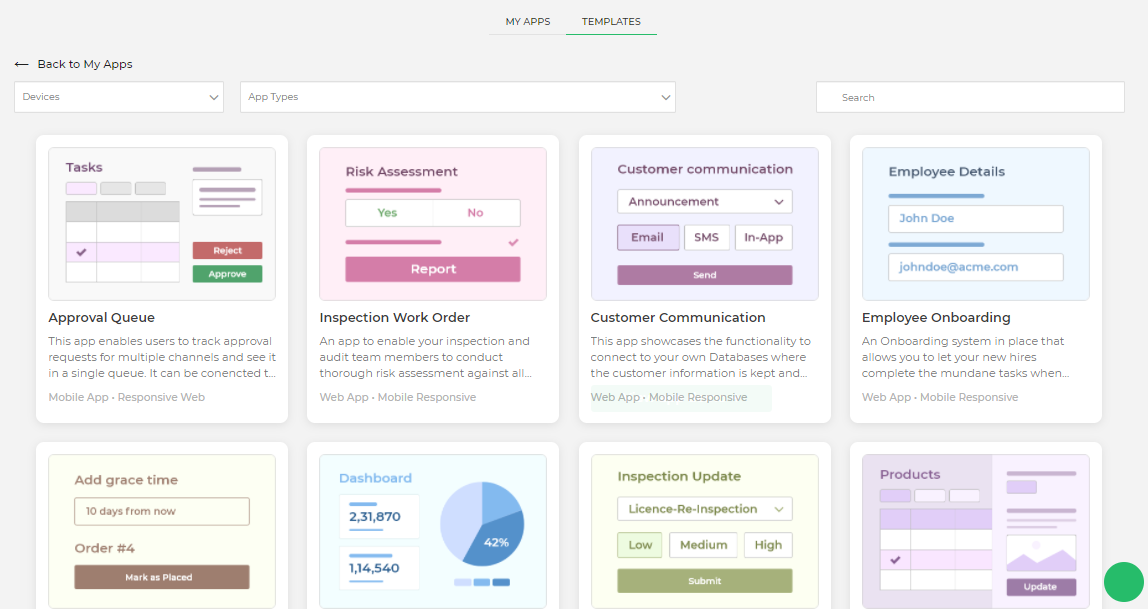 All that needs to be done with this template is to bind the UI controls to the data source we integrated in the previous step.
If you want to see what else low-code internal tool builders have to offer, here are some quick how-to guides on building: 
SendGrid Email Tool, Airtable Frontend, Employee Self-service Portal, MySQL Client, MongoDB Admin Panel, GraphQL Client. 
Head on over to DronaHQ and check out all our resources and features. Sign up for free today!
Copyright © Deltecs Infotech Pvt Ltd. All Rights Reserved