Fastest way to build a MySQL GUI
Connect to MySQL database instantly. DronaHQ gives you an intuitive drag-and-drop interface to build custom MySQL front-end in minutes.
Easily design visual interfaces with a MySQL GUI
Connect directly to your MySQL database, issue commands via a GUI and easily manage the data in your MySQL tables. For example, you can fetch customer details from MySQL into a tablegrid and add button that, when clicked, runs a SQL query to mark the customer as qualified for special offers.
Build CRUD apps on MySQL
DronaHQ gives you a complete set of building blocks to create custom apps on top of MySQL database. Run the tool as a web application or a mobile app.
SQL Query Builder
Query Builder control enables you to query your MySQL data for scenarios where you need server-side filtering based on criteria defined at run time.
Build internal tools (web & mobile) on top of MySQL
From a basic MySQL CRUD interface to a complex customer onboarding app, display data in the most convenient way and switch between several of them.
MySQL Admin
An admin panel for reading from and writing to your customer data, built on MySQL. Edit, and add users, orders, and products.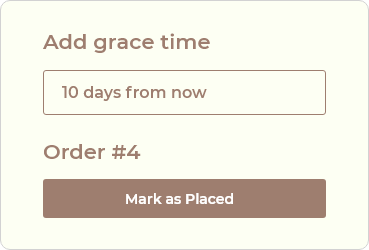 Customer Support Tool
MySQL tool to pull customer data, update order status, refunds, interact with customers and provide the necessary support.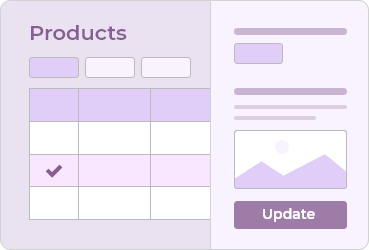 Sales Catalogue
Build public pages which are catalogs of products. Manage product trials for customers, pull and update necessary information.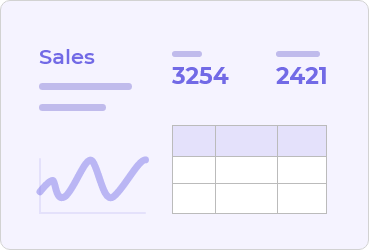 Inventory Tracking
An advance MySQL inventory management tool for teams to gain insight into the stocks and provide demand forecasts.
Connecting DronaHQ to MySQL takes just a few minutes. Lets you to build user interfaces quickly on top of your MySQL database. DronaHQ also makes a great choice for team collaboration. Connect frontend to your data sources and create cloud-based solution that meets your team's needs.

Granular User Permissions
Securely share your SQL database apps with unlimited users. Grant role-based or user-based permissions to view, edit, add or delete records.

Full featured MySQL Client
Run queries, inspect database objects and organize, transform, and visualize your data with custom controls instead of getting stuck in a CLI.

Any SQL, Any Database
Create a unified client for MS SQL, PostgreSQL, Oracle, MongoDB, and even Google Sheets using direct connectors, REST APIs, or GraphQL APIs.

Easy Backend Logic
DronaHQ gives an easy to use interface to schedule query reruns, trigger event-based queries, transform data, or execute any other logic.
Live Demo: Building a MySQL GUI
Explore a live MySQL Admin Panel design demo: How to build an IT asset possession admin app  in less than 30 mins using DronaHQ.
Visualize, manage, and manipulate MySQL data in real-time
Take a 14-day Free Trial today. Create an account instantly, connect your systems and build MySQL tools. Use drag-and-drop builder with pre-built UI controls like Tablegrid, detail views, buttons, text inputs and more.
Book a demo
Schedule a 1:1 session with an expert from our team.
User based pricing
Simple, transparent pricing with no hidden fees.