Automation apps for productive teams
Connect internal tools, apps, and databases to automate workflows end-to-end or simply sync data between two apps.
Visualize and design automations

Easily connect apps and create automations for simple to complex workflows on a visual workflow builder. Configure time-database-webhook based triggers.
IT staffing company automated notification for timesheet entry, and leave approval reminders.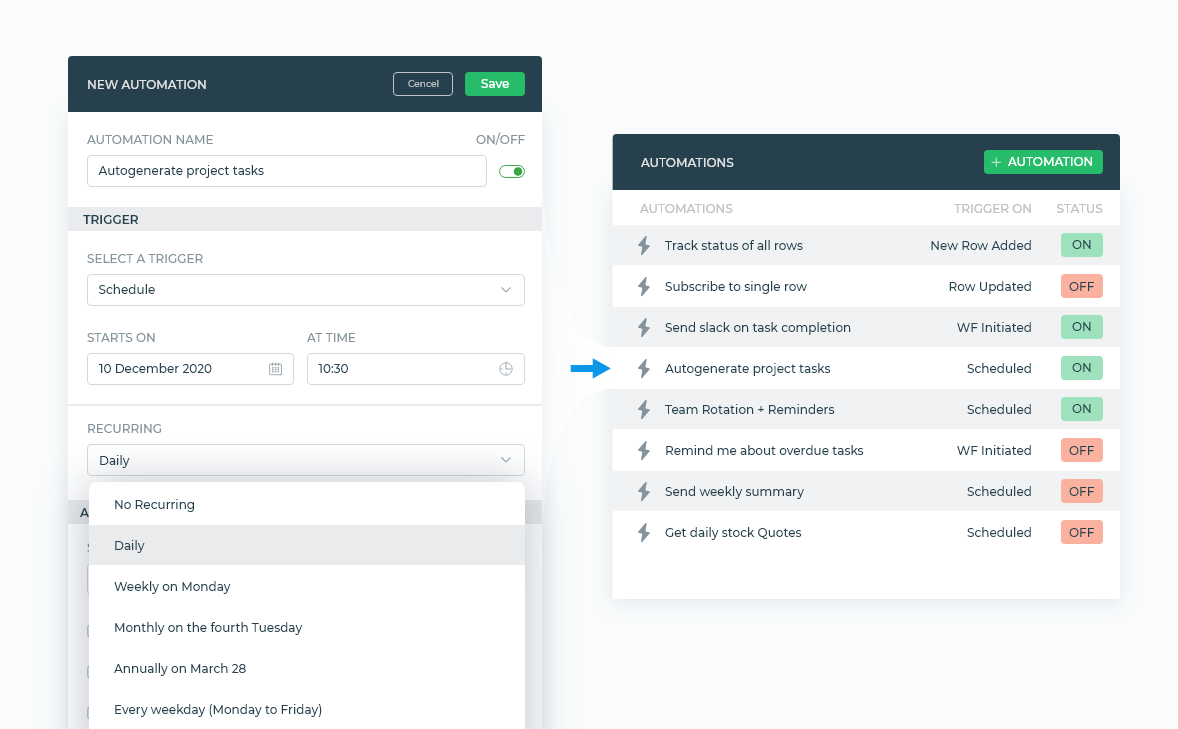 Configure powerful flow of tasks
DronaHQ supports most commonly used data transformation functions for working with text, numbers, dates and lists when you need to sum up multiple values, move a date, or calculate interest.
Operations manager automated low-inventory alerts and stock purchase request and invoice generation for approvals.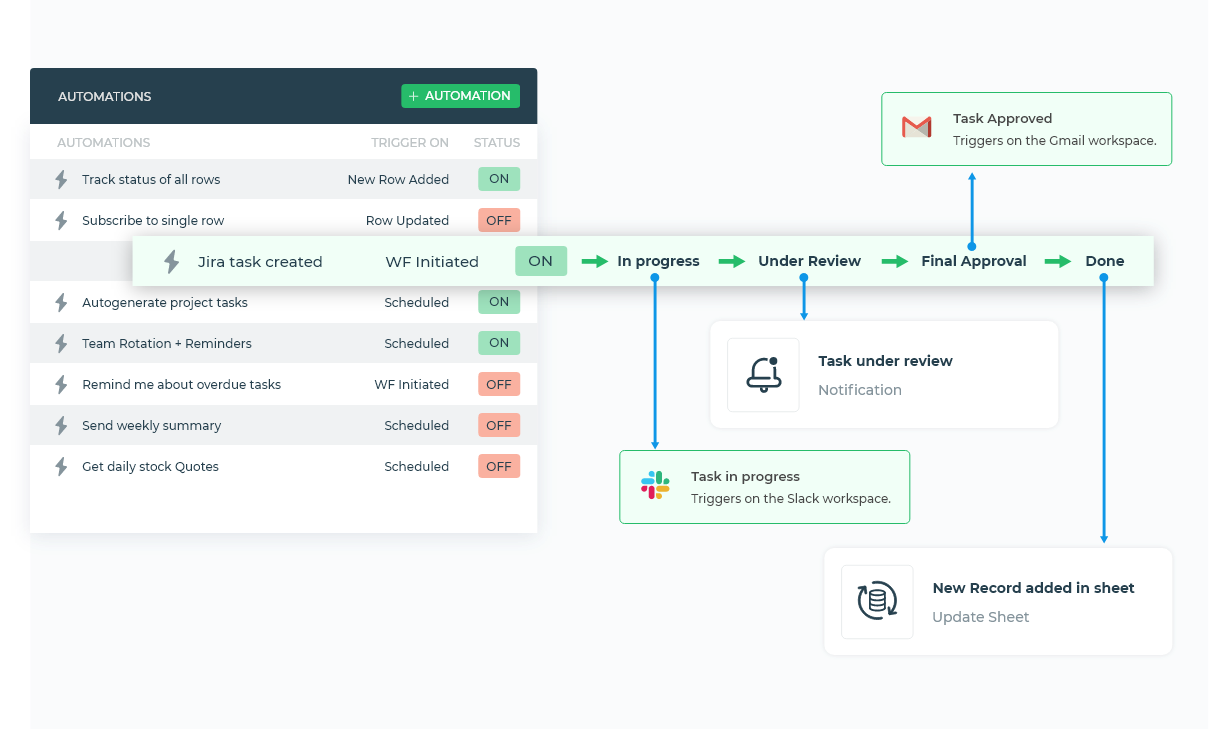 Connect to Databases, APIs and third party apps to automate processes across most popularly used tools and databases like MongoDB, Postgres, Airtable, Google Sheets, HubSpot, Zendesk. New ones are added regularly.
Marketing head generated weekly automated reports with data from Google Analytics, Google Ads, HubSpot.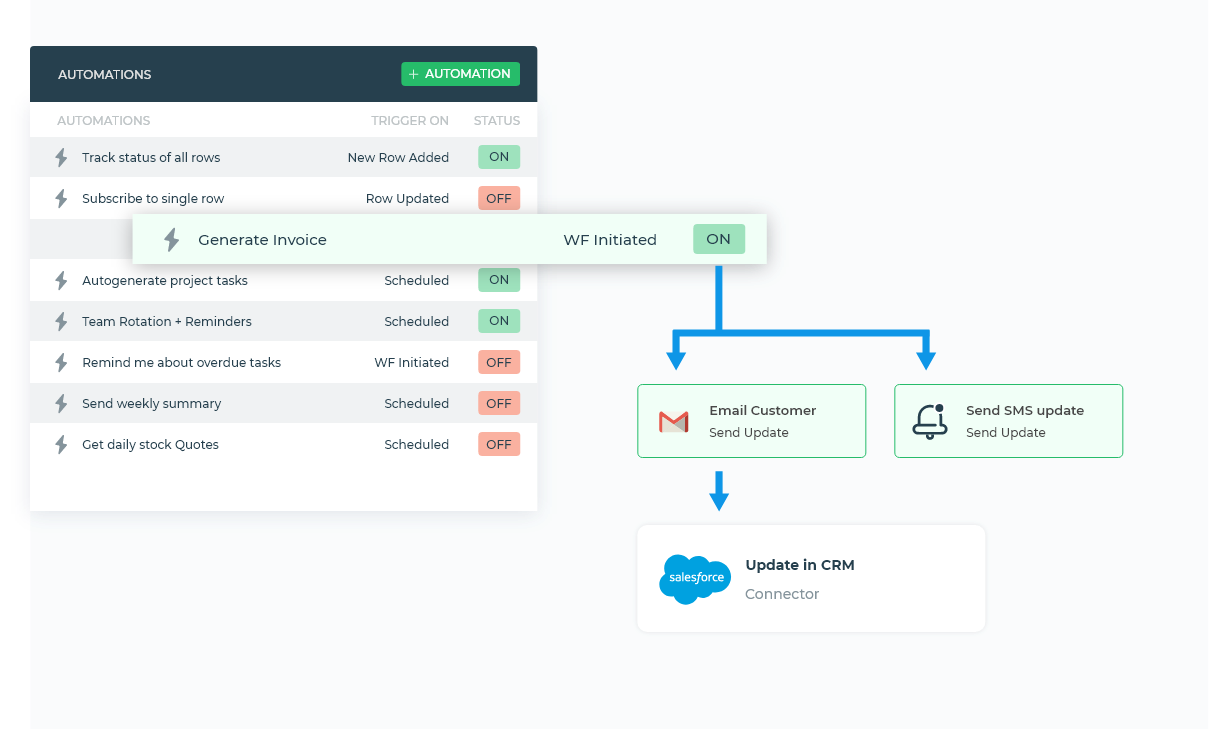 Connect apps and automate workflows
Popular automation recipes being built on DronaHQ

DHQ + MongoDB
Read from and write to accounts data in MongoDB

DHQ + HubSpot
Lead generation forms, website embed and CRM integration

DHQ + Slack
Make new employee onboarding seamless from Day 1

DHQ + Airtable
Set up alert mechanism for when inventory is low on Airtable
Configure triggers, connect data, set up the automation within minutes

Automation Triggers
Schedule time-based automation to trigger workflows hourly, monthly, yearly. Or configure webhook triggers to use events in your apps to initiate your workflows.


Secure & Reliable
Your data never leaves your servers. DronaHQ comes with ISO 27000 and SOC II certification. Build automations reliably on enterprise-grade platform.

Share & Collaborate
Automations created on DronaHQ can be shared across all members of the team to edit and reuse. Control who accesses automation with user and role based permissions.

Automation Analytics
Monitor active automations on DronaHQ with a dedicated automation Analytics module. View run logs, task status, task initiator, and lots more.
Take a 14-day Free Trial today
Create an account instantly, connect your systems and build and publish automation apps.
Book a demo
Schedule a 1:1 session with an expert from our team.
User based plans
Simple, transparent pricing with no hidden fees.