Securely generate and distribute PDF documents
With DronaHQ's PDF creator, you can create customized PDF documents for reporting, invoicing, contracts and more.
Connect to Databases, APIs and third party apps or simply bring your CSVs into our built in DB – Sheets. Your data never leaves your servers and DronaHQ lets you query and bind all your datasources on demand whenever your app runs.
Design PDF documents 10x faster
DronaHQ's PDF creator provides unique tool to build customizable PDF documents that adhere to your branding and keep sensitive information secure.
You are in control of how the data shows, the image size, your logo placement, e-signatures, and even the font size and color.
DronaHQ give you an easy to use point-and-click solution to design your unique PDF templates using ready components like containers, columns, heading types.
Choose between portrait and landscape PDF orientation and design with over 18 different page types.
Fetch data from your DronaHQ apps, databases, 3rd party APIs to the PDF template using text and image variables.
Sensitive information carrying documents need recipients to pass verification to view or sign the PDF. Easily set up a unique passcode for each document recipient.
Find a ready repository of invoices, proposals, certificates, contracts, reports.
Instant report generation
Trigger instant PDF generation from your apps or DronaHQ automations. Variables used in the PDF creator will auto populate data and create unique PDF for its recipients.
DronaHQ offers free PDF document generation for up to 25 PDFs per month. This limit resets every month. Purchase more tasks to create more PDFs.
Sales invoice
Generator and email PDF sales invoice for your customers, partners, vendors.
Financial documents
Account opening, updating, or closing forms, bank statements, reports.
Contracts
Instantly draw up partnership contracts, employment contracts, and more.
Sales reports
Pull data from your sales tools to generate and share consolidate sales reports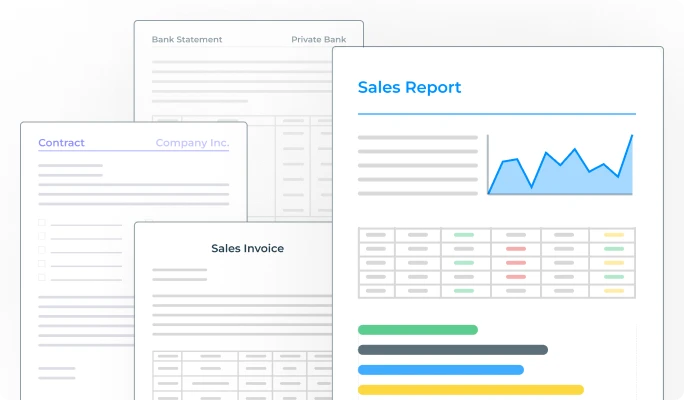 Create and share professional PDF documents securely
Avail simple and transparent task-based pricing.