NEW
Multiple pricing plans: Developer only | User-based | Usage-based Explore
Quickly build UI on top of any REST API data
DronaHQ gives a fast and simple way to design custom UI and connect to nearly any third party service that exposes its REST API endpoints. Configure the integration and create web or mobile based GUI for your REST API.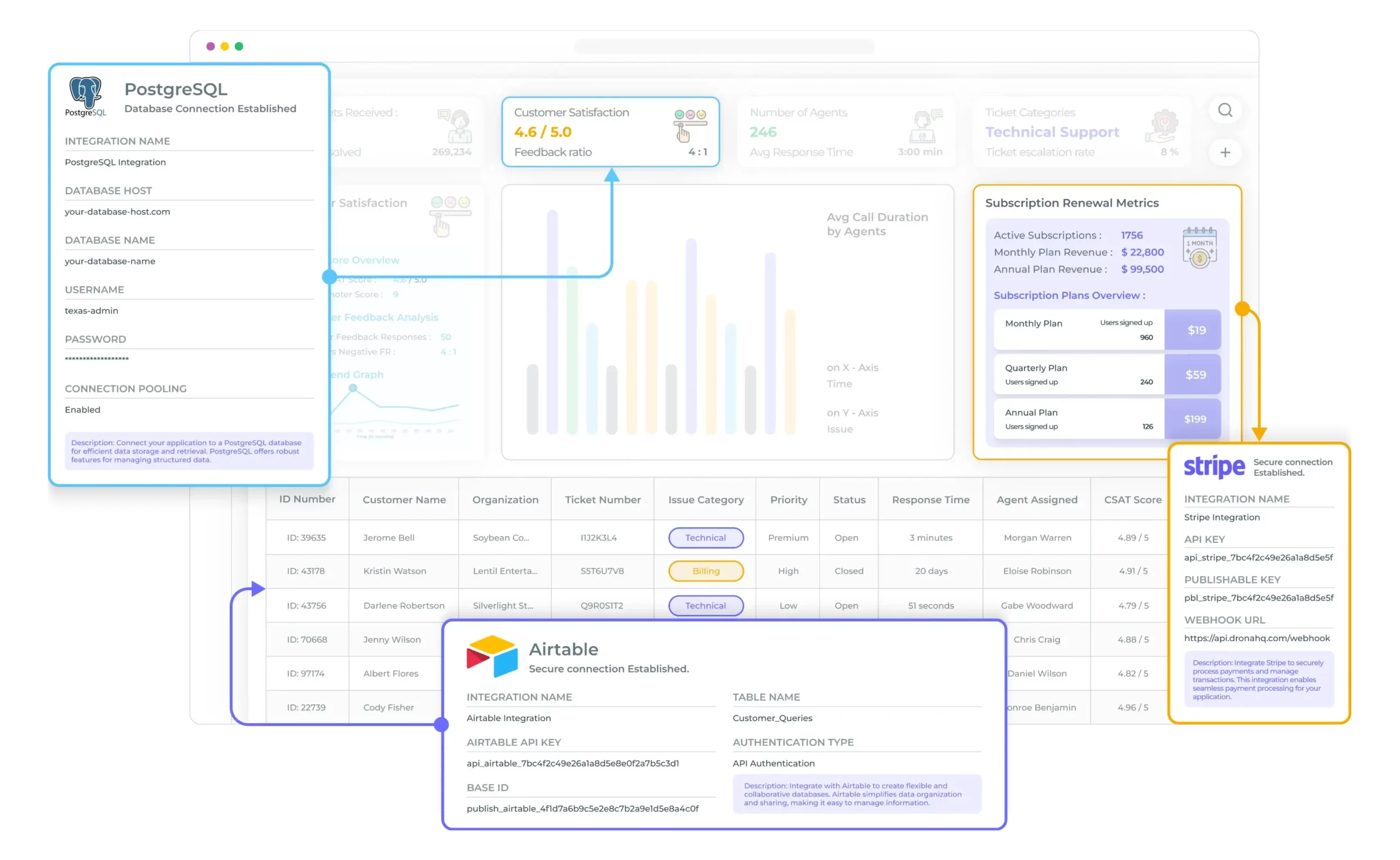 Advanced REST API UI builder for agile teams
DronaHQ has carefully handcrafted each piece of its front-end designer so you can create, deploy and run quality UI for APIs in the shortest possible time.
Quickly design with UI builder
Easily and quickly build your front-end for web as well as mobile using our visual drag and drop user interface builder. Pick from 100+ pre-built UI controls like table grids, charts, buttons, text inputs and more to build a GUI for REST API.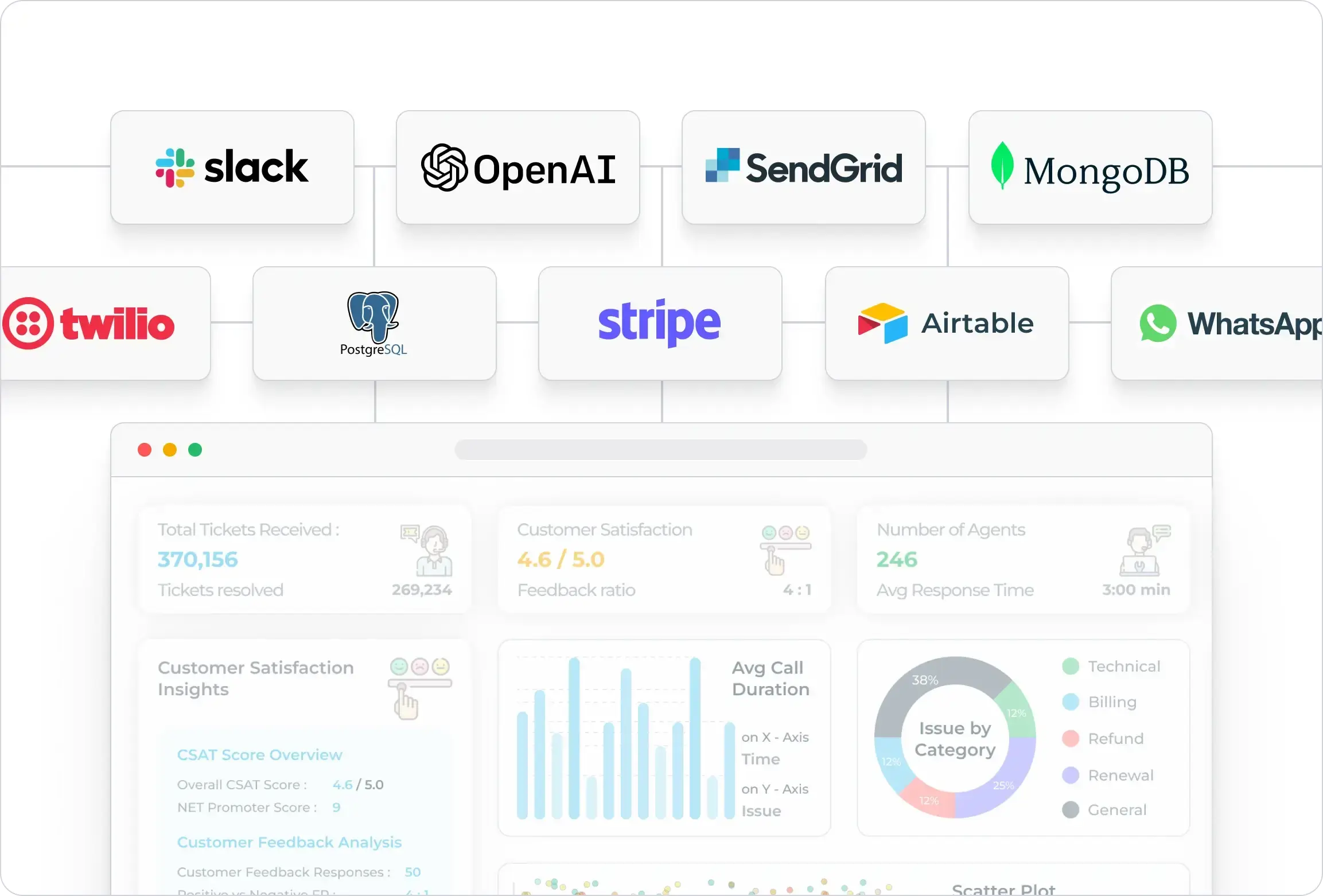 Easily connect to REST API
Make requests to HTTP or connect to your REST and GraphQL APIs to pull in data. DronaHQ offers an exhaustive repository of native integrations to popular databases and APIs so you can get data from disparate sources to a single unified portal.
Read or write data with queries
Write queries to perform various operations such as data insertion, updating, or removal from the database. Use queries to bind data to UI components.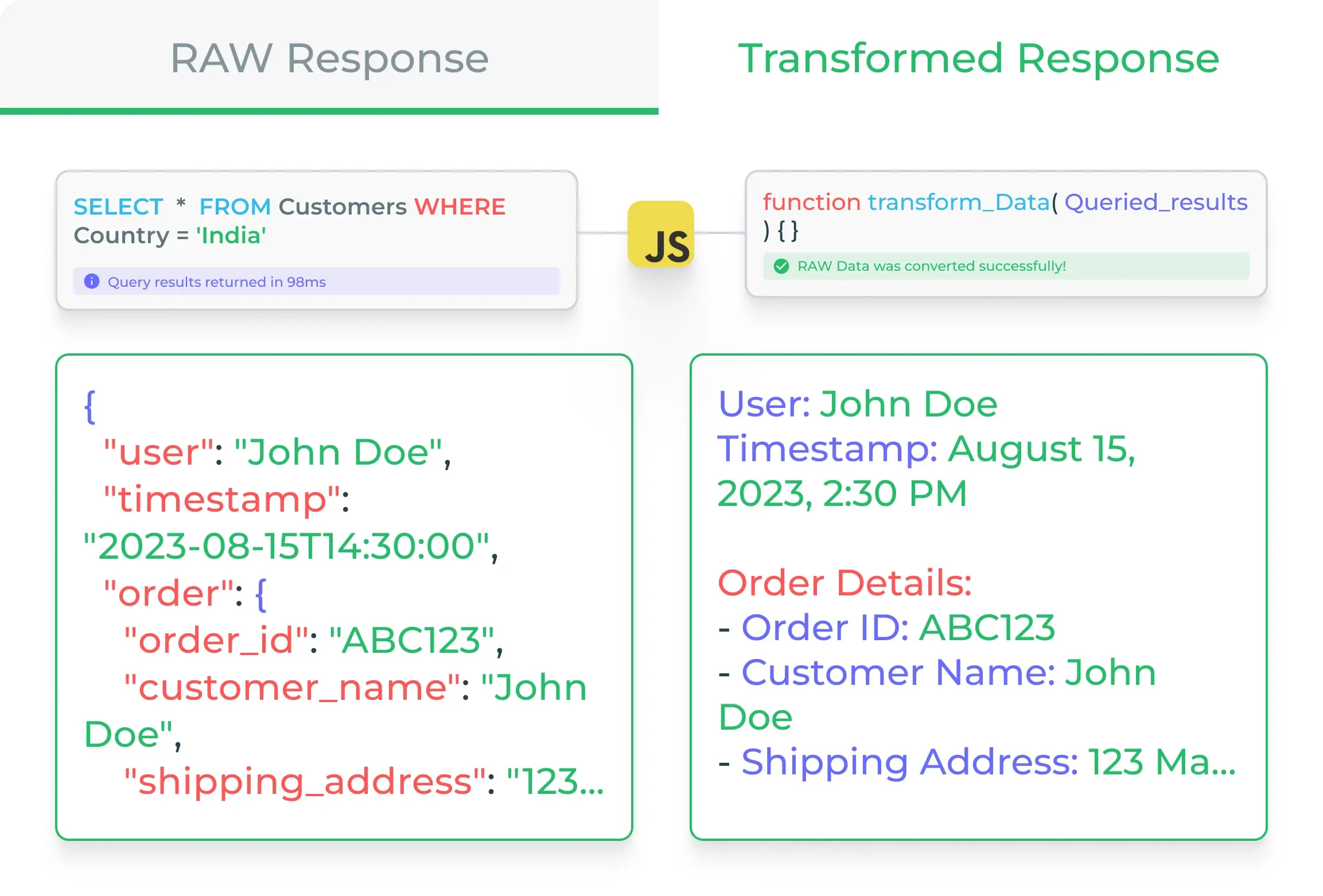 Transform response with JS
Configure the API's responses at a granular level using excel-like formulas or with JavaScript. You also get a visual query builder for server-side filtering at run time.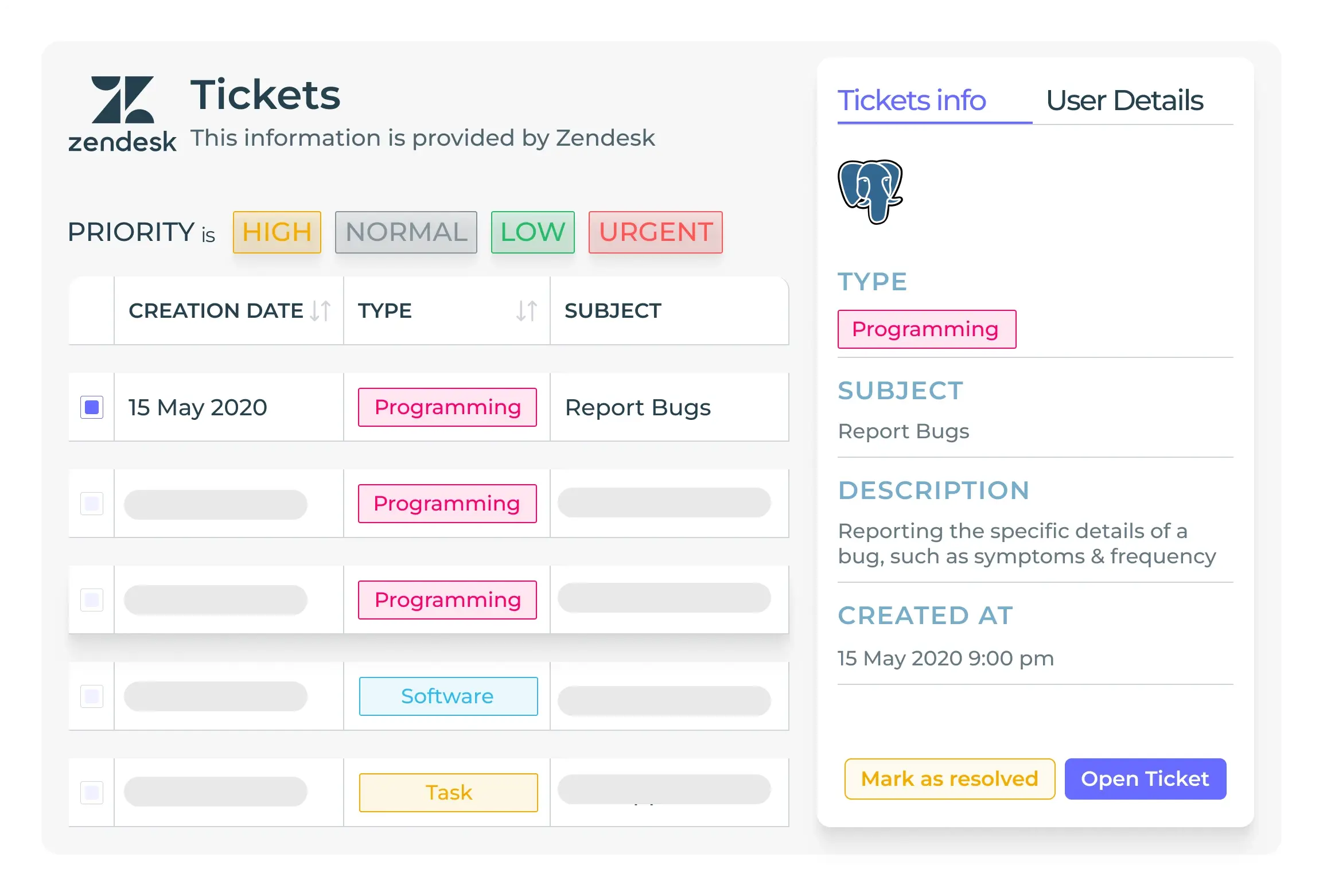 Join disparate data
The information you want to present in any application is spread across multiple tables in a database. Join data from your tables and disparate sources to one unified interface.
Trigger events from app
Visually configure actionflows, choosing from over 100+ action tasks, to trigger events from an app. Write to database, send a Slack message, update lead in HubSpot and more.
Ready to launch custom UI for your REST APIs?
Speak with an expert to discuss pricing and next steps!
Library of building blocks for REST interface design
Choose from 150+ in-built controls like Table Grid, Card list, Charts, Dashboards, Form controls etc. to design your REST API UI.
Table Grid
Table Grid control helps display output of query. Use it standalone to show data or make it interactive so end users can select data and pass to display details.
Action Button
Action Button lets you trigger specific events like - Navigating to a screen, sending the email, calling an API, writing to Database, execute custom code etc.
Text Input
Text Input Control allows users to enter or edit any text data as an input in a Text field. Use it as a text input component or to simply display read-only values.
Rich Text Viewer
The Rich Text Viewer control is used to display rich text which is well-formatted and it can consist of multimedia like Images, tables, graphs, URLs, html etc.
What are customers building with DronaHQ
From Internal tools and operational apps to website forms and customer portals, customers are connecting to their Shopify APIs, Stripe API, Hubspot API, Sendgrid API, Twilio API and creating great UX apps.
Advanced Dashboard
Interactive charts for Redshift API for teams to track the metrics and gain insight into the sales and provide demand forecasts
Customer Support Tool
Pull customer data from MySQL database, update order status, refunds, interact with customers and provide the necessary support.
Sales Admin Panel
Connect to Salesforce, Drift, Freshdesk APIs and build UI to manage product trials for customers, pull and update necessary information.
Postgresql Admin Panel
An admin panel for managing your Customer data, built on PostgreSQL. This app lets you view, update and delete details
How to build UI for REST API in DronaHQ
Building a UI for your REST APIs using DronaHQ is as easy as it can get.
Whether you want to connect to a database like Postgres, MySQL, Airtable, MongoDB, or third party apps like Salesforce, Stripe, Shopify, or internal APIs - configure the APIs in a few simple steps, pull in your data, and get right to building.
Build the front-end UI for the API you configure quickly and easily in the drag and drop builder interface. Drag drop controls, switch between web and mobile builder view, and create a front-end that you can use right away.
Bind the data from the APIs you configured to your UI controls like Tablegrid control, Detail view control, List controls, and even some other input controls as per your use case.
Publish, manage, update, rollback, invite, embed with device, resolution and access specific settings in a breeze, all from a single place.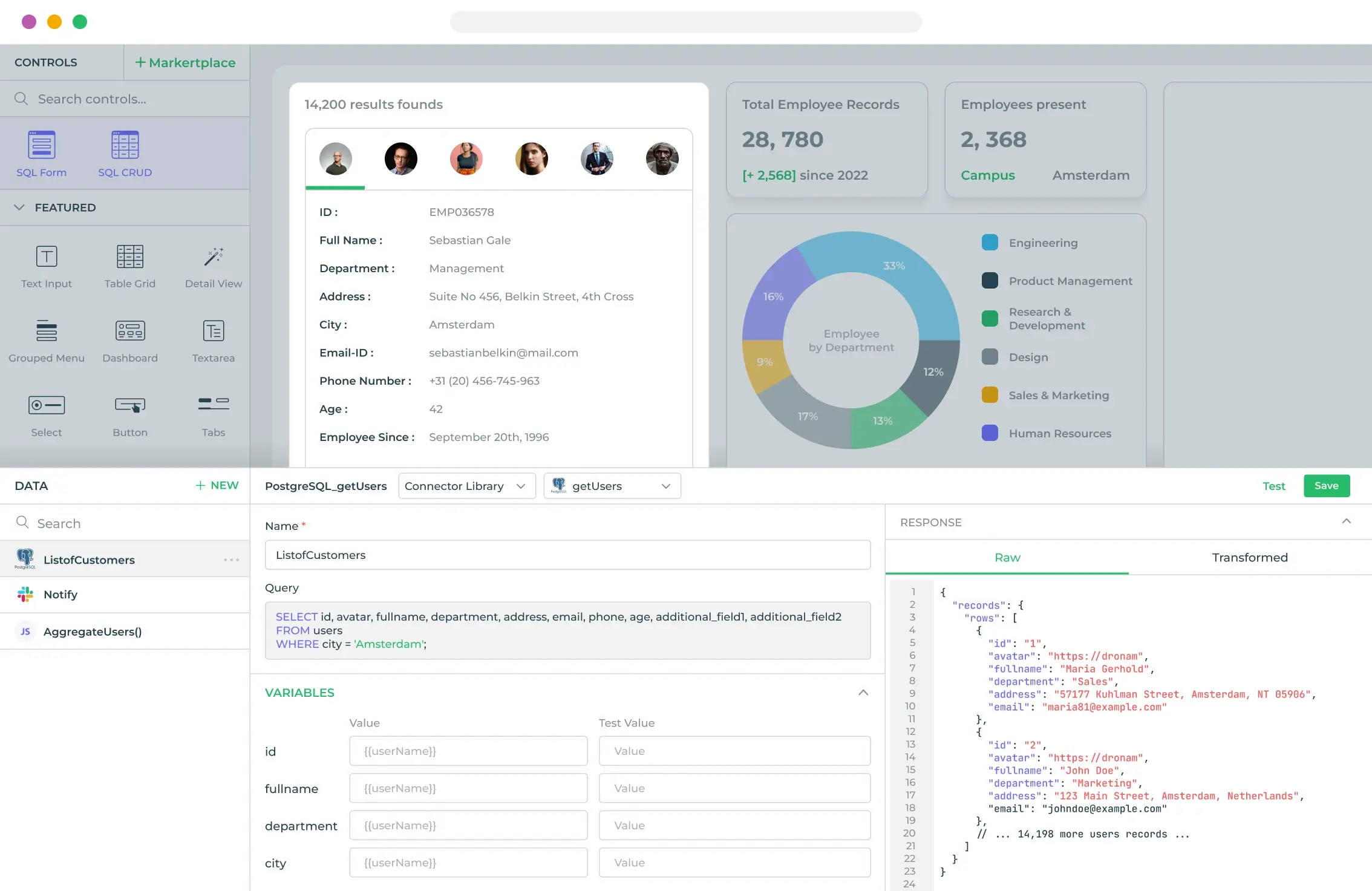 Choose DronaHQ to build UI for REST API
A Comprehensive Low Code App Development Platform to build UI for your REST APIs
100+ Pre-built UI Components
Ready API and Database Connectors
Build Apps for Web, iOS, Android
Security and administration
Transparent User-based Pricing