NEW
Multiple pricing plans: Developer only | User-based | Usage-based Explore
Fastest way to build database GUI
Connect to your database in a few clicks and get a cross-platform database GUI ready in minutes to view, add, edit, delete your data.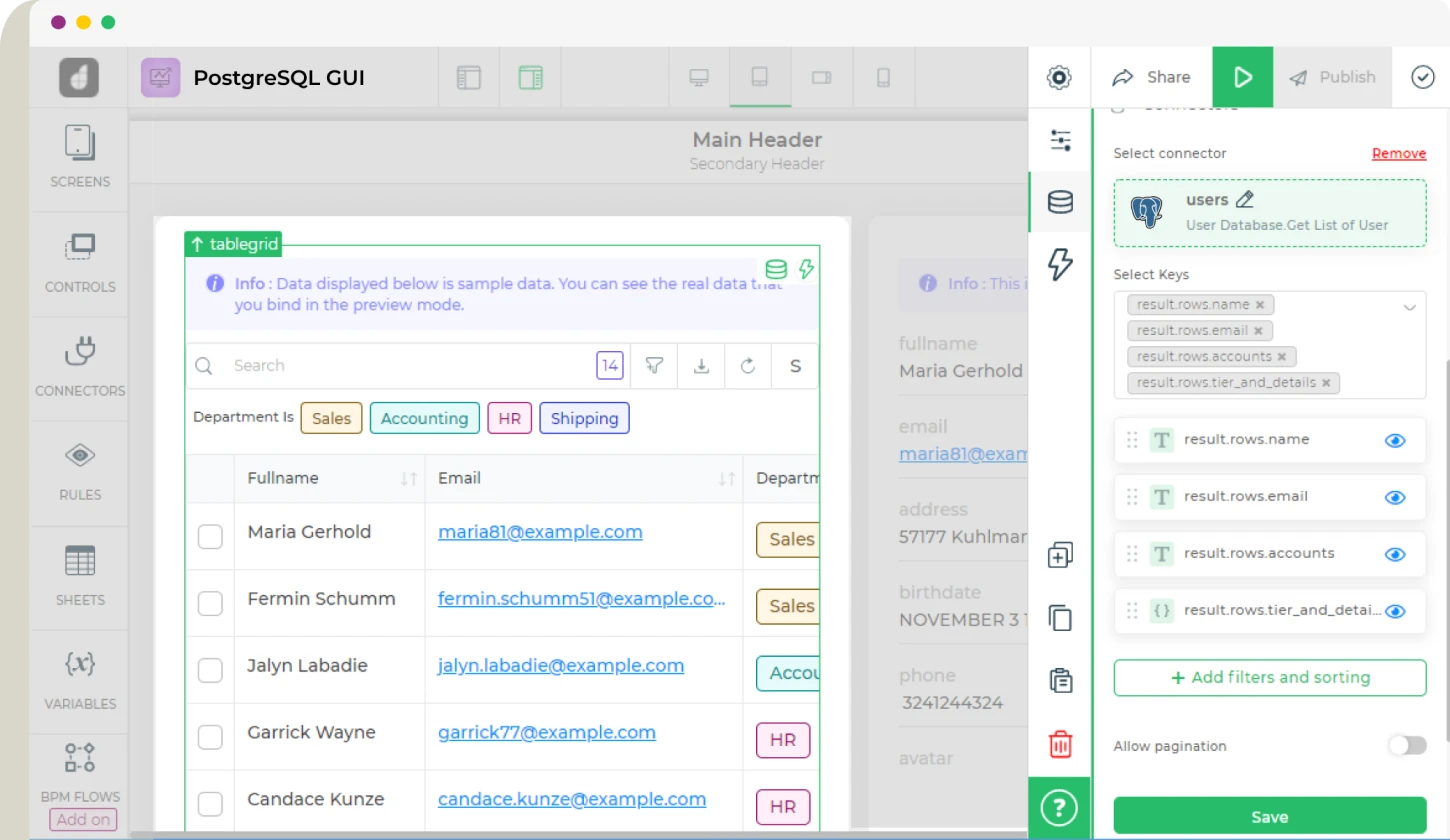 Easily connect to any SQL or NoSQL database in minutes
DronaHQ connects directly to your PostgreSQL, MySQL, MS SQL, Oracle DB, MongoDB, RedShift (and more) database to get it all under one GUI and Create and execute queries. No need for different GUIs. Once connected you can display the server data in a TableGrid, add action buttons to write safely to your database.
Transform data in flight
You can transform your data by writing JS code at the API or Database response. Alternatively you can also write reusable functions which can be called in Custom Formula to get the desired transformed output.
Query builder for dynamic filter
The Query Builder control enables you to define your query for scenarios where you need server-side filtering based on criteria defined at run time. It allows you to add the query to data sources for controls like Table grid and list controls
Add a frontend on top of any database with DronaHQ
From a basic CRUD interface to a complex customer support tool, display data in the most convenient way and switch between several of them depending on the situation.
Postgres GUI/Admin
An admin panel for reading from and writing to your customer data, built on PostgreSQL. Edit, and add users, orders, and products.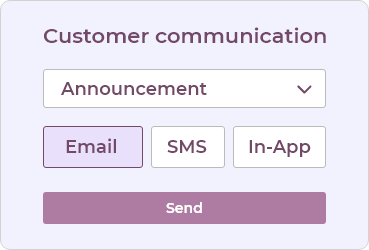 MongoDB GUI
An admin panel for managing your accounts data, built on MongoDB or other NoSQL database. You can query and insert and update details.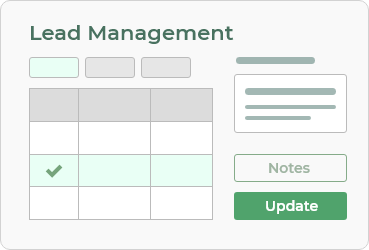 CRUD for Firebase
Connect to your Firebase setup in a few clicks and gives you granular access to the API. It gets you started with an Auth or Firestore Admin Panel in just a few clicks.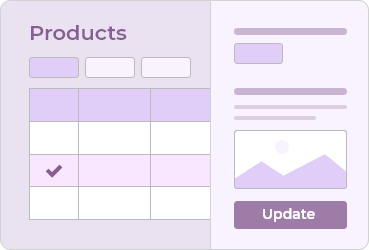 Sales Admin Panel
You can build public pages which are catalogs of your products. Manage product trials for customers, pull and update necessary information.
Database GUI tools to manage, manipulate and visualise data.
DronaHQ provides all the building blocks you need to build powerful GUIs. Loved by database administrators, developers and business analysts. Queries are made directly against your databases so your data always stays where it should.

Add data from other apps
Easily connect DronaHQ to other apps like HubSpot, Zendesk, Shopify, Stripe, Twilio, Airtable, Google Sheets

Flexibility for Developers
Extend applications with code and queries, transform database response using JavaScript libraries.

Frontend Logic / Events
Need to trigger events based on an action on frontend - Easily configure using Actionflows in DronaHQ

Granular Permissions
Use granular access controls to give right users access to specific apps and resources.
Live Designing - Sales & Inventory Dashboard
Explore a live database GUI design demo: How to build a customized Sales and Inventory Dashboard in less than 30 mins using DronaHQ.
Visualize, manage, and manipulate data. CRUD for Realtime Database.
Take a 14-day Free Trial today. Create an account instantly, connect your systems and build database GUIs. Use drag-and-drop builder with pre-built UI controls like Tablegrid, detail views, buttons, text inputs and more.
Book a demo
Schedule a 1:1 session with an expert from our team.
Unlimited apps in all plans
User based plans, transparent pricing with no hidden fees.