Form builder to collect and analyze data in minutes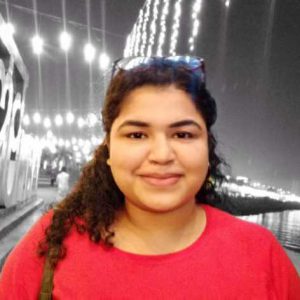 What is a Form Builder?
A Form Builder is a versatile digital tool that empowers businesses to effortlessly create and manage customized forms, surveys, and quizzes for diverse purposes. These forms are integral to data entry operations, enabling the collection and analysis of user responses, which can, in turn, drive lead generation and employee or customer data capture.
The beauty of a Form Builder lies in its intuitive drag-and-drop functionality, which allows users to design forms with controls, validations, and rules, seamlessly integrating them into a data sheet for organized data capture. You can add frontend events such as button clicks and value changes, ensuring a tailored user experience. With responsive design, these forms adapt to any screen size, ensuring a seamless user experience on all devices.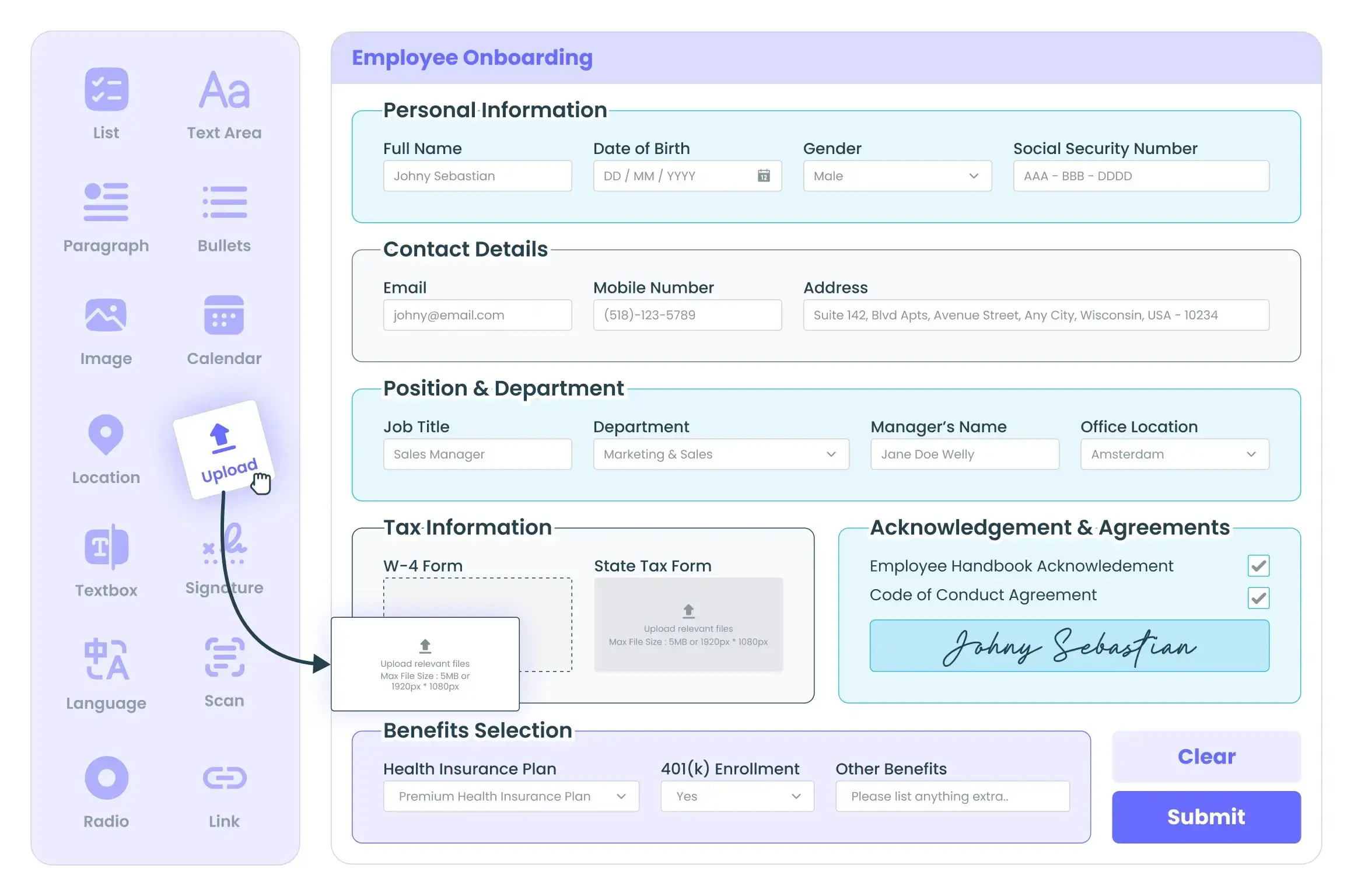 In essence, a Form Builder transcends mere data collection; it acts as a catalyst for interactive and personalized conversations with users, ultimately enhancing customer engagement and data-driven decision-making.
What does Online Form Builder do?
Online form builders are not only a convenient tool for data collection but also improve the workflow and productivity of your employees. Here are some of the ways it can help you-
Rapid form creation and distribution
An online form creator will help you create forms 20x faster. Most of the form builders come with response management functionality that allows the owner to rapidly receive and analyze responses. It enables the collection of different types of assets while allowing users to work both online and offline. You can instantly share the forms with teams and track information in real-time and with automated responses ensuring there is no delay in feedback
Control data quality with form validation
With an online form builder, you can conveniently control the quality of the data of the responses. It allows you to check responses like correct email address format, phone number, etc. for error-free data collection in your database. This information can be immediately detected and made known to the respondent so that they can rectify the details.
Boost productivity  
Manual data entry work is time-consuming and monotonous impacting an employee's mood and productivity. With an online form builder, you can save up to 10 hours a week of data entry work. All the dull and time-consuming work like back-end processing and scanning of forms can be eliminated by deploying a form builder.
Bring dynamicity
Filling up forms can be a boring process for respondents, especially when they are lengthy.
Form builder offers a dynamic experience in both creation and response fill-up. You can show/hide some questions or an entire section of the form, mark fields required, auto-populate fields, and limit the entering of repeat information. It not only reduces data entry work but ensures that your respondents don't find the process annoying.
Top Features of a Form Builder
Drag and Drop
Drag and drop features save businesses a lot of time by letting them create forms in a matter of seconds. All you need to do is choose fields and options from the menu and add them to your form the way you want them. Low code Form builders are highly customizable and come in a variety of prebuilt templates.
Built-in templates
You can build a custom form in minutes by using the built-in templates. You can create your own unique form designs or use the templates for a quick creation minimizing your work to a significant level. 
Form responses
A form builder lets you manage and automate responses maintaining business-customer communication. You can further streamline the responses and analyze them to make data-driven decisions.
Form builders support integration to the database of your choice, so the responses you collect through the forms are instantly uploaded to the backend in real-time. Platforms like DronaHQ that also support offline data capture ensure you are able to collect data even in remote locations and that gets updated to the backend once connectivity is restored.
Form builders support integration to your choice of the database so the responses you collect through the forms are instantly uploaded to the backend in real-time. Platforms like DronaHQ that also support offline data capture ensure you are able to collect data even in remote locations and that gets updated to the backend once connectivity is restored
Form themes
Form builder lets you design your form as per your branding. So while you are able to visually design your user interface to capture data, you are also at the same time enhancing the UI by editing properties such as font style, colour, weight), Background, icons, illustrations, logo placement, etc. 
CRM integration
A dynamic form builder allows easy integration with multiple third-party CRMs to sync all your existing data and enhance your data collection strategy. Seamless integration with all your CRMs can help you simplify business processes.
| Discover a variety of ready form fields and features for enhanced user interactivity. Explore now
Essential Form Builder Features
Create beautiful forms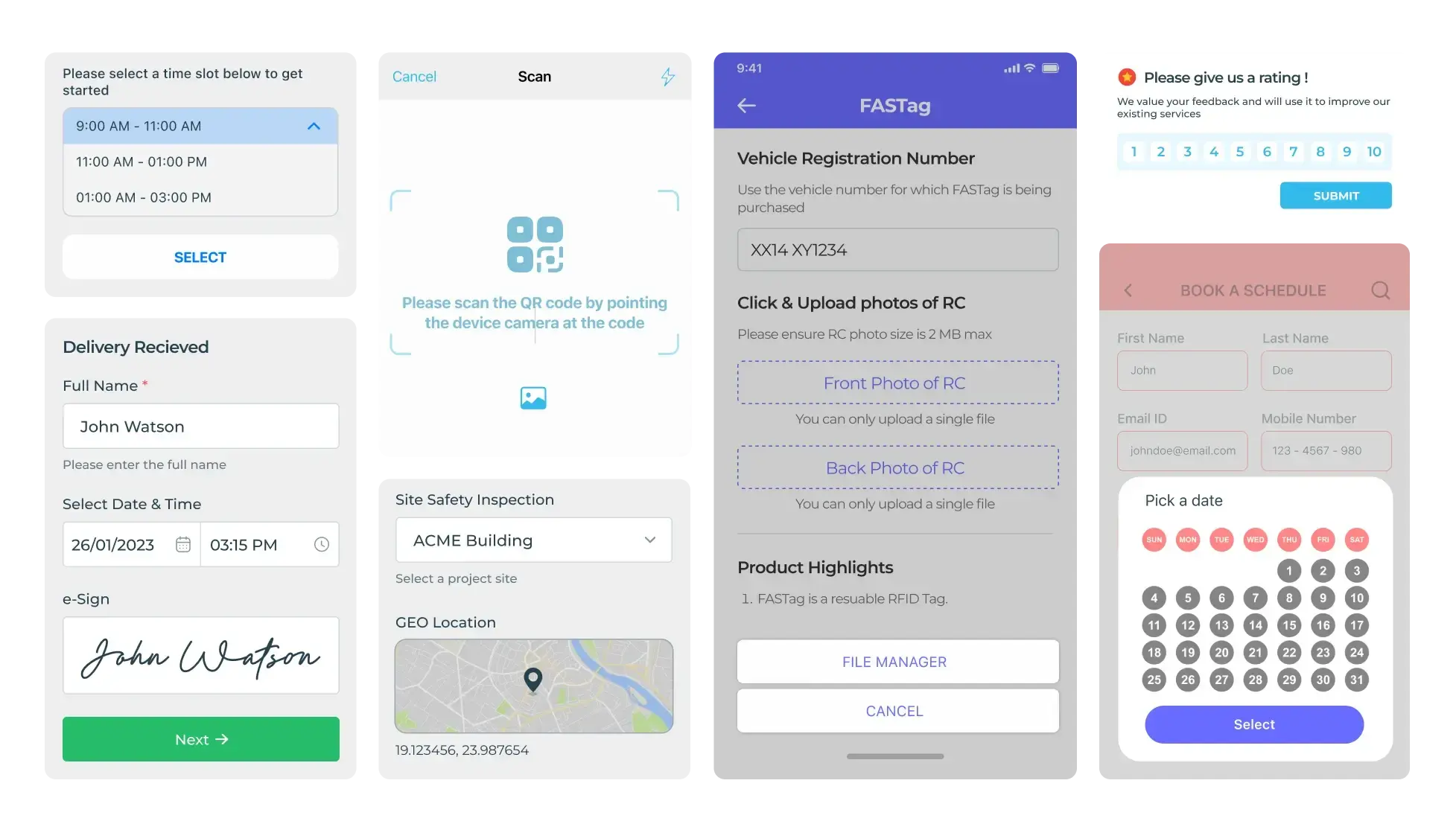 DronaHQ offers 100+ pre-built controls support various data types (text, rich media, geolocation etc) to help businesses create custom forms and situational templates. It allows you to experiment with your creativity and personalize forms the way you want them while ensuring a seamless user experience.

Form field validation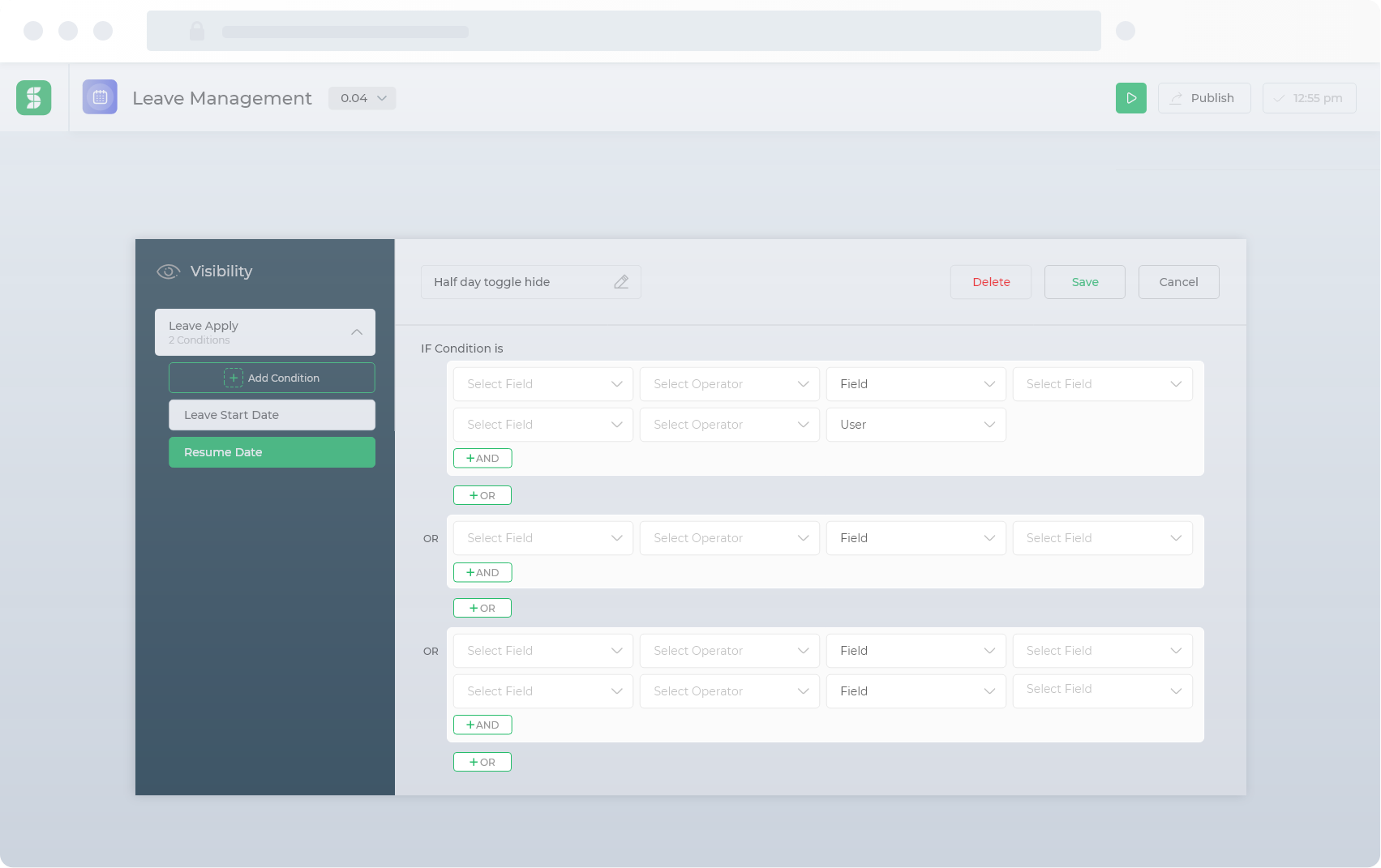 Using field validation rules you can ensure the quality of data being captured. Field validation ensures the accuracy of data entered by respondents. You can mark a field as mandatory, set character limits, apply properties like read-only, input type and so on. 
Collect data from multiple sources
DronaHQ enables users to collect data from different data points. These forms can be embedded on your website, shared across emails, messages, social media platforms, shared in the form of mobile form, on field survey forms. No matter where your audience is, with the help of DronaHQ you can reach them and interact the way you want.
Stay notified
Whenever a respondent submits or updates a form, get instant notification via conditional email or SMS. DronaHQ lets you keep all the concerned people informed via chat platform updates so that teams can work collaboratively without missing any important information. You can connect to Slack for instant alerts , Gmail for mail based communication, Twilio for SMS or WhatsApp communication and more.
Analyze data to make informed decisions
Easily sort view, export, and analyze data with the help of DronaHQ.
You can analyze your form's performance to find out any gaps and work on them accordingly. The platform supports various excel like formulas so you can transform data to represent any key metrics that your team needs for reporting/dashboards/analysis
Save time with automation
Set up automatic responses via emails or notifications with DronaHQs form generator. With an automated response system, you can strengthen your relationship with customers, save time and improve efficiency.
What Makes a Great Online Form Builder?
Form creators are relatively simple to build. From stand-alone apps to productivity suites to advanced data processing tools, you must choose a tool that is appropriate and compatible with your business requirements.  Here are some things to consider while choosing an online form creator-
Simplicity
An intuitive form creator is straightforward and easy to use. They feature flexible visual tools, drag and drop features, built-in templates and themes, and seamless integration with 3rd party tools. With a good form creator, you should be able to create a visually appealing form in minutes.
Customization
Good form creators are highly customizable. Your forms should be able to represent your brand without compromising the details. Forms builders should allow you to use customized colors, logos, layouts, etc. that reflect your brand's visual identity.
Powerful analytics
Only collecting responses is not enough, a form creator should empower you to analyze that information to build and improve business strategies. Look out for tools that offer built-in analytics to analyze and export data.
Templates
Built-in templates can save you time and effort. Look out for tools that offer customizable templates so that you can modify them according to your brand requirements and get them ready in minutes.
Integrations
Form creators must provide integrations to 3rd party applications and plugins. This way you can sync your data across multiple platforms, save time and improve productivity.
Form Builder Integrations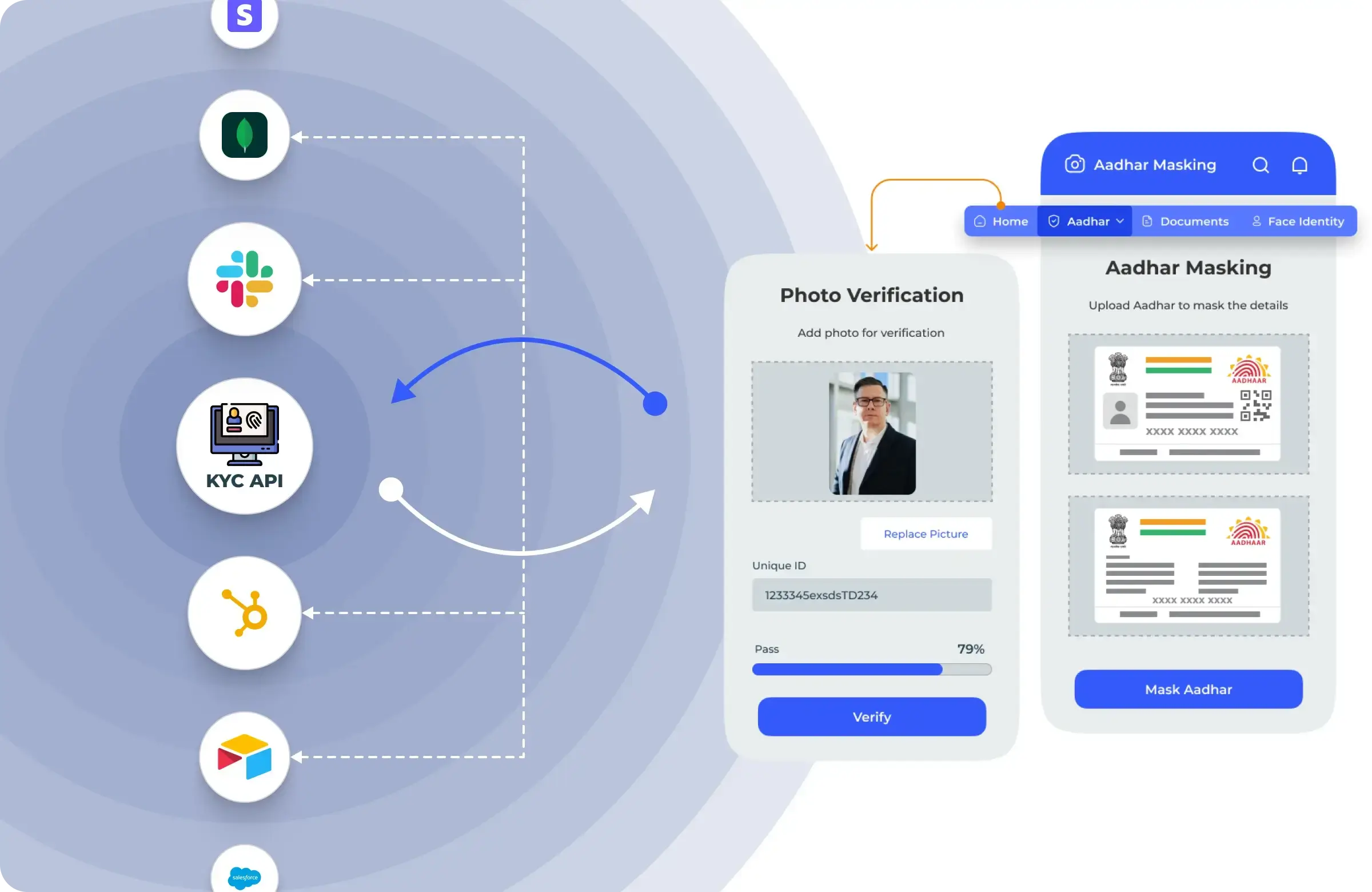 Integration to database to capture data
DronaHQ allows free flow of information across applications by enabling users to  turn your responses into action items This information can be submitted directly to your choice of database like Airtable, Firebase, MongoDB, Google Sheets, My SQL, Postgres, etc.
Integration to communication tools 
Customer success teams can ensure smooth barrier-free communication across management tools intact like Freshdesk or Zendesk, sales teams can loop in their CRM tools data like HubSpot, Salesforce, etc.
Integration to other operational apps and tools
DronaHQ offers integration to many other operational tools to  ensure rapid sales and management operations . Lets say you captured  a new lead using demo request form. This can be submitted into CRM like Hubspot or Salesforce to take the communication forward.
DronaHQ – Your Go-To Online Form Builder
DronaHQ offers advanced conditional logic, hide/show, rules and validations, offline access, and native support to create a diverse range of form structures like surveys, feedback forms, email subscriptions, and more.  With 100+ prebuilt controls and a dynamic form field, you can build intuitive forms in minutes by using the drag and drop feature and customizable templates. Publish forms in a single click across all organizational devices and collect data from multiple platforms. DronaHQ's powerful form generator analytics empowers you to analyze responses and improve your business strategies. Sign up now and get a  free trial.
Copyright © Deltecs Infotech Pvt Ltd. All Rights Reserved