Best No-Code Web App Builder
Top No-Code Web App Builders – 2023 Picks
A few years back, only a professional and experienced developer could build a web application. Thankfully, those days are long gone. Now, even citizen developers and subject matter experts can easily develop a wide range of applications using no-code platforms to build effective solutions to their unique problems. In fact, Gartner predicts that 70% of new business applications will use low-code/no-code technologies by 2025.
Web apps are the most accessible apps right now. They can be easily accessed from anywhere and on any device without downloading or installing anything. Users can explore these apps with a simple click on the browsers. From enhancing operational processes to facilitating seamless collaboration with vendors, web apps are needed tools for enterprises as well as small businesses.
Stay tuned to know more about the no-code web applications and our best picks.
What Is a No-Code Web Application Development Platform?
No-code web application development platforms are online platforms that use a visual development interface to enable citizen developers and aid experts in building applications. 
They offer drag-and-drop functionality, pre-built templates, graphical user interfaces, and configuration to allow developers to build fully functional and powerful web applications in a user-friendly, fast and affordable manner.
In a typical coding environment, web applications are coded in browser-supported languages such as HTML, CSS, and Javascript on the front end and PHP, Java, C#, or Javascript on the back end. 
A no-code web builder is beginner-friendly, meaning you don't necessarily need coding experience to build intuitive web applications. These platforms empower internal business users to build enterprise-grade apps independently without professional developers' assistance. This way business developers can meet the demands of faster application delivery, building web and mobile apps on their own.
Business developers and other non-programmer roles can step in to meet the demands of faster application delivery, and building business, web, and mobile applications on their own.
Best No-Code Web App Builders 
There are several no-code web builders available today. Here are our top picks to help you pick the best one.
DronaHQ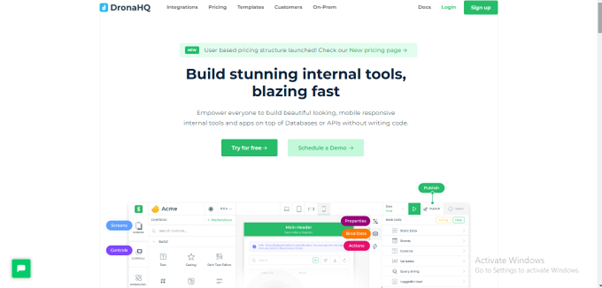 DronaHQ is a no-code app builder that offers the fastest, most powerful way to build web applications with 150+ pre-built UI components. Users can use the visually intuitive UI components to customize and create the web application of their choice. The simple and beginner-friendly interface allows citizen developers to try their hands on app development. Users can visualize how the app works while it is being built, and it offers super-fast deployment.
DronaHQ also allows developers to auto-generate forms and CRUD interfaces without writing complex code. Users can build a diverse range of applications with a visually appealing and intuitive interface that is fully optimized for users. Web apps built with DronaHQ are highly responsive and compatible with all devices, including smartphones and tablets.
Major companies such as Wipro, Mondelez, Purple, and more have made their no-code/low-code apps with DronaHQ. You can choose from dozens of third-party app integrations, including Instamojo, Stripe, Crisp, Salesforce, HubSpot, Zapier, and many more. 
Pros
Highly responsive web app deployment on all devices – iOS, Android, Web

Library of feature-rich UI components and frontend action blocks 

Good integration capabilities that can connect with databases, APIs, or third-party apps.

No limit with no code. Customization options available with JavaScript, Flexibility to add custom code and create custom UI components

Enterprise-grade security and user access permissions management with ISO 27001 and SOC-II certifications, SSO AD integration options available as well
Cons
Users cannot publish apps in the free plan.

Not an open-source platform.
Glide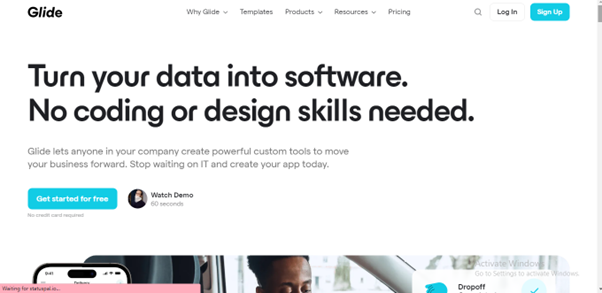 Glide is a no-code web app builder that offers a powerful editor to visually build apps and leverages Google Sheets to store the data. Users have full control of their data in a visual interface. Glide also gives a lot of components to work with, such as a calendar, a map view, a user list, and even advanced things like a chat interface. Glide allows users to turn their data into web and mobile applications using their pre-built templates in minutes.
Pros:
Easy to learn and use.

It offers a robust library of app templates to choose from.
Cons:
Limited customizable abilities.
Softr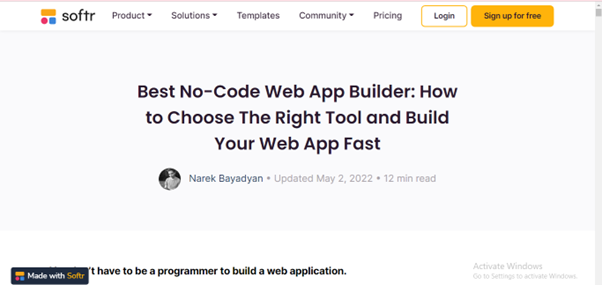 Soft is a no-code web app builder that allows users to turn their Airtable databases into powerful web apps and client portals. Users can create a web app by combining existing building blocks from Airtable. With its drag-and-drop functionality, users with zero technical knowledge can create web apps that can go live in minutes.
Pros-
Easy to use and beginner friendly.

Dynamic search and filtering capabilities.

Video embedding options are available.
Cons-
Limited templates and design capabilities.

Limited integrations.
Adalo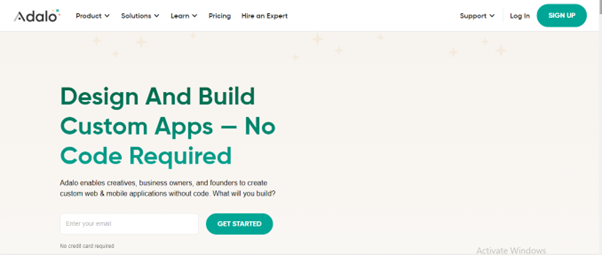 Adalo enables developers to build flexible web and mobile apps using drag-and-drop elements, ready-to-use templates, and payment integrations. Users can publish their apps on a custom web domain, the App Store, or Google Play Store with Adalo's custom web app domain.
Pros-
Easy to use and learn.

Native export to mobile.
Cons-
Adalo does not offer the best features for building complex or content-heavy apps. 

No third-party authentication.
Bildr

Bildr is a visual no-code web app builder that enables users to build intuitive web apps and launch SaaS products. Users can connect to any APIs and extend the software in any direction with custom JavaScript. It offers various collaboration tools that allow users to work cohesively with designers and developers. It is an open-ended web app builder giving users extensive flexibility in terms of design.
Pros-
Flexible and customizable.

Has a better-decentralized community support system with discord.
Cons
Steep learning curve.

Complicated to use for people without coding and web 3.0 knowledge.
ShareTribe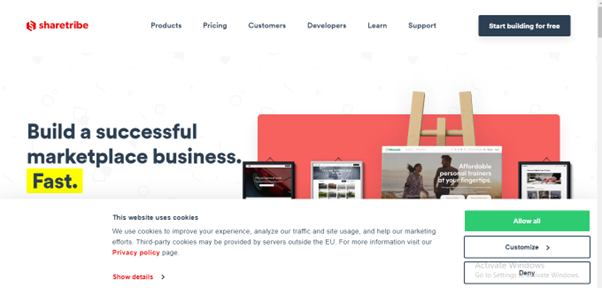 ShareTribe is a no-code online marketplace platform optimized for building two-sided marketplaces like eBay or Airbnb. ShareTribe allows users to build and customize their marketplace using ShareTribe Flex or launch their MVP using ShareTribe Go.
Pros
Good support team.

It gets updated every month to provide the latest security measures for your marketplace and to support the latest versions of the tools and technologies it runs on.
Airtable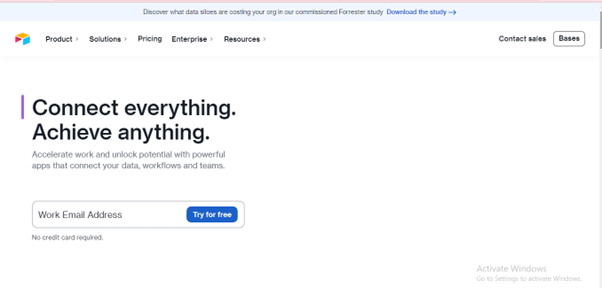 Airtable is a low-code development platform and a spreadsheet database to develop power web apps. It is a database platform offering a single source of truth for businesses and building fully functional web apps. Airtable's application development features can meet a variety of business needs.
Pros
It offers flexibility and is configurable to meet many business needs.

Offers easy integrations.
Cons
A steep learning curve, especially when it comes to its complex formulas and lack of formula builder.

Charges per user.
Stacker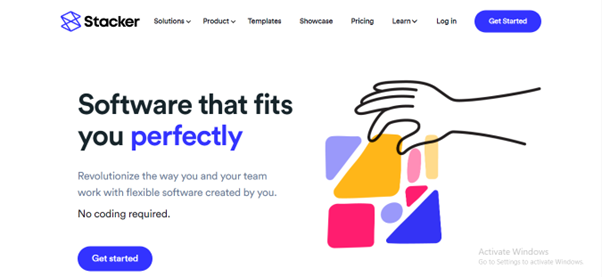 Stacker is a no-code cloud-based app builder that turns data from Google Sheets,  Airtable, and Salesforce into custom apps. Stacker offers users an app that can act as an internal tool for different teams or as an external-facing app for clients and employees. 
Pros:
Allows users to create custom apps rapidly.

Allows users to constantly gather customer feedback and roll out new features and functionality.
Cons:
It can be more expensive than other no-code app builders.

Limited functionality than its competitors.
AppSheet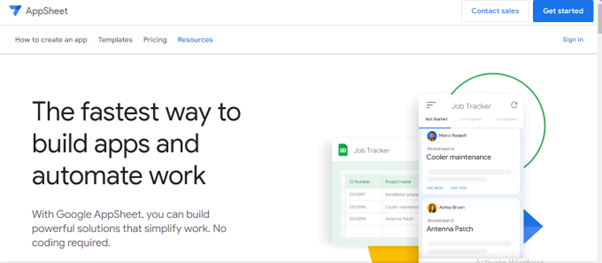 AppSheet is the pioneer in introducing the idea of building apps from spreadsheets. Appsheet allows users to connect and manage data wherever it lives (Sheets, Drive, Dropbox, Excel, Zapier, etc.) It also offers a variety of powerful features, pre-built templates, and process automation.
Pros:
Appsheet automatically turns data that lives anywhere into an app.

Offers a lot of features like maps and location services, signature capture, barcode, NFC tag scanning, and more.
Cons:
Users need to download a host app to use it.

Slow and unresponsive data syncing.
Bubble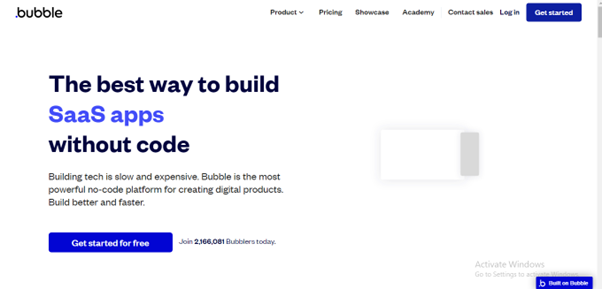 Bubble allows users to develop open-ended platforms to support complex applications with high performance.  It offers a powerful point-and-click web editor enabling useless to build fully customizable web applications and workflows, ranging from simple prototypes to complex marketplaces. There are over 750,000 users of Bubble worldwide.
Pros:
Offers many robust features and functionality.

Easy API integrations.
Cons:
Steep learning curve.

Developers without designing skills are not able to create fully professional and polished-looking apps.
How do I make a web app with no code?
Most no-code app builders offer the common functionality of drag-and-drop, pre-built templates, integration capabilities, or enterprise-grade security. However, the user experience and the learning curve can differ from platform to platform. Regardless of any platform you choose, here is how you should go about building your web app.
Step 1: Research and data gathering 
Research is the first and most important step of no-code web development. It will give you a clearer picture of the market's current state, ranging from problems and requirements of the targeted customer base. You should have enough research and information to plan the entire layout of the entire flow of user experience for your primary service.
As a business owner, you should typically pay attention to finding out –
1. The preferred choice of browsing device for users (mobile/tablets/desktops)
2. Potential API service that you can integrate with.
3. Preferred payment methods to identify potential integration possibilities with payment gateways.
Step 2: Design your web app
Create a list of features that will set you apart from your competitors. You can create a wireframe of your app, a visual representation of your app's layout, and how different screens interact. This stage should allow you to visualize the users' journey through the web app. The main focus should be determining the order, number, and relation of each app screen for each task.
Step 3: Create MVP and validate your idea
Building an MVP will allow you to visualize and test the core features of your product to your target audience, validating your potential. It is an effective way to determine whether the problems you identified in your research are appealing enough to your audience to pay for your product.
Step 4: Start building your web app
After your web app idea is fully designed and validated, you can get your hands on building the final product. Use the drag-and-drop functionality and pre-built templates to create equally powerful and visually appealing apps. You can either gradually add your intended features as you scale up your product or build out your entire product from the start.
Step 5: Test and launch your web app
After building your app, you have to test it to detect any bugs or issues, after which you can finally launch your web for your users.
Why choose DronaHQ as your no-code web app builder
DronaHQ is a no-code/low-code platform offering the fastest and most secure way to build web applications. You can easily build your web application with minimal complexity in just a few days. Here is how DronaHQ can help you build a powerful web application-
Backend configuration- Users can choose our internal database or use our dedicated connectors for Postgres, MySQL, REST, Oracle, Google Sheets, and more.
Easy to get started –  DronaHQ offers a simple and straightforward user interface built for both web and mobile flexibility. It empowers tech experts and citizen developers to innovate applications suitable for a diverse range of operations.
Auto-generate CRUD UI and Forms- With the auto-generate capabilities users can automatically create forms and CRUD interfaces on the existing data. 
Hosting- Users can enjoy instant deployments with minimal fuss or configuration with DronaHQ's cloud hosting options. You can also deploy to your own infrastructure using Kubernetes, Docker, and more.
Web+mobile responsive– Allows users to publish, manage, update, rollback, invite, and embed with any device (Android + iOS) and access specific settings easily.
Role Based views and user management- Protect data integrity by allowing only authorized user access to sensitive data and managing how a user uses your data with login authentication, email verification, user roles, and permissions.
Security– DronaHQ is SOC-II and ISO 27001 certified, and all plans include SSL encryption to keep your data safe. Also with a secure embed, only users with app access can use the app. 
Seamless Integrations– Smoothly manage data fetching. Integrate with any API, databases, and multiple third-party applications. Visualize multiple data sources in the same view.
Sign up to get started!
Copyright © Deltecs Infotech Pvt Ltd. All Rights Reserved