Dashboard Creator – An Ultimate Guide
What is a dashboard creator? 
A dashboard builder is a platform that helps teams build professional, insightful dashboards while managing and consolidating all business information appropriately. A dashboard builder can help goal-oriented managers to develop a summarized business dashboard where they can track business KPIs in real-time. 
A unified and interactive dashboard can help businesses with a visual representation of data, generate in-depth reports, identify patterns and make informed business decisions. 
Suppose you are the Marketing Director of a software company. You are using different types of tools like SEMrush, MoEngage, Zoho, Slack, and so on.  Naturally, you would need to track all these activities in a single place to understand which tools are working best, the level of engagement, the number of leads generated, etc.
A dashboard maker can help you capture and consolidate all these datasets in a single place, to evaluate these platforms, their performance and make informed decisions about your marketing efforts. 
On-premise Dashboard Creator and Online Dashboard Creator 
There are two types of dashboard builders that enterprises must know about, namely On-premise dashboard builders and online dashboard builders. 
On-premise dashboard creator 
You can install the dashboard builder directly and manage its functionalities locally for an on-premise dashboard creator. You can install the dashboard builder within your VPN and access all data without exposing the data over the web. Some of the requirements associated with an on-premise dashboard creator are as follows: 
Installable in any platform, including Windows, Ubuntu, Linux, etc. 

Windows 7 or more updated version; Linux 3 or more updated version 

PHP version 7.2 or a more updated version 
Online dashboard creator 
Online dashboard builders have the same visual tools with drag and drop components that help businesses develop internal dashboards and UIs and present data in a unified manner, but these builders will need data from a data source or API which is exposed over the web.. An online dashboard creator will visually use HTML code to represent your datasets in chart format. It can further assist you in publishing dashboards across various devices in PNG format. 
DronaHQ is launching an on-premise version of the dashboard builder so that businesses can select between on-premise and online dashboard builders and make a suitable decision based on requirements. Contact to learn more. 
Benefits of Using a Dashboard Builder 
Below are some benefits of a dashboard builder that enterprises must take into account: 
Empowering citizen developers 
Dashboard builders can empower the citizen developers within your internal teams to reduce dependency on professional developers and encourage them to work on complex IT projects. Dashboard builders come with pre-built templates, modules and visual drag-and-drop UI components like charts, graphs, and table grids that citizen developers can use to convert their ideas into reality. 
Consolidate business data to build a data-driven ecosystem
A dashboard builder helps enterprises consolidate all business data in one place and gain 360-degree visibility into the organization's operations. Hence, making informed business decisions becomes easier with a dashboard builder. 
A dashboard builder doesn't only help you build interactive dashboards with suitable charts, but also allows you to share these results easily with your colleagues for seamless collaboration. A dashboard creator automates business decision-making based on relevant data and promotes a data-driven culture in your organization.
Monitoring the KPIs 
Dashboard creators can help organizations track the essential KPIs and develop actionable insights to make prompt business decisions. A well-designed dashboard that is not cluttered with information and can provide meticulous evaluations based on the KPIs. Hence, enterprises can quickly access the required KPIs and incorporate them into their strategy.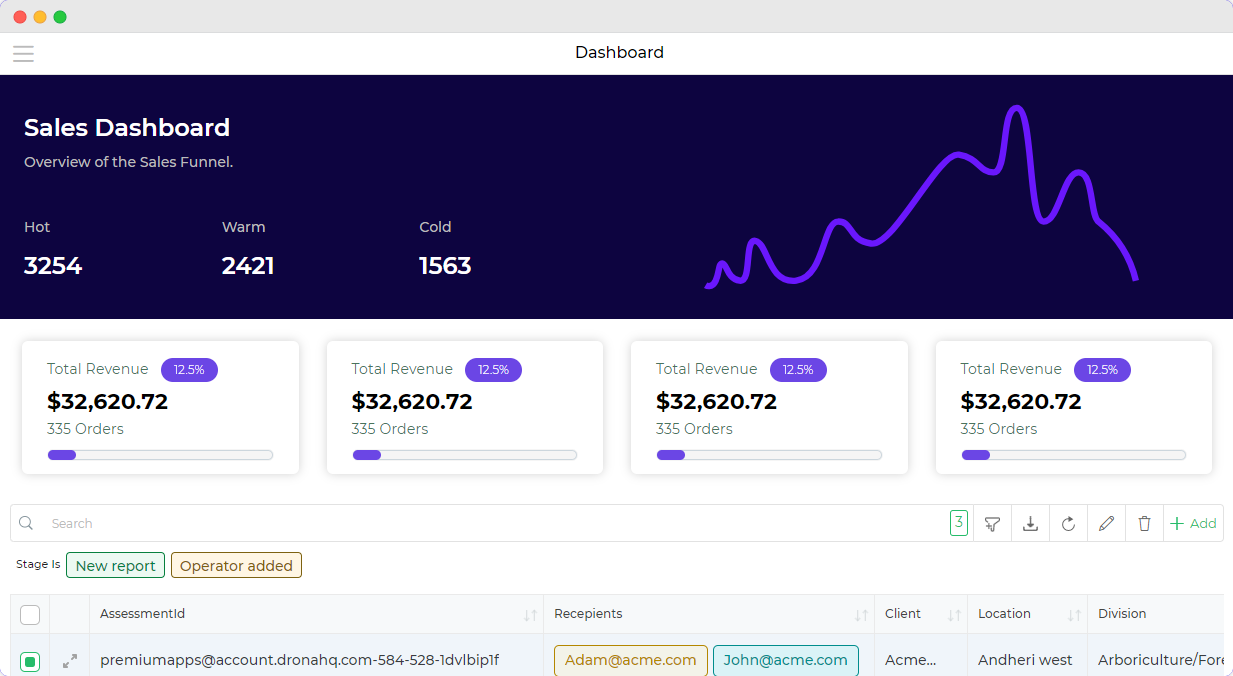 Save time and resources 
Dashboard builders empower organizations to take complete data ownership. A dashboard builder, powered by visual tools helps your employees to gain confidence in building interactive dashboards without the involvement of professional developers. 
Hence, your internal business users can become more independent and rely less on IT specialists every time there is a dashboard requirement. The IT teams often get overwhelmed with overflowing requests and complaint tickets. These can distract the IT specialist and developers from their actual responsibilities of developing complex digital solutions. A dashboard creator can resolve this issue and save time by liberating other business users. 
DronaHQ Dashboard creator – Features 
Here are a few features of DronaHQ's dashboard creator that can help enterprises to get started: 
Interactive charts 
DronaHQ's dashboard builder simplifies data visualization for the users and makes it easier for the users to update the charts from time to time. For example, with DronaHQ's dashboard builder, you can easily add mixed charts, segregation support, grouping, etc.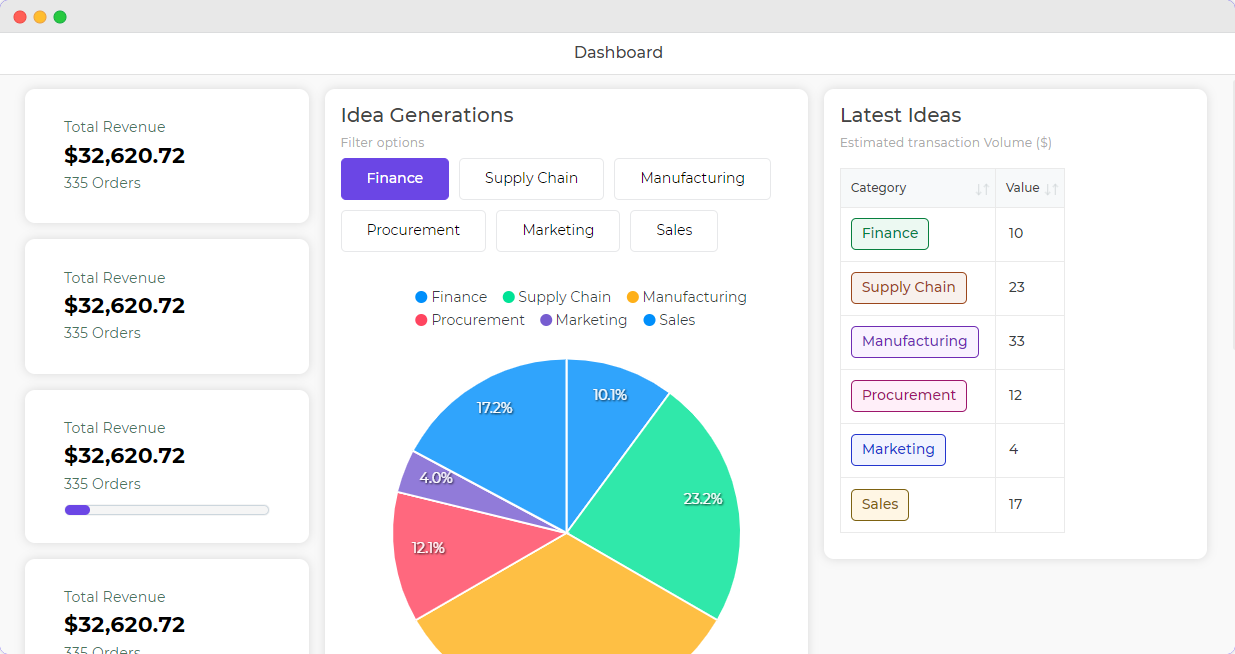 DronaHQ's dashboard builder allows you to add customized charts powered by Plotly.js library. Enterprises can use this Plotly.js library to customize dashboards and display complex charts. Developers and internal business users can start with simple bar charts, graphs, scatter charts, etc. If they need to customize it further, they can do that using Plotly JSON code. 
The dashboards made with DronaHQ are extremely interactive and flexible for the end-users. It enables users to click on different charts and develop deeper insights. 
Click here to learn to use Plotly charts with DronaHQ's dynamic dashboard builder. 
Ready connectors to databases and third-party services 
DronaHQ's ready-to-use connectors can instantly sync with databases and third-party services to bring data to the front end. It can securely connect with over 100 data sources to capture real-time data. These are possible with minimum to zero coding and a simple set-up process. 
Ready-to-use UI elements 
DronaHQ lets you choose from 150+ pre-built UI elements like charts, graphs, tables, layouts, list view, containers, action buttons, charts, form controls, etc. Front-end developers can use these elements innovatively to design responsive dashboards across different devices.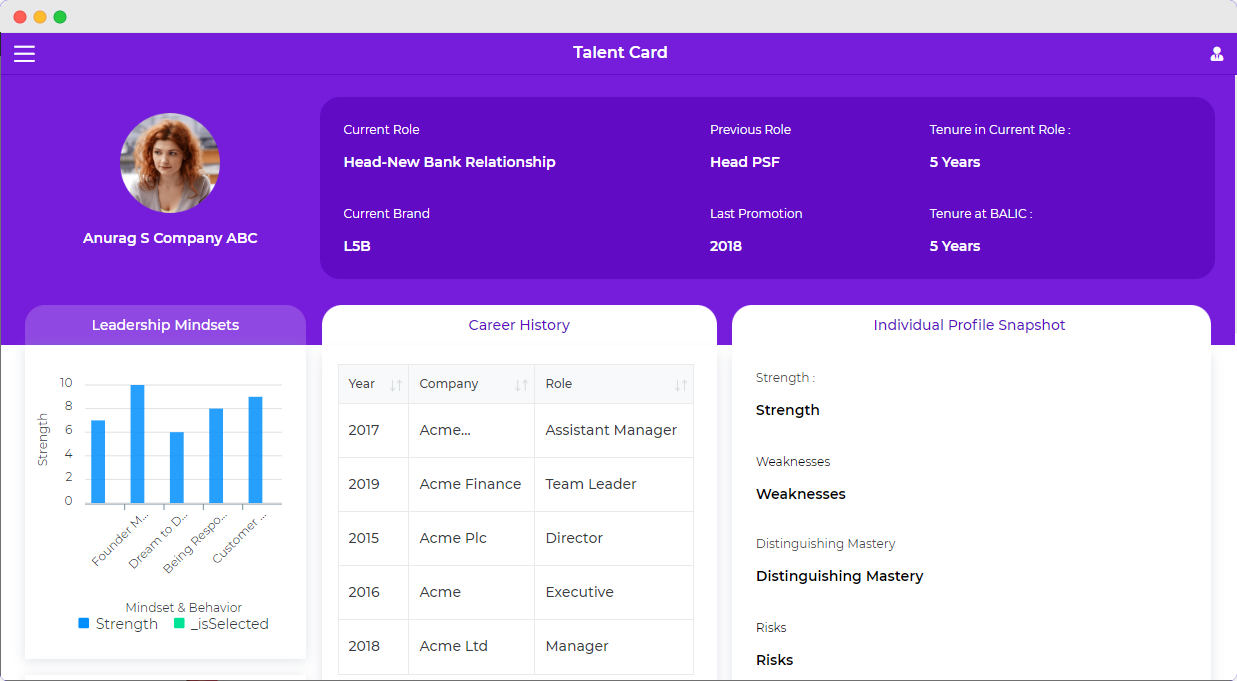 High responsiveness 
DronaHQ's dashboard creators are feature-rich and responsive. It can empower engineering teams to develop internal business applications that are accessible through mobile and web. With DronaHQ's dashboard builder, it is possible to provide the users with a choice to use these apps on mobile devices or web portals. DronaHQ's dashboard creator helps you to publish the dashboards across Android, iOS, as well as Web. It is easy to build:
Mobile apps 

Embed apps to website

Web apps 

Public links 
Build your own UI controls 
DronaHQ comes with a powerful feature called – Control Editor. UI designers can use this feature to design new controls. Some of the best ways to use this feature are by creating new elements, adding styles, writing CSS code, etc. To build UI controls, designers can use both JavaScript and Drag-and-Drop tools (Control Designer). 
Role based views of the dashboard
In addition to creating custom dashboards using pre-built components, you can also create role-based views for your end users so you can securely share access to data and insights that are necessary for the end user to work with, while the rest remains hidden and away from access to avoid any data accidents.
DronaHQ – The Best Dashboard Builder in the Market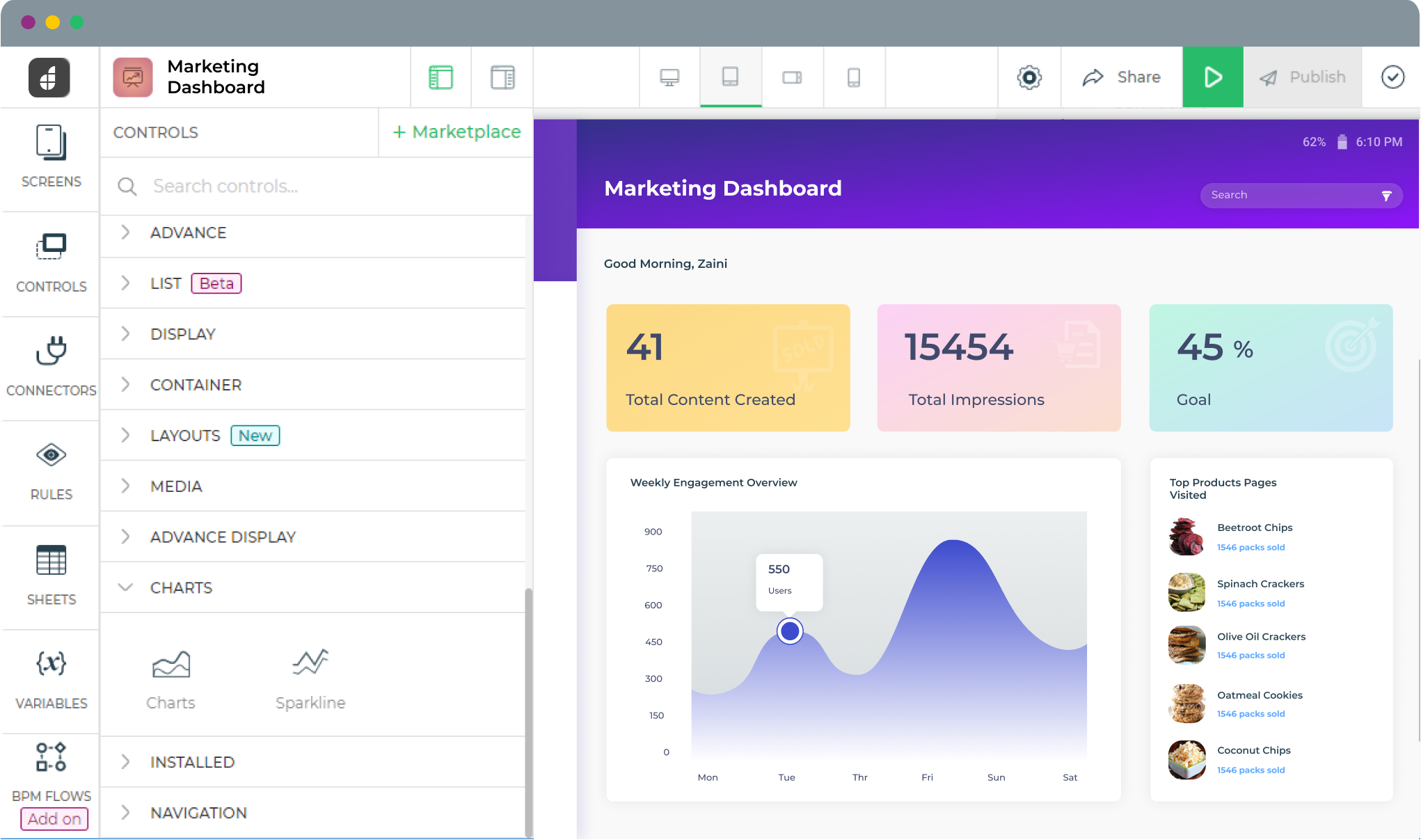 Are you looking for a dashboard creator that simplifies data monitoring and business decision-making? DronaHQ is here to help. Here's why you should give this dashboard builder a try: 
Intuitive

Drag-and-Drop UI editor

to design front-ends

Advanced pre-built UI components Kanban, Plotly charts, tables, detail view

Ready connectors to most popular databases and APIs 

You can add authentication and configure user and role based permissions

Create for web as well as mobile

Share the apps you build with unlimited end users
Design a clean and dynamic dashboard to handle your internal operations.
To explore further, sign-up for a free trial. 
Copyright © Deltecs Infotech Pvt Ltd. All Rights Reserved