The Pulse of Digital Transformation 2021 – Survey Results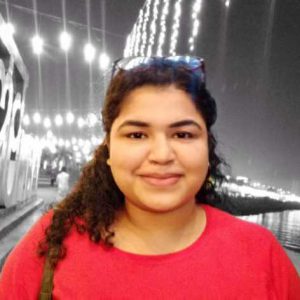 We
ran a survey
of CIOs, CTOs, IT leaders, solution architects, and developers of business apps to assess the pulse of digital transformation in 2021 and understand the opportunities and challenges that lie ahead for technology leaders and organisations. The survey has 230 respondents, mostly in SaaS, Financial Services, Manufacturing, Retail, Media and Entertainment, from large (2500 to 10000+) to mid-sized (0 to 500) companies.
Respondents were CIOs, IT managers, and other professionals, representing many companies worldwide who agreed to share objective feedback based on their experiences. About 50% of the respondents are CIOs, IT Heads, Digital Transformations heads and 23% are Line of Business Managers, 15% Enterprise Architects, and less than 10% are Transformation specialists.
This report outlines the results and what we learned.
The Pulse of Digital Transformation 2021
Organisation's digital maturity
More than 70% of the respondents feel that they have reached a digital maturity state where technology supports their business growth and drives business changes. Almost 50% feel that their digital maturity is strategic, whereas 15% think their digital maturity is still in the infancy stage.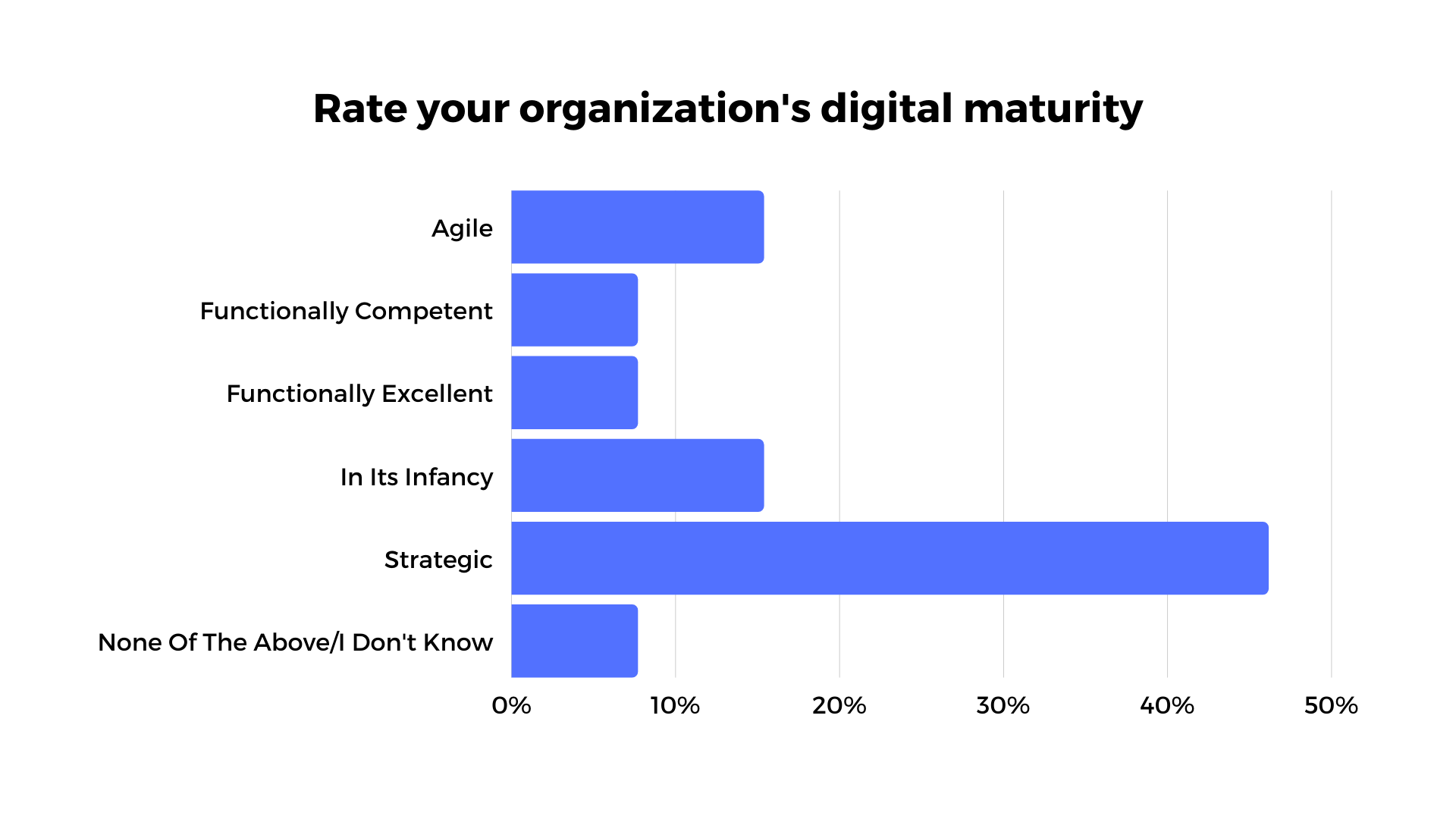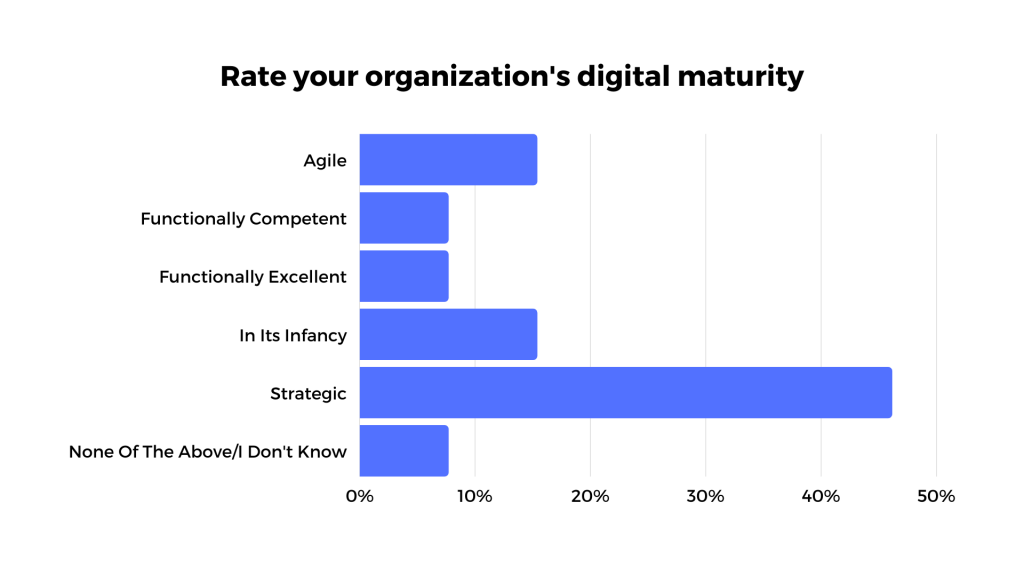 A top goal to adopt digital tools in your organisation has been to
Almost 40% of respondents are building digital tools to reduce operational costs. Interestingly, about 25% are not so far off adopting digital tools to migrate on-premise operations to the cloud. It has been observed as a critical contributor to digital transformation in organisations owing to a global lockdown in 2020, driving organisations to deploy digital solutions for remotely working teams and cater to an online-shopping customer base. Less than 20% of respondents said that they are adopting digital tools to outperform competitors, suggesting that businesses are more focused to work towards the needs of the company, its employees and its customers. They don't believe in just outranking their competitors blindly.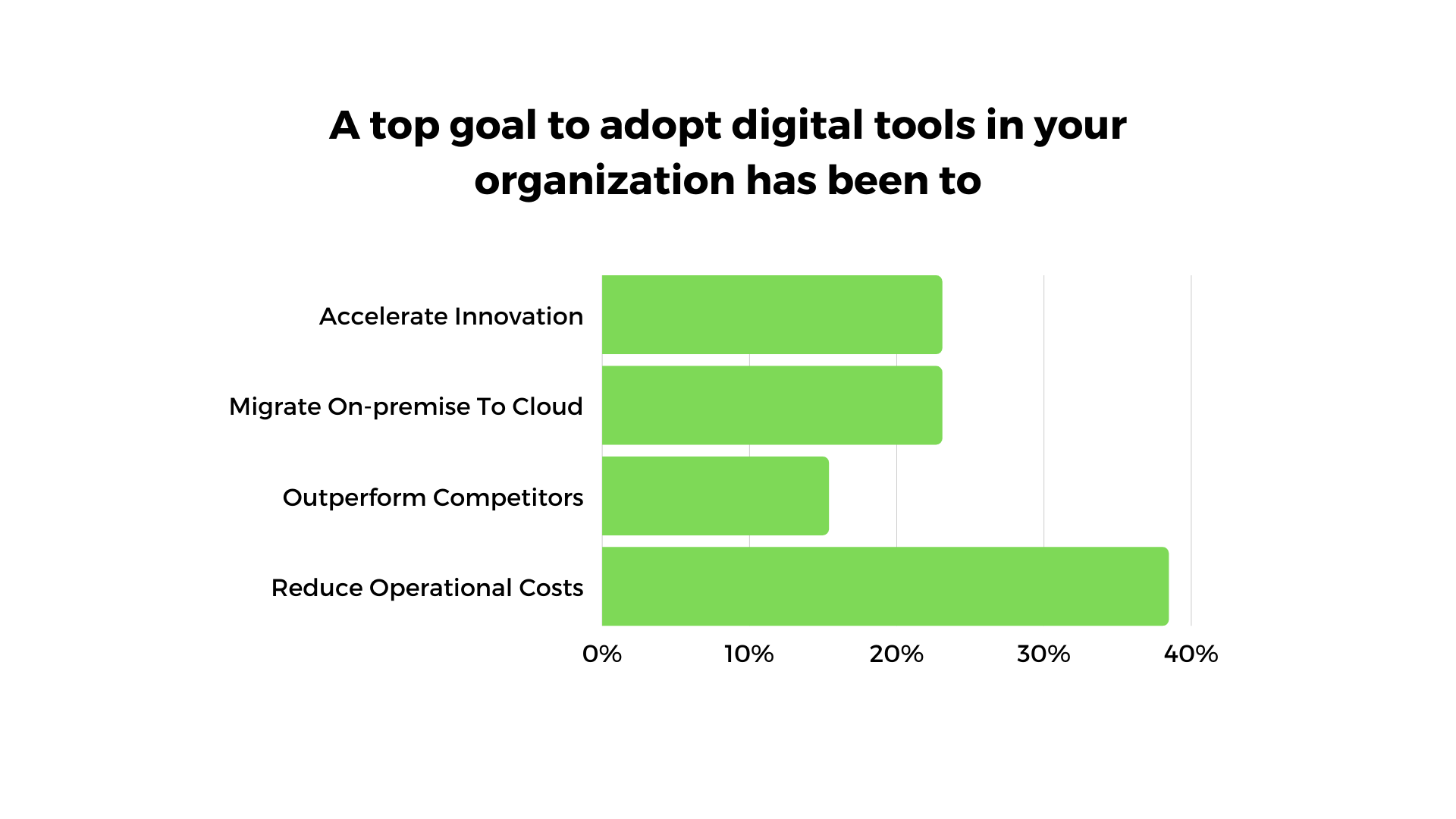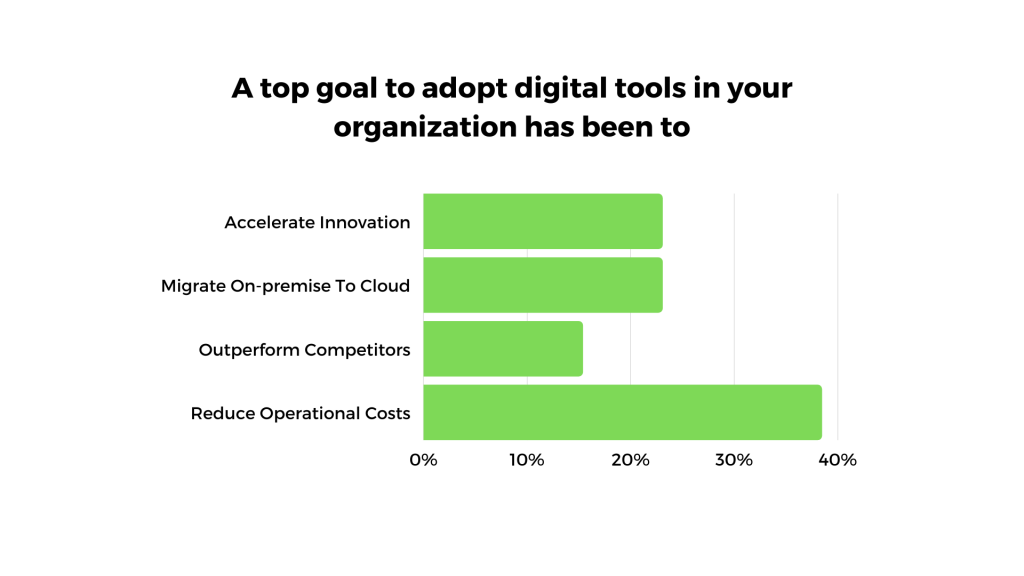 Additionally, 50% of the CIOs, IT Heads, and Digital Transformation Heads have set their top goal to accelerate innovation while the rest want to reduce their operational costs. The Line of Business Managers wishes to migrate themselves to the on-premise cloud, and Enterprise Architects plan to outperform their competitors.
The biggest challenge in building digital tools: Time and resources constraint
About 70% of the respondents feel that they cannot realise their digital goals due to less resource and time constraints to get the job done. 50% of CIOs and IT heads believe that time, and resource constraint is a significant challenge while building digital tools, and less than 25% of CIOs find a low-priority of creating digital tools. Difficulty in keeping up with the rapidly changing requirements is a challenge faced by 38% of the teams. 
Resources aren't the only obstacle: 38% of the respondents shared that they struggle to get the buy-in they need to build digital tools. Plenty of digital tools are built on top of existing data and processes. Insufficient access to required data has been a challenge for 30% of the respondents.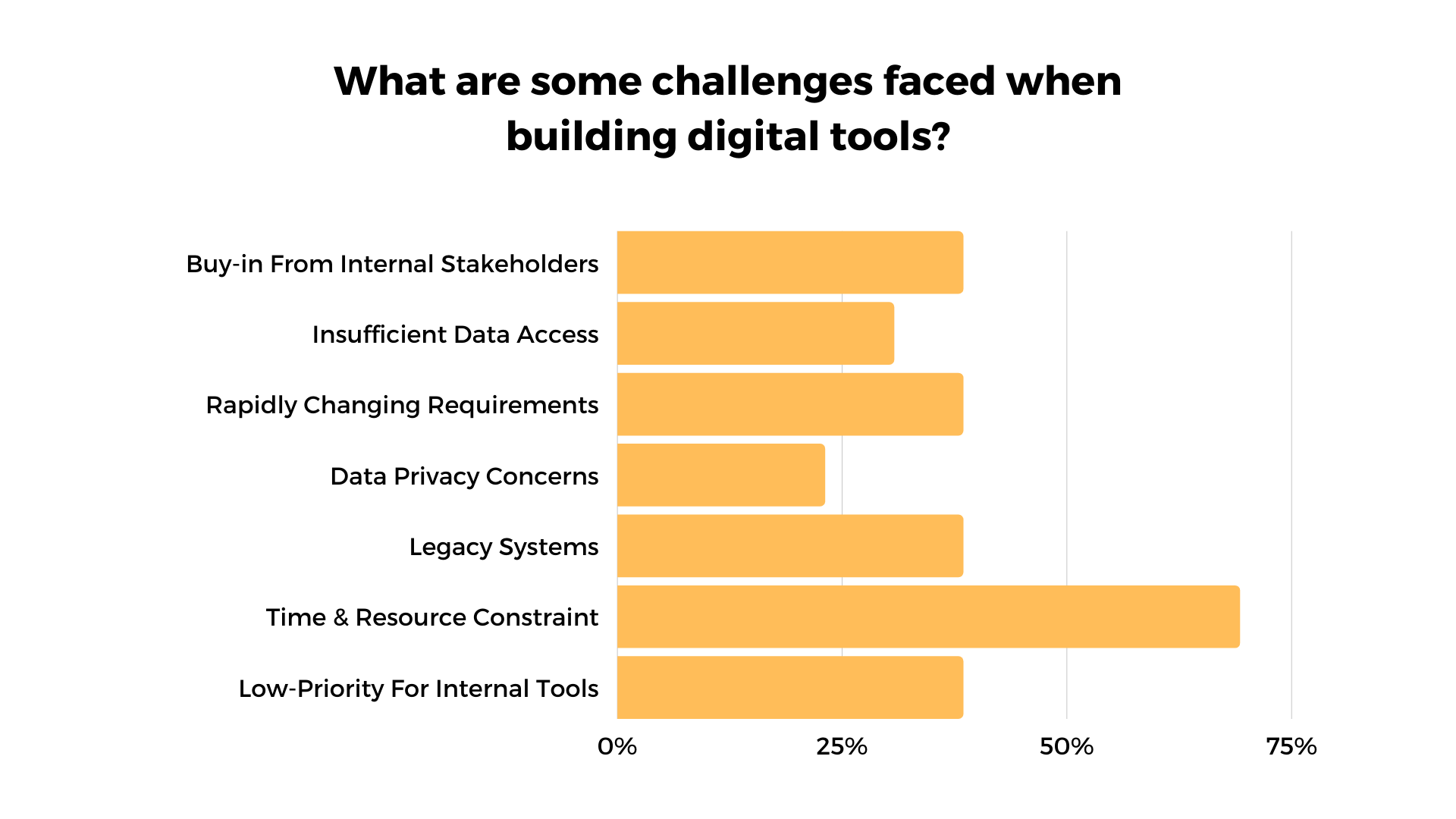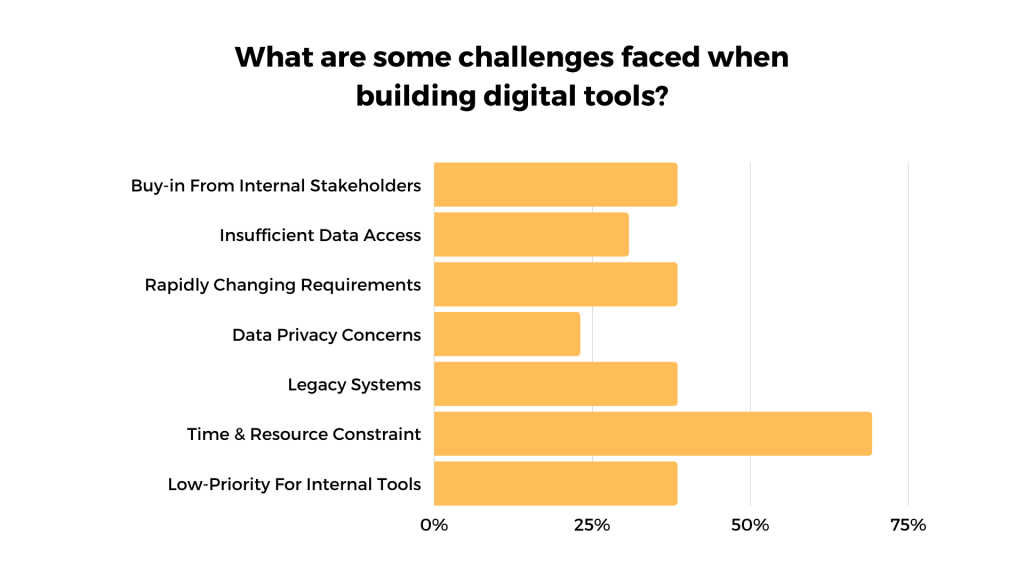 Who is building digital tools in most enterprises? In-house developers
Interestingly, despite high demand for software and a short supply of developers, only 23% of the respondents deploy apps through 3rd party vendors or outsource the development who had rated their digital maturity at its infancy. More than 53% have in-house developers to build digital tools. Citizen Development is popular too. Respondents with Strategic Digital Maturity, 31% of the respondents already have citizen developers realising digital tools in their organisation.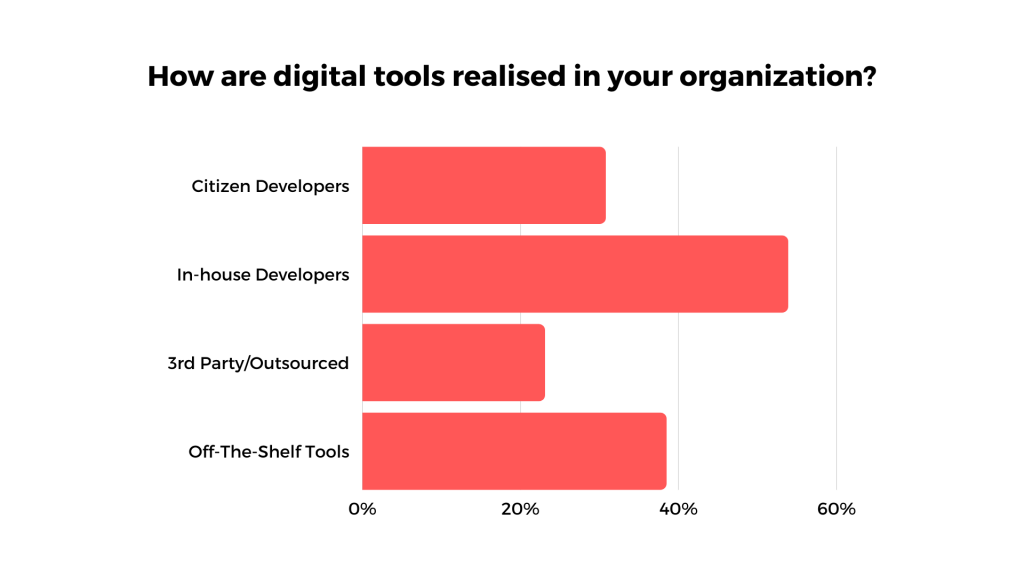 A popular category of digital tools – Business Process Management 
Business process management is the most popular category among the digital tools that organisations are creating. Productivity and Operational efficiency tools are standard, as well. In contrast, Customer Engagement Apps is a more niche category that only 8% of our responders are currently building. 
23% of respondents are primarily focussed on Operational Efficiency apps like data capture tools, workflow automation, unified dashboards, admin panels and customer support tools used by HR, Customer Support, Admin, Operations and Marketing teams in their organisations. All these respondents are using no-code/low-code development platform, used by their in-house developers.
Productivity apps are focused by 23% of respondents, having features like Digitized Data Capture, Unified Dashboard & Reporting, Predictive Analytics & Insights, Operational Tracking & Visibility used by employees, customers, partners. Among this, 60% are working with in-house developers to build this app on a no-code/low code platform.
Less than 10% are building Customer Engagement apps using a no-code platform with citizen developers' help. The app features include service request portal and being able to achieve business transactions.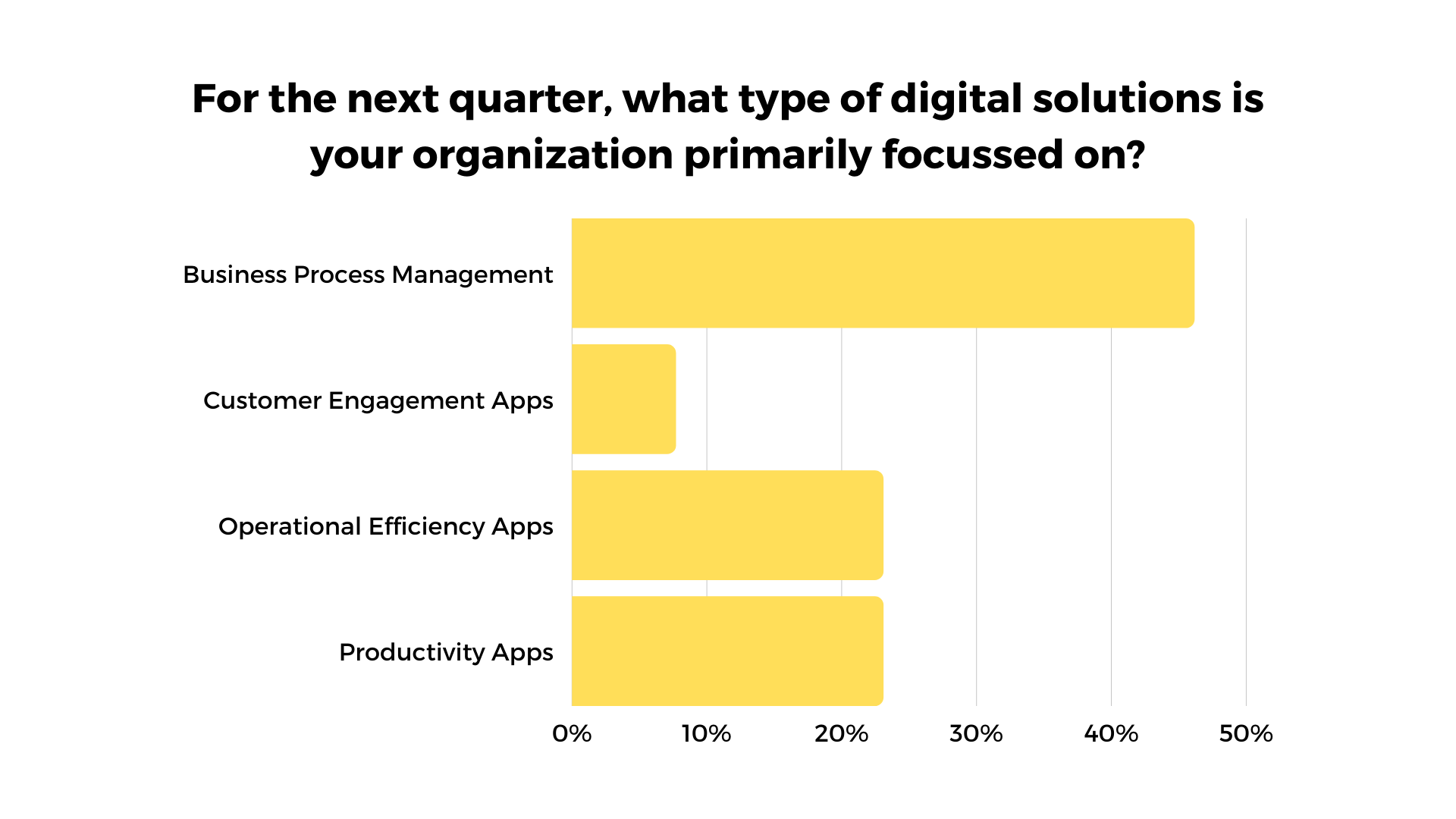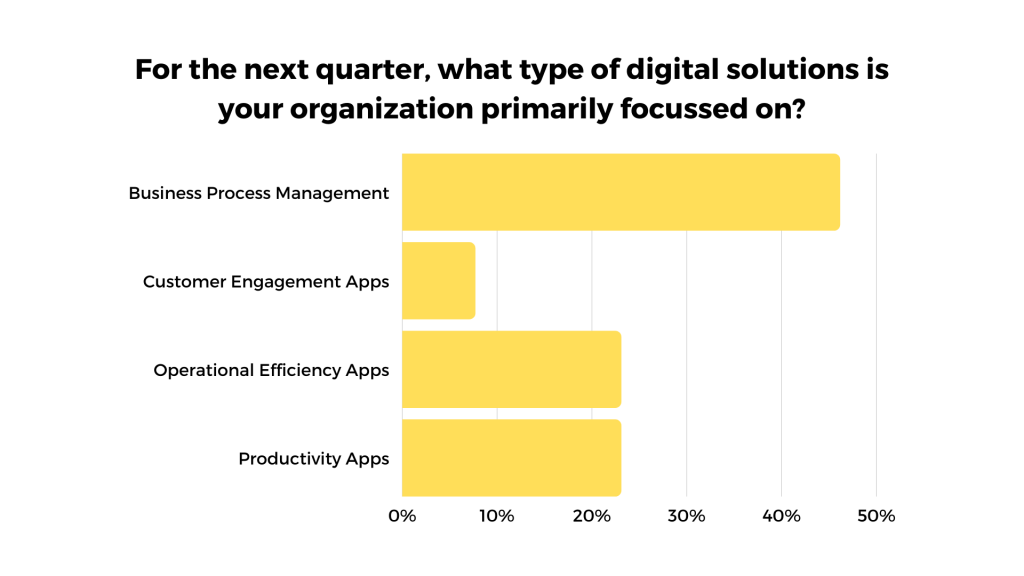 How do you plan to accelerate digitalisation? 
46% of the respondents have already started implementing Rapid Application Development technologies to accelerate app development. Of these respondents, 66% are also employing containerisation and microservices architecture. This approach has proven to better performance and lower infrastructure footprint by increasing application availability to a larger pool of users. 
Surprisingly in the age where everyone is going mobile, only 30% are moving systems to cloud.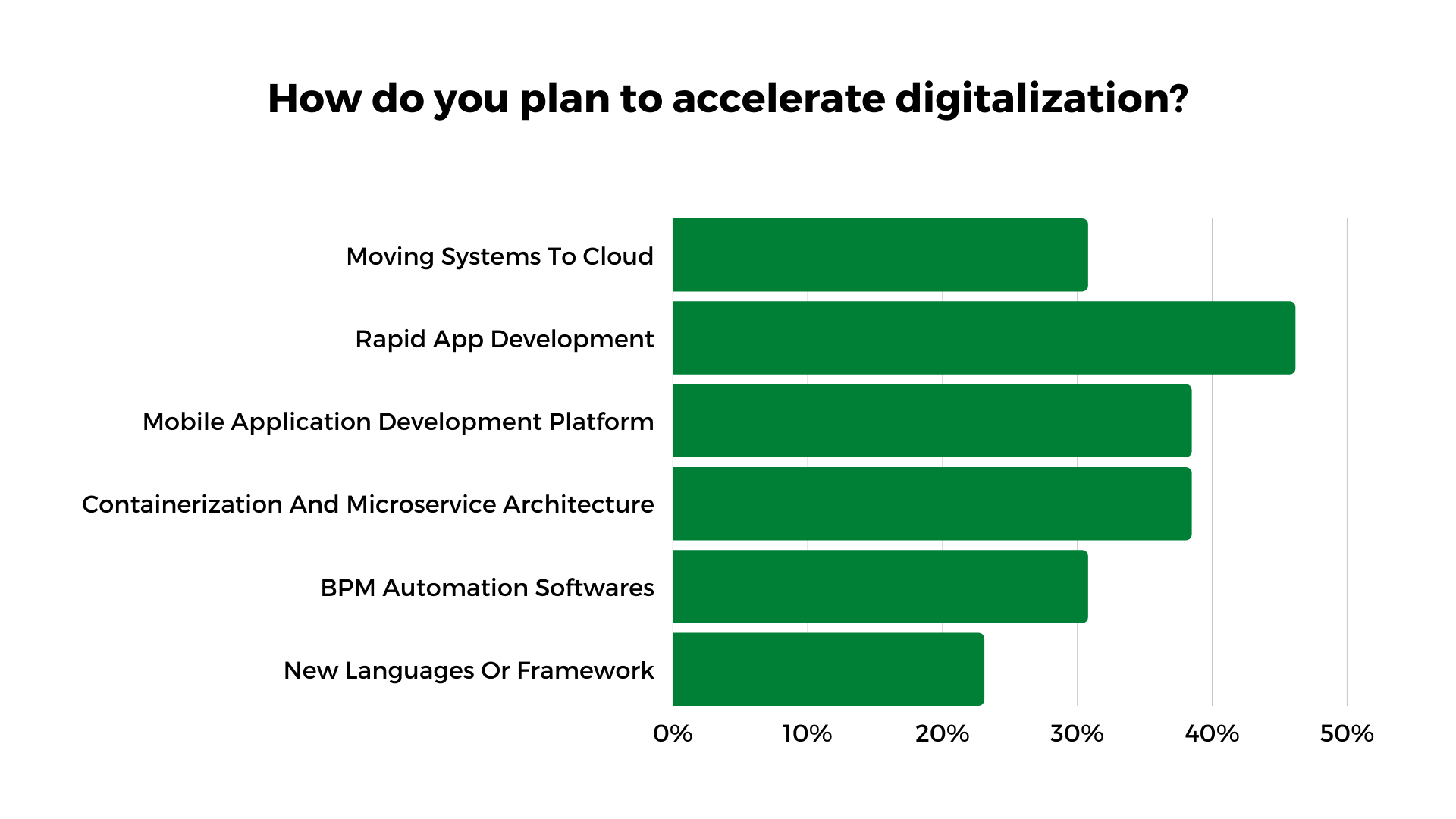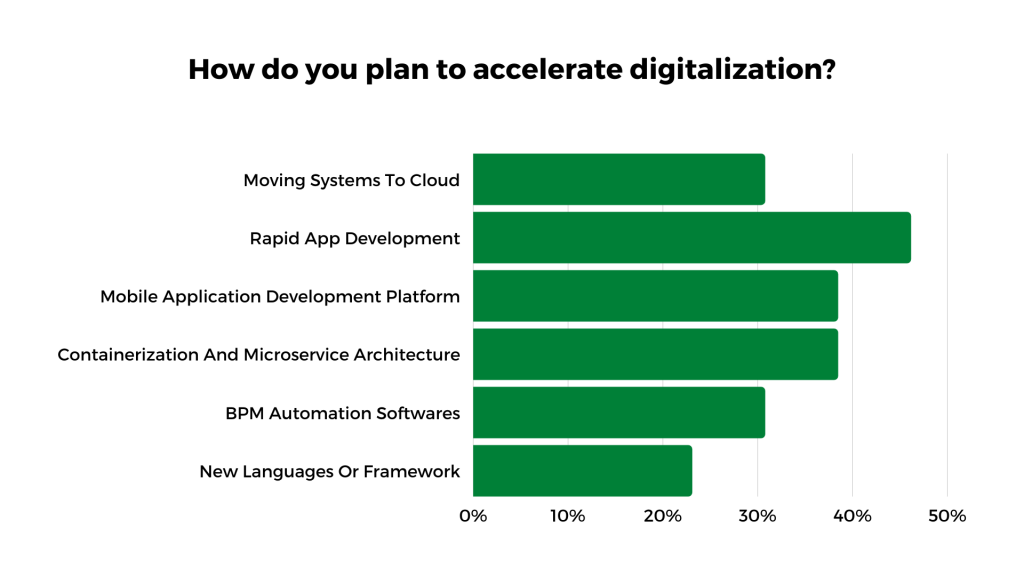 38% of respondents have adopted Mobile app development platforms to speed up app delivery, whereas 23% have also started employing new languages or frameworks.
At what pace do you plan your digital goals to be implemented? 
Around 50% of the respondents wish to reduce operational costs and migrate on-premise to cloud yearly. 15% want to launch digital tools semi-annually. 15% of the respondents plan to accelerate their innovation and roll out new tools quarterly.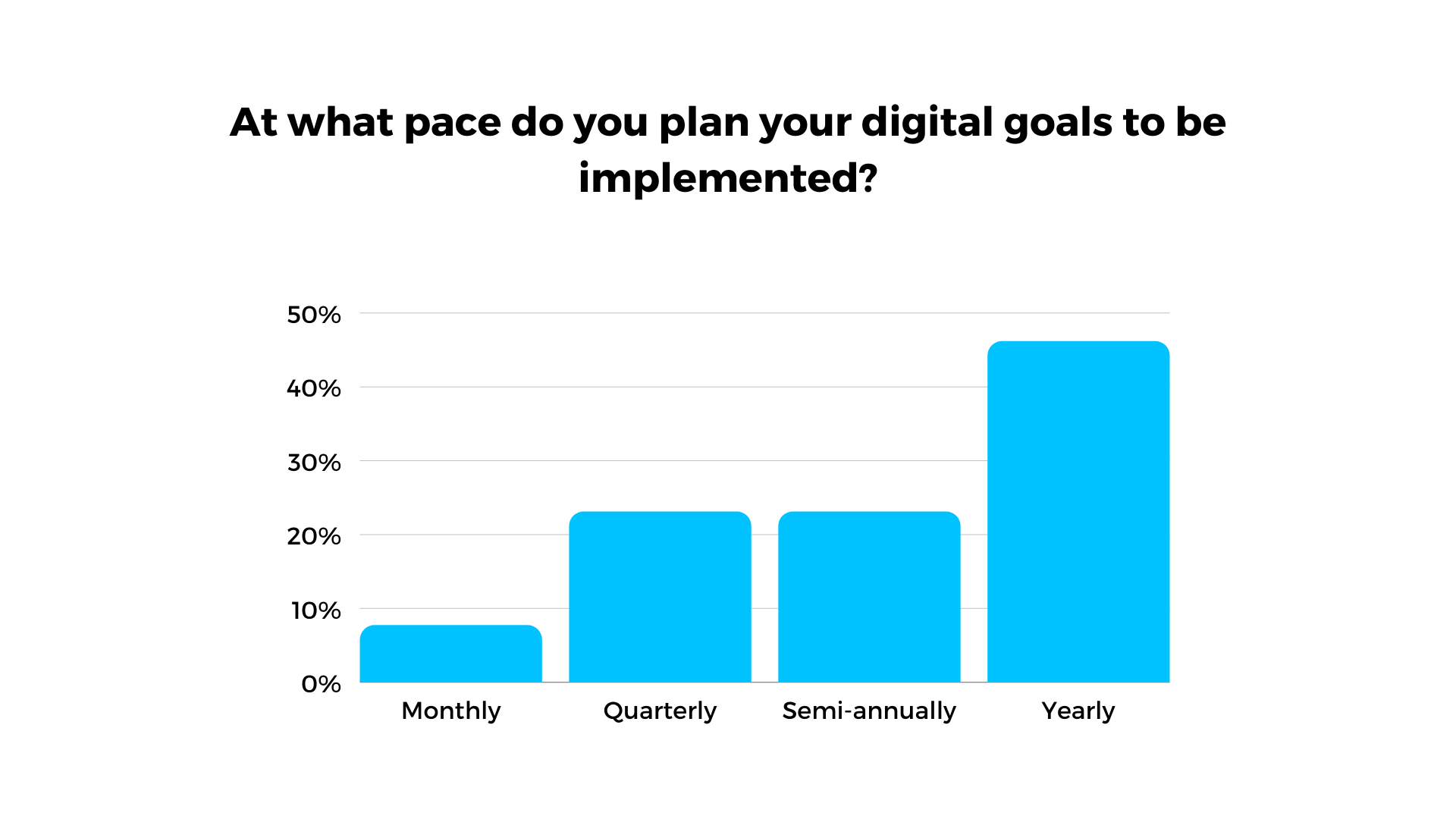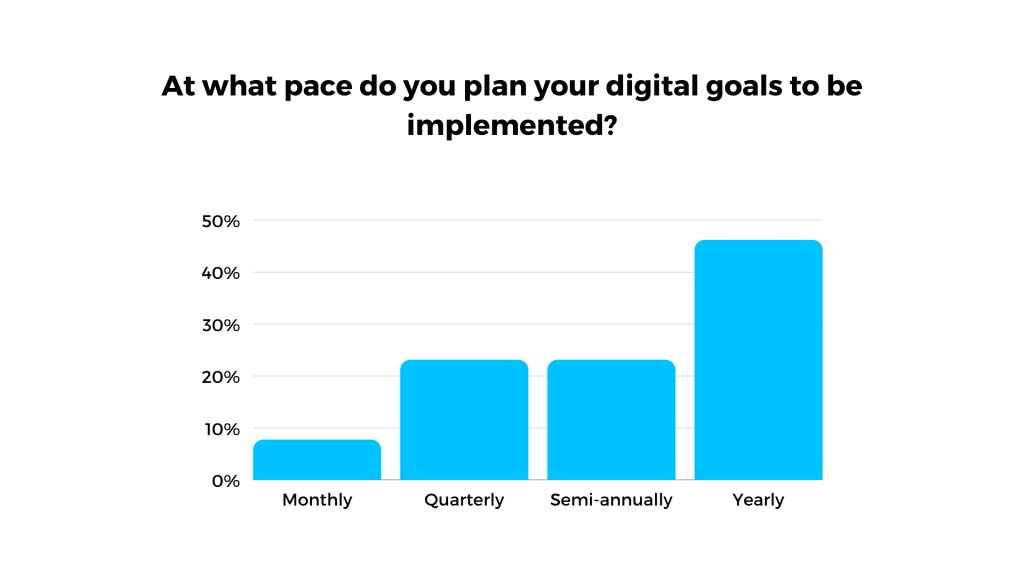 Have you implemented any RAD tools in your organisation? 
More than 50% of the respondents have implemented RAD tools in their organisations. 39% have started using Low-Code platforms to realise digital tools, whereas 16% use No-Code or Zero-Code platforms to launch apps. Interestingly RAD tools are being implemented more by organisations that have rated their digital maturity functionally excellent and strategic. Teams with digital maturity still at the infancy stage are yet to implement such platforms for agile delivery tools.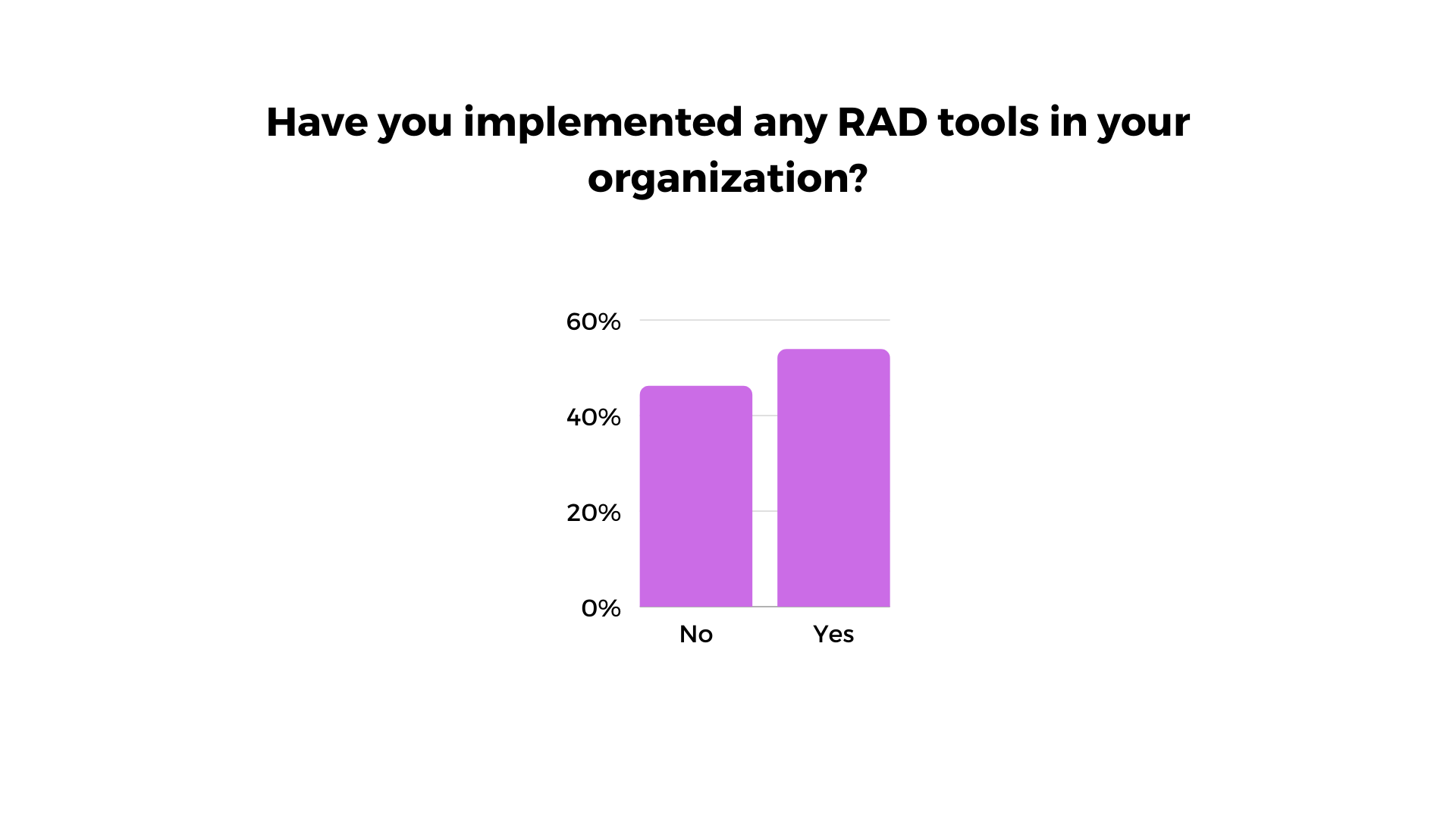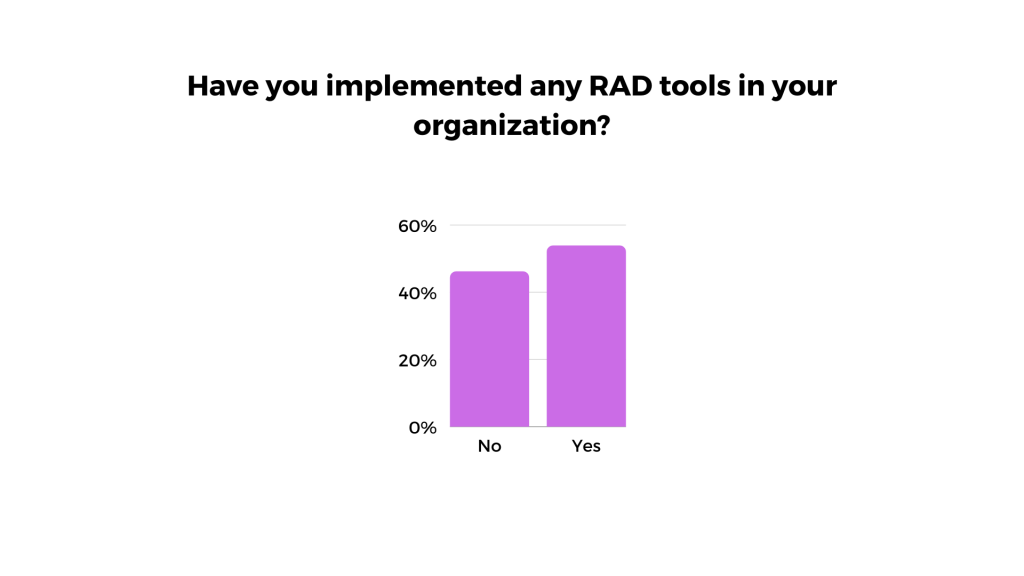 46% teams are still not employing RAD tools like low-code and no-code platforms in their organisations. 
What are some reasons for adopting low-code?
40% of respondents are using RAD platforms like low-code and no-code to protect against technology churn. Using low-code platforms empowers to build long-lasting solutions that can be updated easily. In addition to easy updates, low-code lets businesses build solutions on top of existing databases and processes that help bring down technology churn. Companies also find RAD tools to be helpful to reduce the dependency on developers (20%).
Among this 50% of the respondents that rated their digital maturity as strategic, with goals to accelerate innovation, migrate on-premise tools to cloud, and reduce operational costs have stated that they plan to use or are currently using no-code/low-code for building apps like business process automation apps, operational apps and customer engagement apps.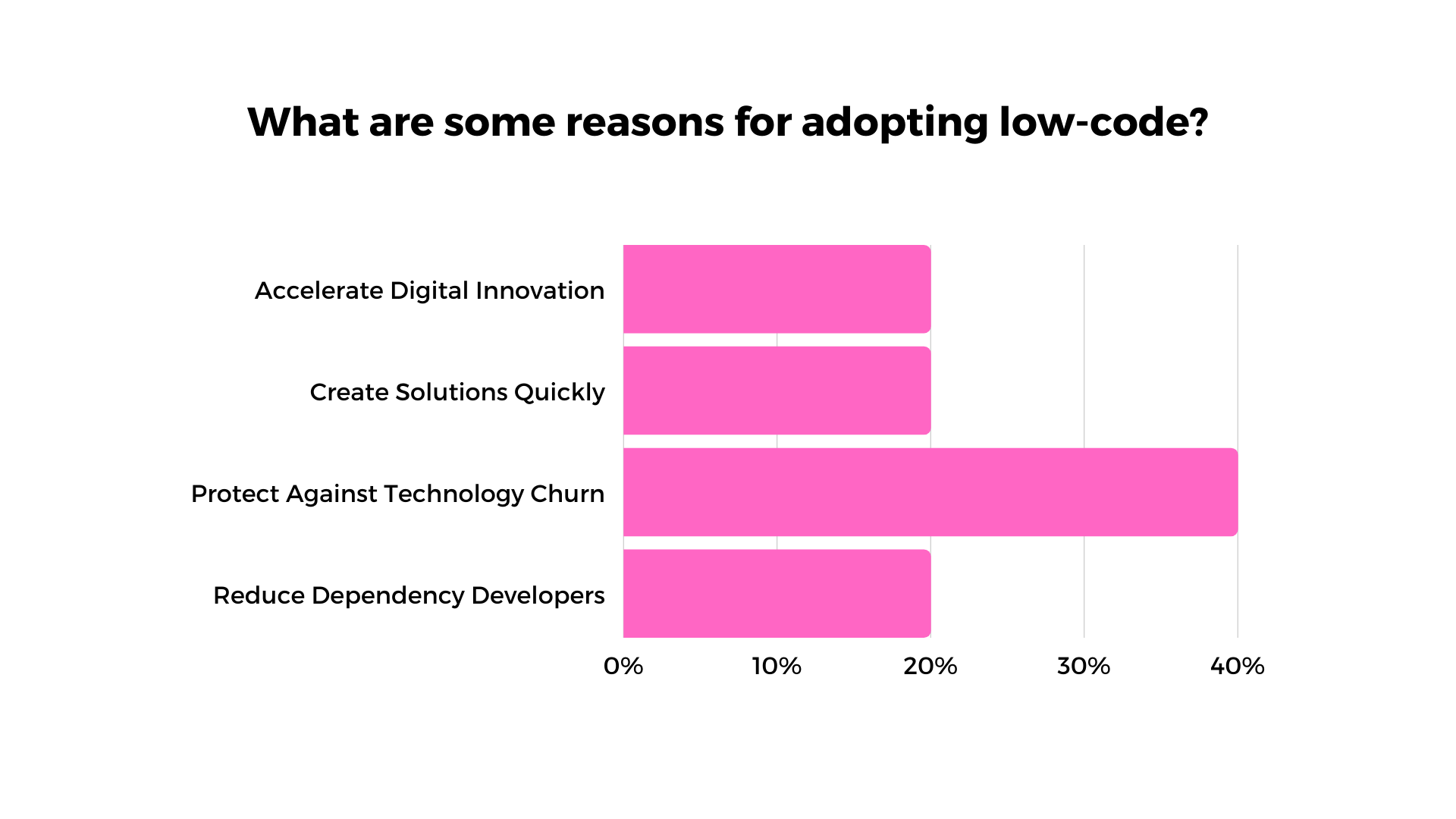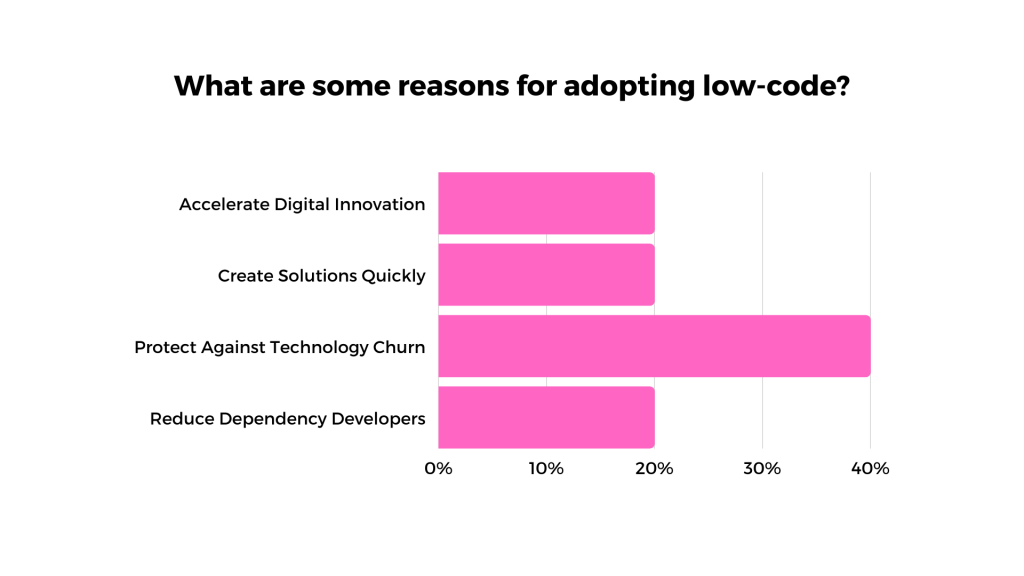 15% of respondents whose organisations have agile digital maturity, focused on building productivity apps on no-code/low-code platforms for meeting their goals to accelerate innovation and migrating on-premise to cloud.
All the respondents are trying to protect technological churn, which happens to favour no-code and low-code development.
A major obstacle against low-code? 
More than 60% of the respondents who are not implementing digital tools through RAD platforms shared that they do not know enough about its capabilities. This is not surprising to hear because low-code platforms have grown in the market in the last few years, their potential is not yet fully known to people. Simultaneously, with the prominent leaders (like Microsoft and Amazon) getting into this industry, will indeed throw some light on this technology more than ever.
Respondents whose organisations have functionally competent digital maturity are not yet fully aware of the potential of no-code/low-code app development. While 15% of respondents are not sure if these platforms can help them build complex applications, the rest are not comfortable with the platform vendors' lock-in periods.
The respondents whose organisations are in the infancy stage of digital maturity are working to build business process management apps. 50% of them are working with low-code development, and the rest are still not aware of this technology.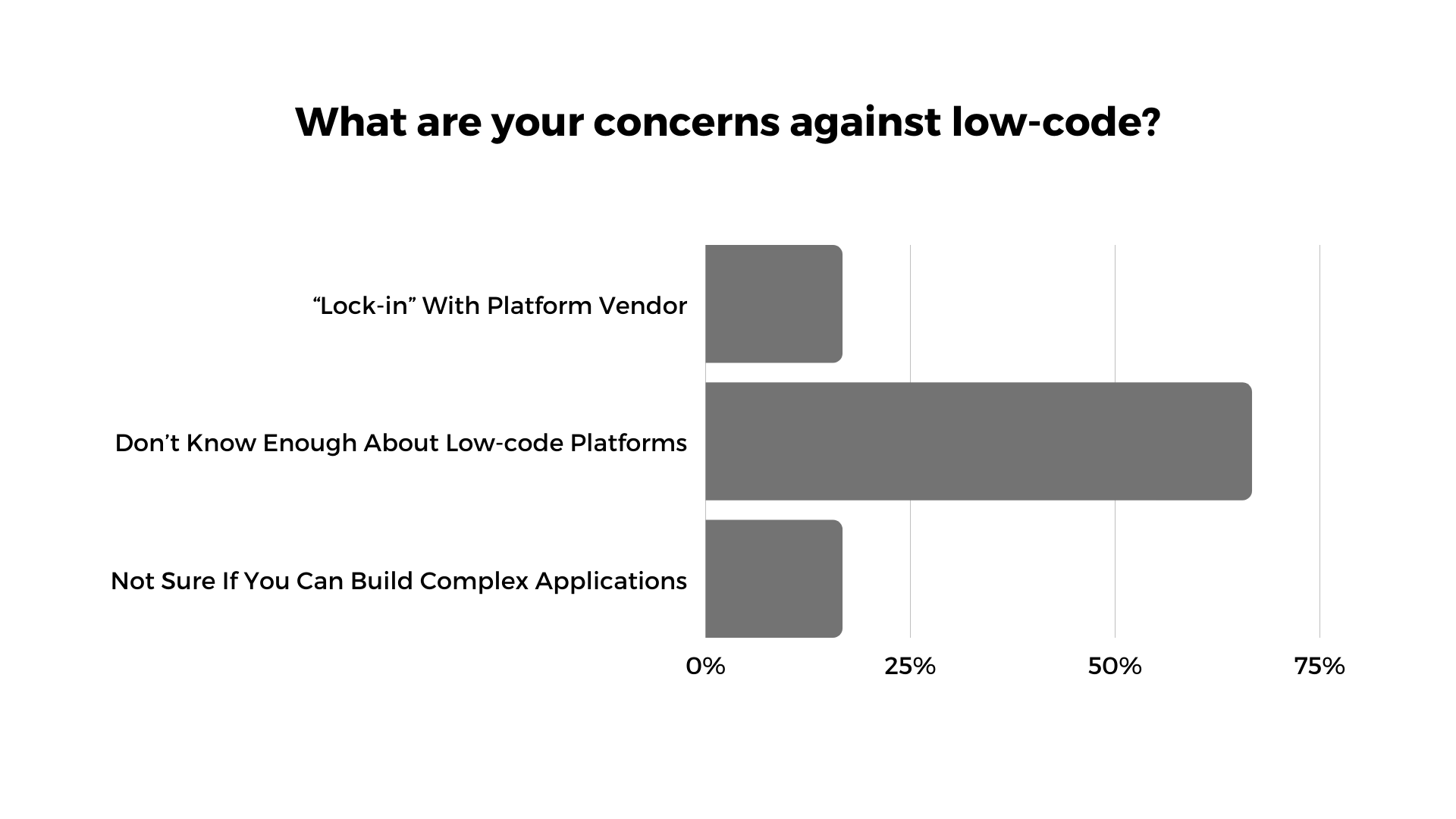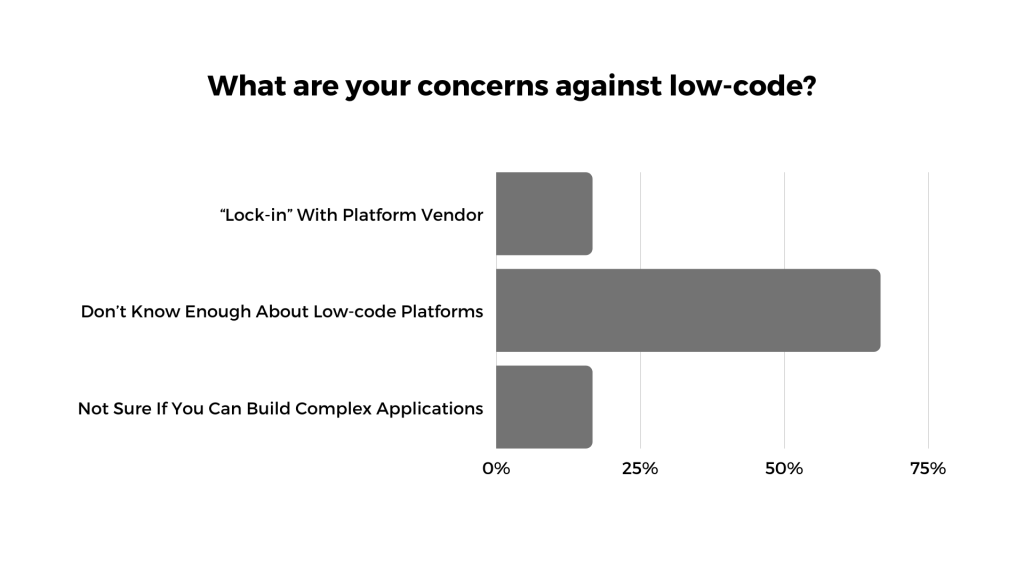 What are some challenges faced when building digital tools?
More than 70% of the respondents feel that they have reached a digital maturity state, and technology supports their business growth and drives business changes. Almost 50% feel that their digital maturity is strategic, whereas 15% think their digital maturity is still in the infancy stage.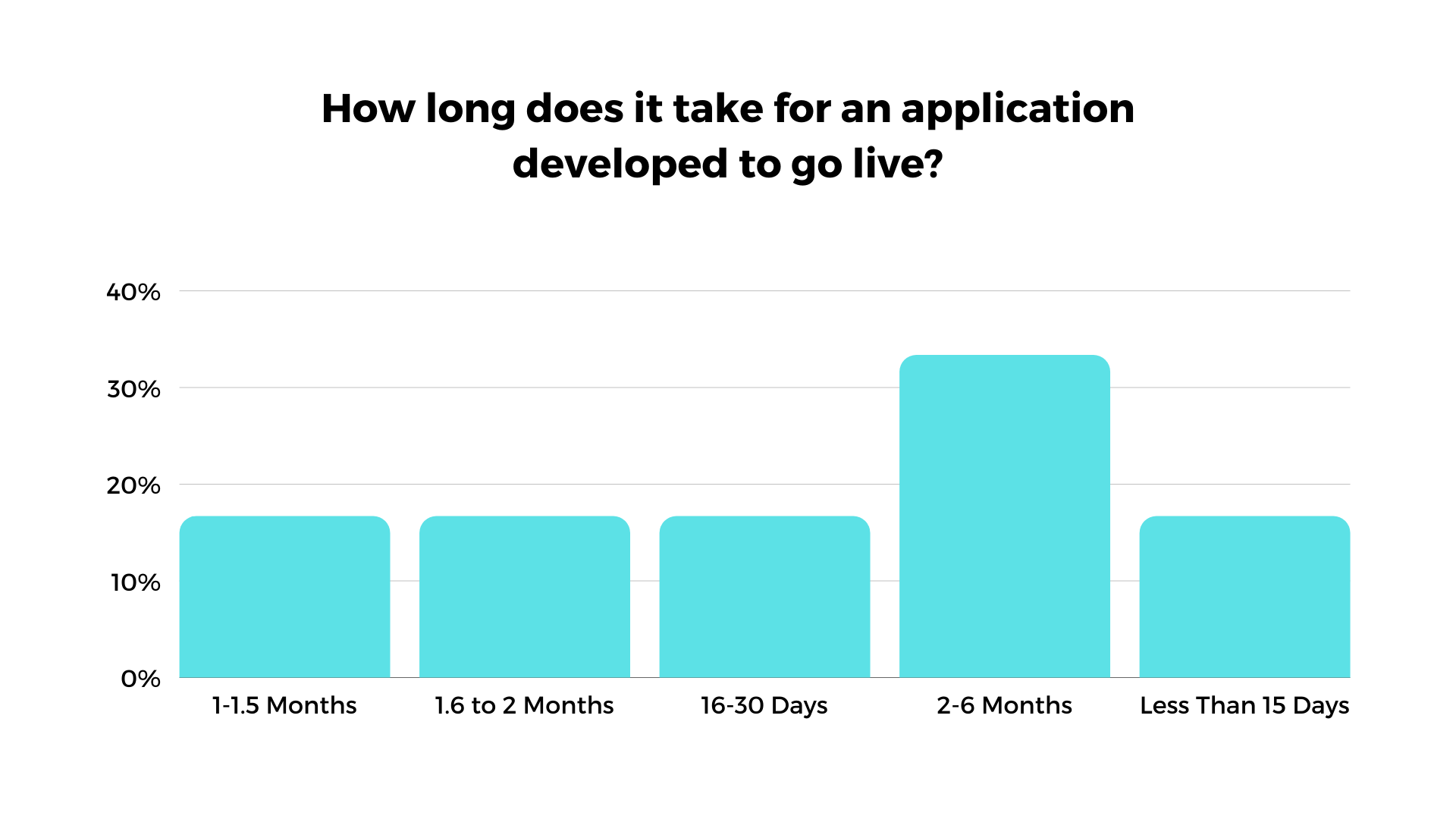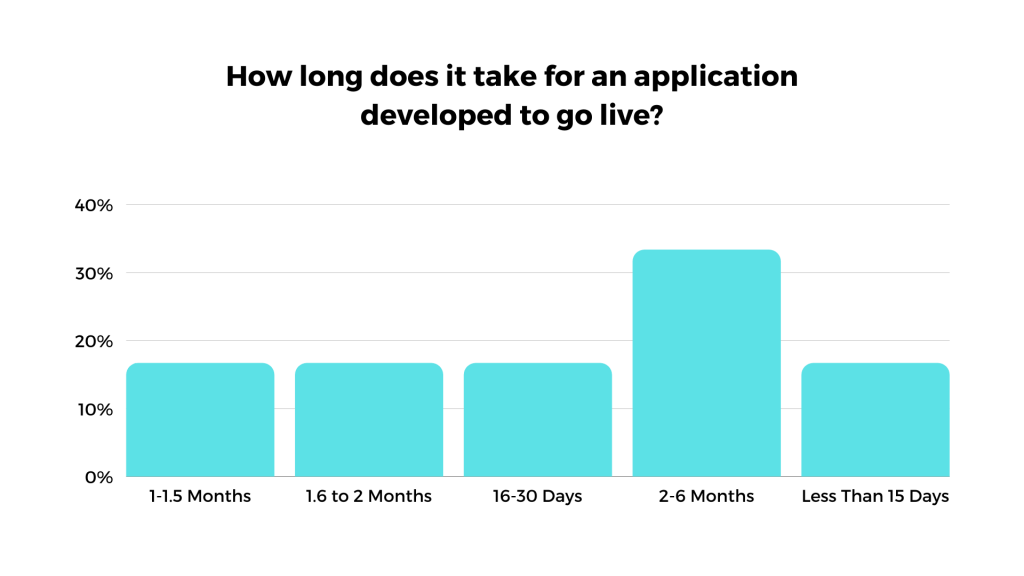 How long does it take for an application developed to go live? 
The typical time frame ranges from 2-6 months for over 30% of the respondents. The rest can roll out apps in time frames ranging from 15 days to 2 months.
The education and manufacturing industry respondents take 2-6 months to build business process management and operational efficiency apps without using any RAD tools. 
While about 50% of respondents from technology and financial industry take 15 days to 2 months to build apps like business process management, productivity apps, operational efficiency and customer engagement apps using a no-code or low-code development platform.
Conclusion
Digital tools are evidently becoming critically important, and technology leaders are gearing up with the right tools, teams, and technology to accelerate innovative application development. We're hoping this survey helps get the discussion started and brings more data and transparency to the topic of digital tools for your organisation's internal stakeholders.
And if you're interested in exploring low-code platforms to create digital tools, check out the DronaHQ blogs and guides for low-code focused podcasts, interviews, customer stories, and tutorials to help launch long-lasting digital tools for your business.
Copyright © Deltecs Infotech Pvt Ltd. All Rights Reserved