What if you hit a ceiling on No Code Platform?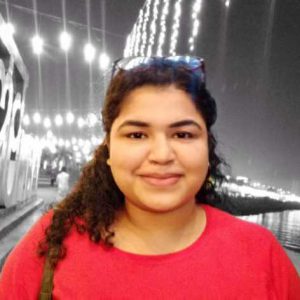 Technologists are stressing on the capabilities and limits of no-code and low code app development platforms. How do you ensure security, branding, third-party integrations and advanced UI interactions on a no-code platform? Is there a way to customize the projects, connect with back-end APIs, manage infrastructure deployments, add advance UI/UX functionality and go beyond the said 'ceiling' of no-code platforms? 
Low-Code/No-Code platforms are ideal for domain experts and consultants who need to solve complex problems and for business users who don't want to sit around for the IT teams to create the solutions for them. But these platforms often present a lack of features and flexibility to advance into a more complex application.  Should you still be using these platforms for serious app development?
We saw a bunch of threads across networking channels where people raised similar questions. What happens when the platform 'hits the ceiling' of its capacities and there is no 'no-code' way for you to get to more elaborate requirements to pan out?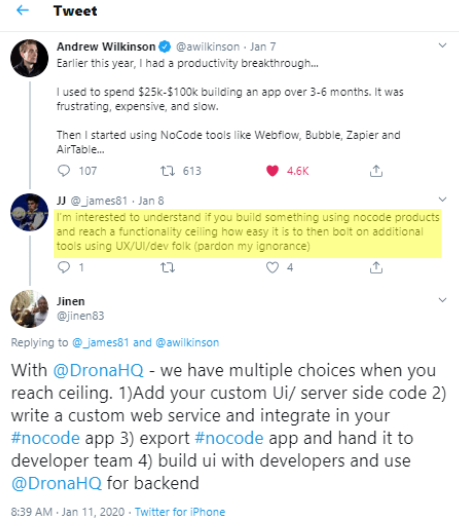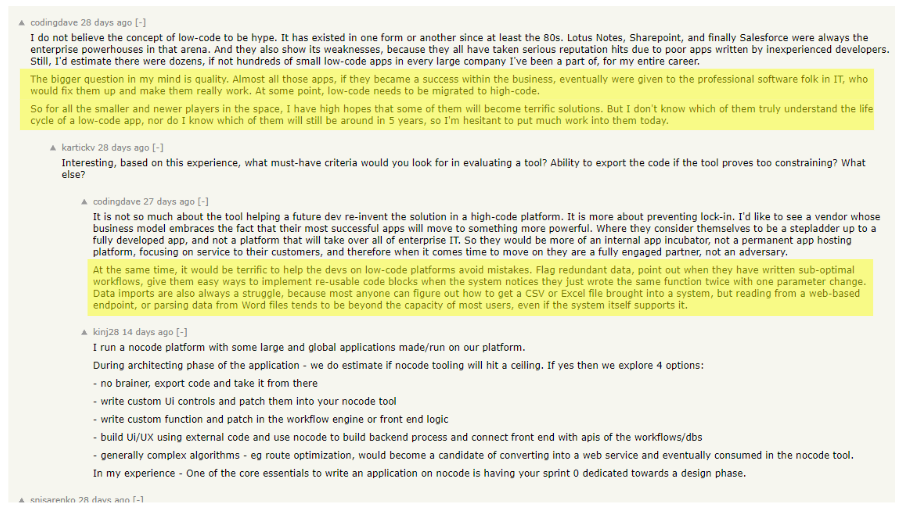 You want to do more than fill in the database, you want your application to look like it belongs to your company and that means custom UI/UX styling. This will be a case for almost all SaaS and visual programming environments. Logo, colours, fonts; you may even find a platform that accommodates some form of styling.
But, imagine a 'swipe left/right' kind of functionality on the app or you want the app to perform differently when the device is turning sideways. One might think no-code platforms can't offer much for experienced app developers.
There is where DronaHQ gets it right. 
Can you implement custom UI/UX requirements while still working the no-code way for the rest of your app? 
With DronaHQ, you can ensure custom UI/UX using its
Control Editor (or Designer), an awesome tool offered to build own UI controls 
Make front-end out of DronaHQ's environment and continue with the backend on DHQ Studio (Build your UI with the dev and use DronaHQ for backend)
So you have dealt with UI/UX customizations but, what about app use cases like route optimization for a travelling salesperson, or a lift/elevator management algorithm or any other automatic scheduling of activities? Such requirements point towards more complex, server-side logic. Should you still be using a no-code platform?
DronaHQ is all about allowing business-minded users to control the logic of the app as per their needs. A predefined flow of logic unique to your business can still be achieved without leaving the No code platform at all.  The right combination of workflow tasks and business rules can get you there. 
For  a more out-of-the-box logic and integration features based on REST DronaHQ allows you to: 
Import your custom code through the Function Editor 
Write custom web service and integrate using APIs 
Integrate using services like Zapier for automation (For Ex- Printing a PDF, or Creating documents with Google Drive) 
Integrating server-side code is one of the key strengths of DronaHQ's model-driven app development. It is particularly helpful in the rare situations where you cannot achieve your desired results using workflows alone, or you have an existing code (something you already invested in) that you would like to keep running in the new application models. 
The developer has complete freedom to extend app capabilities with any existing custom code in the app logic.
Whether it is a system used by the accounting teams, or the HR or social media accounts for the marketing teams, you can integrate your apps on DronaHQ with whichever platform desired.
It is wise to select a platform that ….
Security, branding, third-party integrations and basic feasibility, achievable with DronaHQ easily in contrast to popular low code and no-code platforms. Customize the projects, create and connect with back-end APIs, manage infrastructure deployments and easily resolve UI/UX issues.
The key is to think of low-code and visual programming environments as a time-saving medium instead of a replacement of the traditional way of work. On any no-code platform, you can build an app prototype in a week. With the platform's existing capabilities, you might have 50% of your functionality. With some more work put in, you can go from 50% to 80%. By that point, what you have may not match 100% to your unique requirements. That is when the dev can step in to bolt the required custom functionalities and UI/UX features on top of the app. 
Fret not. No code and Low code platform are evolving and will continue to do so. The technology is becoming mainstream for so many organizations that, to be accepted as experts in the market, app development platforms ought to keep offering flexible and extensible solutions to perform the same development, installations, deployments and runtimes that traditional coding does.
Copyright © Deltecs Infotech Pvt Ltd. All Rights Reserved