Comparing low code platforms for internal tool development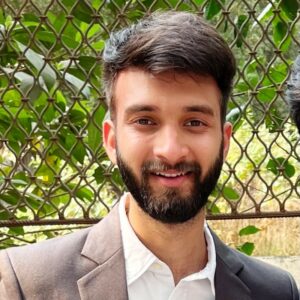 The most effective methods are always considered to be low effort and high value. Taking this into consideration building applications using low code platforms are amongst the most efficient ways of building internal tools. Now choosing the right low code tool for your business, that is where the real dilemma begins. There are so many different low code platforms for you to choose from. You can either sit and scroll the internet and browse for enterprise low code application platform reviews or list low code platforms or you can give this low code internal tool builder comparison template a while that will help you find exactly what you need with an unbiased comparison of multiple platforms that could help you choose a tool to satisfy your needs? Interested? Let's begin


What are Low code tools?
Low code tools allow people  to quickly build and deploy  applications at speed using a visual interface. These applications can satisfy complex use cases with minimal effort and are hence time effective.
Why use low code for internal tool development?
Low code is the natural extension from code. It helps developers move faster by allowing them to build intuitive user interfaces from drag-and-drop components. Developers can also make their own controls, functions and connectors that can be reused across all the solutions they build.
 Low code tools are now heavily used for internal tool development as 
Technical wizardry:

Business developers or citizen developers can co-create powerful apps for business in collaboration with IT. 

Pre-built Components and Reusability

: Low code platforms have pre-built components that can be reused to design the tool you are building that make the process of building professional user interfaces and experiences a simple process.

Direct integrations and low code API accessibility

:  Ready connectors to databases and popular third party services allows faster integration to your data sources

Ease of Deployment:

Deploying applications on low code platforms is very simple and fast compared to the traditional method of exporting builds.

Faster prototyping and iteration

: More iterations of prototypes and builds can be published for testing easier and quicker than the conventional coding approach.

Maintenance: The maintenance process is increasingly easier with low code platforms as the platform adds support for code packaging and API changes. 
Support

: Low code platforms have support forums, communities, documentations – all that make it easier to navigate through app development challenges compared to searching for code snippets and solutions online 

Faster ROI generation:

While it may still be your developers who use this tool, the amount of time it takes them to build apps is drastically reduced and you get to see ROI faster
Why did we decide to make a low code comparison tool?
With multiple low code players in the market with hundreds of unique and overlapping features, we wanted to ensure that the solution you want matches the requirements of your business.The platform you choose for development plays a very important role in the end product you desire.
In low code development, the one size fits all approach has never worked. Hence to ensure that you do not get lost in the fascinating wormhole of low code tools and platforms we decided to make a comparison tool that helps you choose the platform most suited for your use case. 
Unlike the generic comparison articles out there, this tool lists a comprehensive set of parameters that have been determined post conversations and feedback from various developers, technology decision makers and data analytics using low code platforms to build internal tools.
The objective is to find the right feature-pricing mix for your organisation. So whether you are here looking for a retool alternative, an appsmith alternative, a dronahq alternative or simply observing the many different options – you are in for a treat (we hope 🙂 ) 
If you prefer visual content over textual, here's a quick video we prepared to guide you on how to use this low code internal tool builder comparison template:
Components of this low code platform comparison tool
There are two main components in our comparison tool – namely scoring and comparison
Scoring : The scoring section contains metrics that you provide to score a platform.

Comparison : The comparison section contains the output based on the metrics you provide
How does the low code platform comparison template work?
The tool is extremely simple. You use the scoring component to set the parameters based on your evaluation of the platform. Every metric you provide is used to calculate and evaluate suitability of the tool for you.
All the  parameters have a specific importance ( weight ), the cumulation of different parameters are taken into consideration to create a comparison table tailored to you. These weights can be customised based on what is important to you by clicking on the constants table, we have provided the most suitable weights based on our evaluation.
Use cases and examples
We can change the evaluation of every single metric that we want by selecting the most suitable response for us from the drop down menu as shown below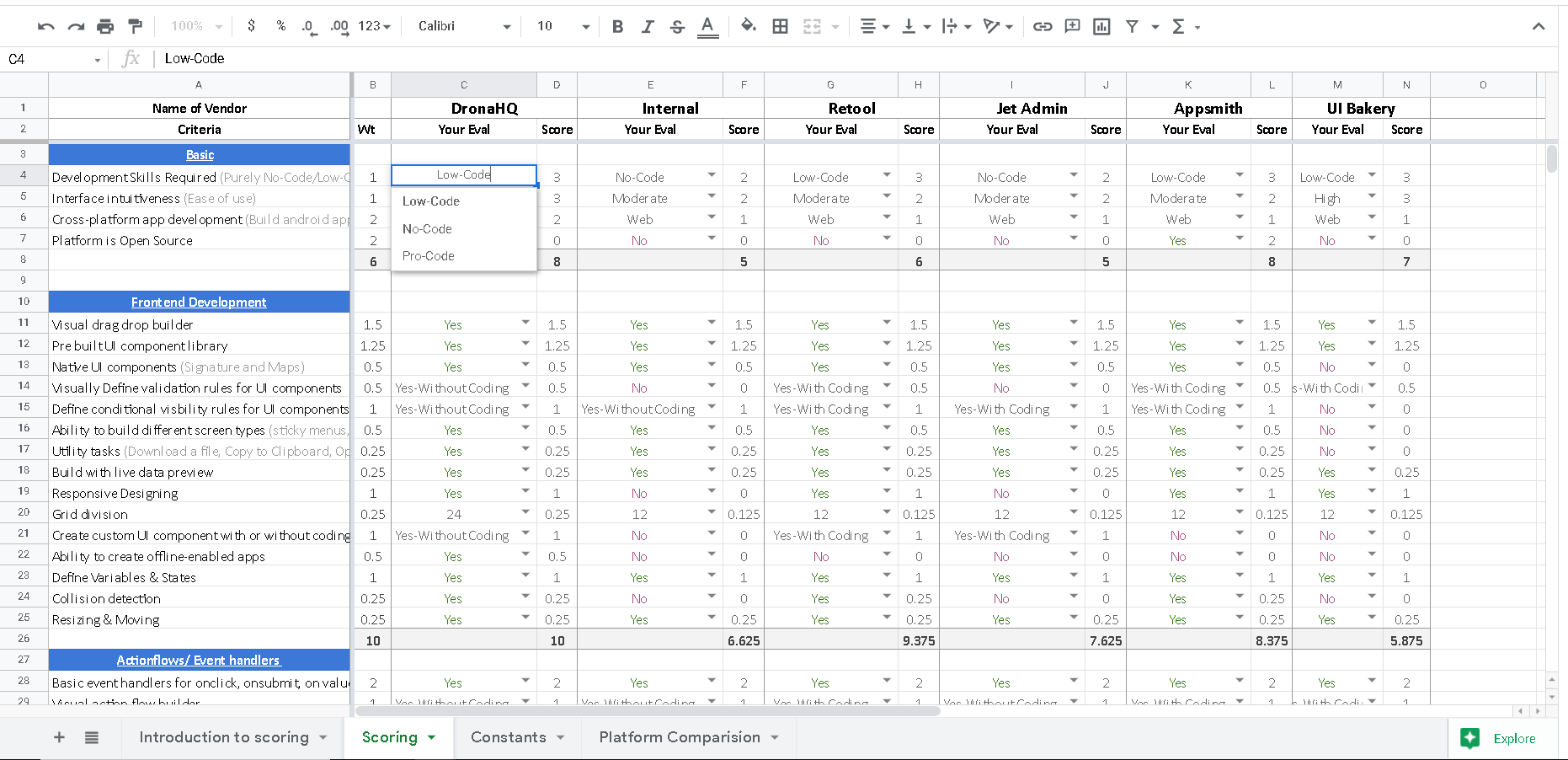 The metrics span a variety of KPI's from front end development to action flows, analytics and developer productivity. After setting the metrics we move on to the comparison sheet that gives us an evaluation of the tool based on the metrics we provided.
The results are based on the weights provided and the metrics provided.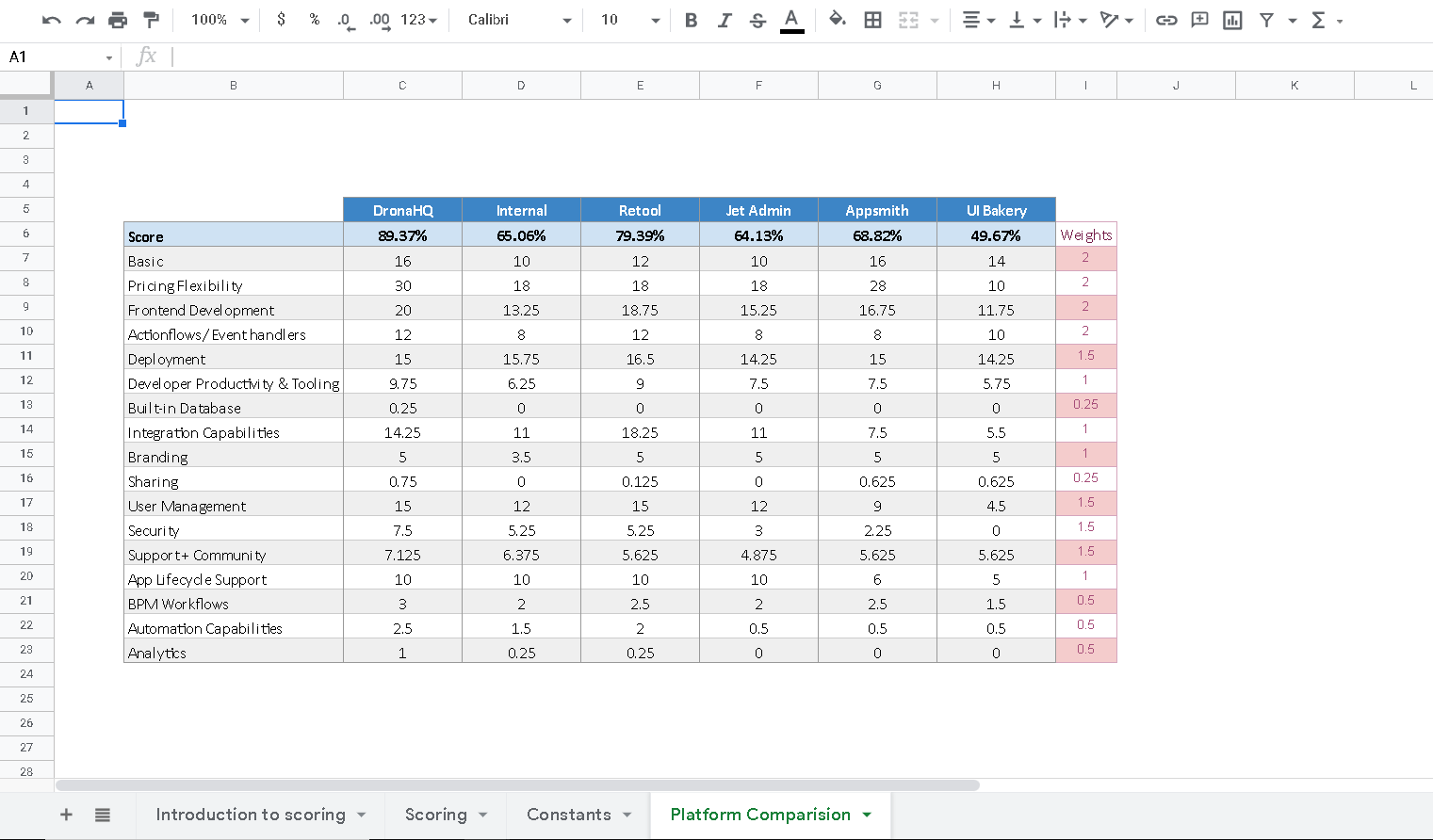 So now that you have a basic idea of how the tool works, it's time to try it out for yourself. This is the first step in the process of figuring out a simple, cost and time effective way of creating internal tools and fully functioning internal systems that can revolutionise the way you work, all done with very little coding.
The tool is available for free here. 
Copyright © Deltecs Infotech Pvt Ltd. All Rights Reserved