Employee Vaccine Management App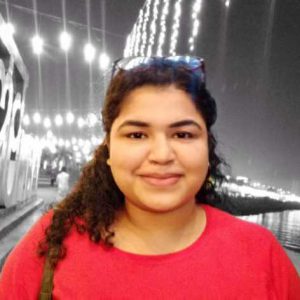 During the pandemic, we all have awaited one single piece of news—the COVID-19 vaccine.
But with this great news comes even greater responsibility—delivering and vaccinating billions of people on a deadline with finite resources.
Every person in every country should have access to vaccines for themselves and their family. And to ensure this, the supply chain efficiency for proper vaccine distribution should be top-notch.
Seeing this, many corporates, trusts, housing societies, came forward to take responsibility for vaccinating their workforce. To get this action done smoothly, they will need a system to manage it. A system that will remedy corporations who need to run vaccination drives for their – employees and their families.
Core Capabilities of Vaccine Management System
A well-designed vaccine management system is essential for efficiently administering and tracking vaccine programs. With the DronaHQ low code platform, organizations can create custom applications tailored specifically for their vaccine management needs. Here are some core capabilities that can be incorporated into a vaccine management system built on DronaHQ:
Appointment Scheduling and Registration: The custom app built on DronaHQ can include features for streamlined appointment scheduling and registration. Users can easily schedule appointments, manage time slots, and capture patient details. This simplifies the process for healthcare providers and ensures efficient allocation of resources.
Vaccine Inventory Management: Effective management of vaccine inventory is critical for any vaccine program. The DronaHQ platform allows organizations to develop a comprehensive inventory management system within their custom app. This system can track vaccine stock levels, expiry dates, and batch numbers, providing real-time visibility to healthcare providers. Automated alerts and notifications can be implemented to ensure optimal inventory levels and minimize wastage.
Immunization Tracking and Reporting: The custom app can incorporate features for tracking vaccine administrations and generating reports. Healthcare providers can record and monitor immunizations given to patients, maintaining accurate records for each individual. The app can generate reports on vaccination rates, dosage schedules, and any adverse events, facilitating data-driven decision-making.
Vaccine Management System Using Low-Code
DronaHQ offers a vaccine management app that can help company officials to manage and expedite their vaccine administration at scale for a large workforce. The app is created to provide real-time access to administration with data to support decision-making, including support for outreach campaigns and distribution efforts. 
Key features of the app include:
Ease of registration for vaccination for the employee and their family members

Vaccination appointment management for doses

Vaccinations administration tracking and reporting

Keeping a check on the availability of vaccine

Dashboard for quick information access about people vaccinated
The app is divided into three parts:
1. Company Vaccine Management System
The vaccine recipients can first register. Following that, they will be able to locate and schedule vaccination appointments (for themselves and their immediate family members), receive text reminders and follow-up needs (for multiple doses as applicable).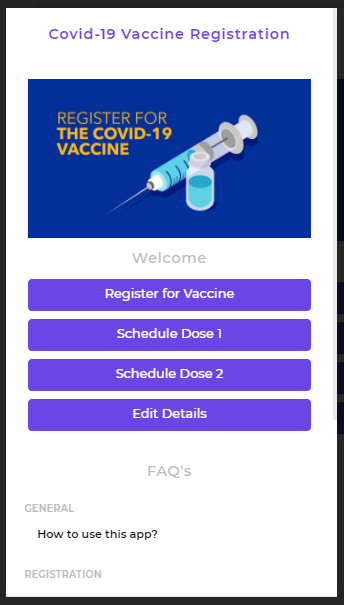 The app will allow the employee to register for themselves as well as their immediate family members using their employee ID only once. The registration process will include name, age, gender, and photo ID proof (Aadhar card, Driver's license, passport, etc.), and the same information for the relatives. The information will be available for the employee to view and edit (if necessary).
Note: Each employee will only be able to register one time to avoid confusion and errors. And the employee ID for the relatives will be the same as the employee.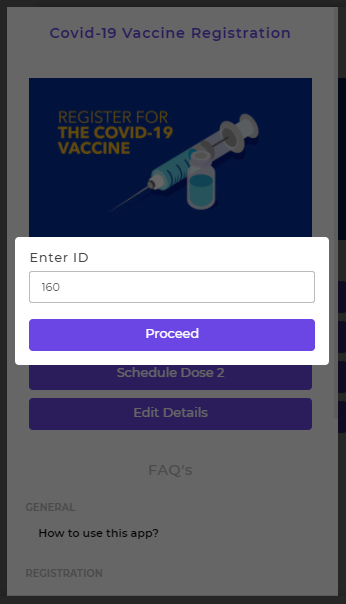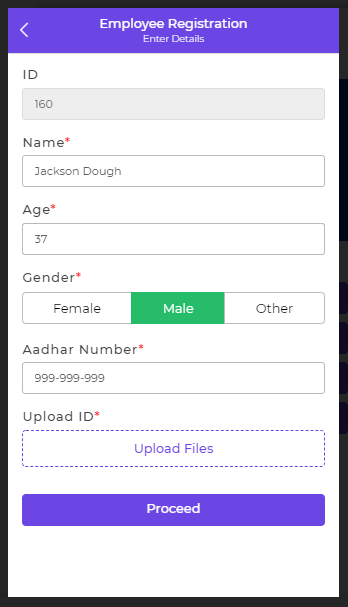 Once the registration is done, it will give an option to book slots for the 1st dose of vaccination. And only when the 1st dose is done, the slot booking for 2nd dose will be allowed.
For booking a slot, the recipient will have to enter the ID, and the app will check first if the person has registered or not. The system will allow slot booking only if the person has registered. The slot booking will give the recipient the freedom to book a slot for any day and any slot and in any city (if slots are available). 
Further, the app will send reminders to the person about the vaccination appointment one day prior. If any person misses the appointment for any reason, they will get an option to book it again the next day.
2. Hospitals-Clinics Management System
The company clinics, too, will have an app with an extensive set of features to automate their hectic lives, making it a lot easier. 
The Homescreen has two views:
Appointments:

View all your appoints

Dashboard:

View statistics for today and manage your slots/schedule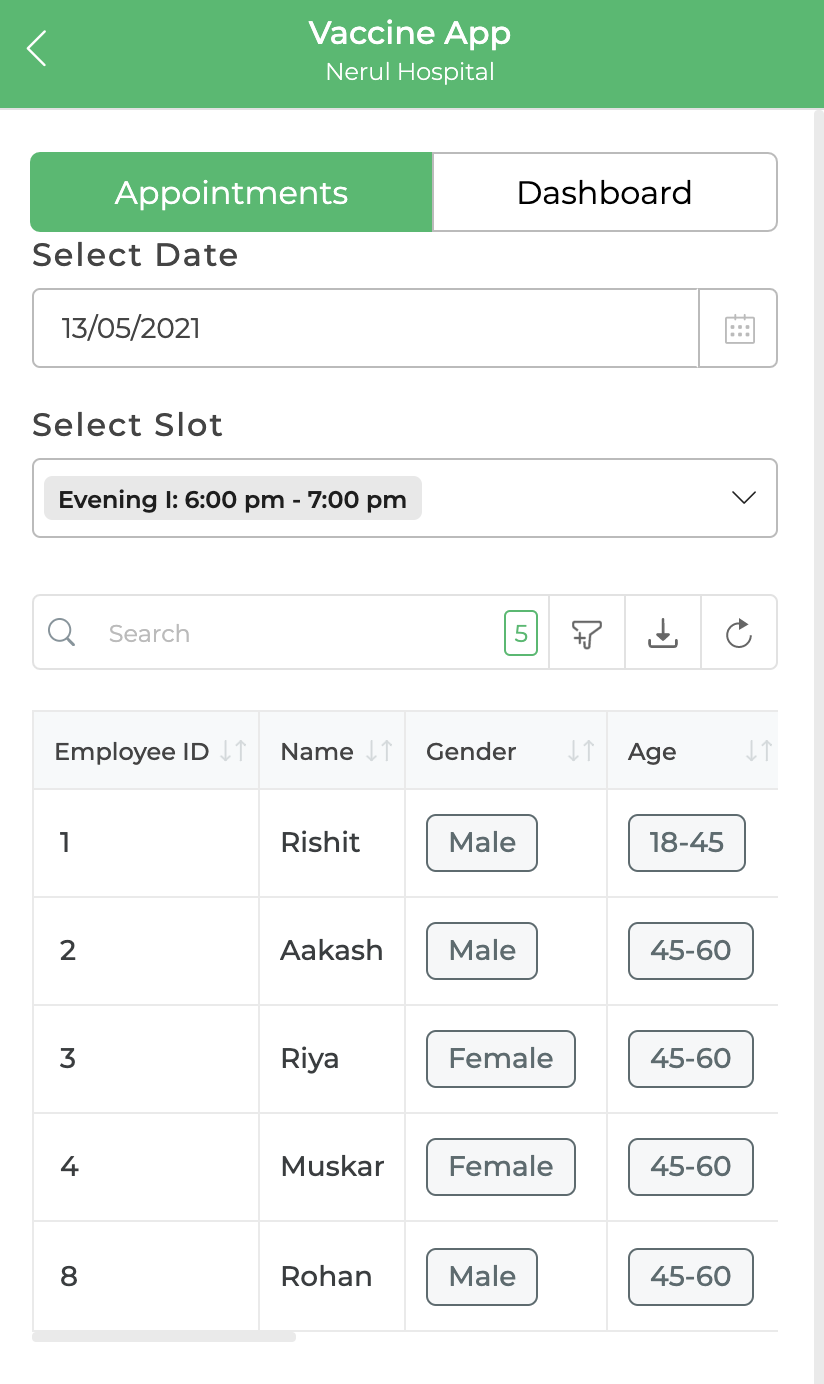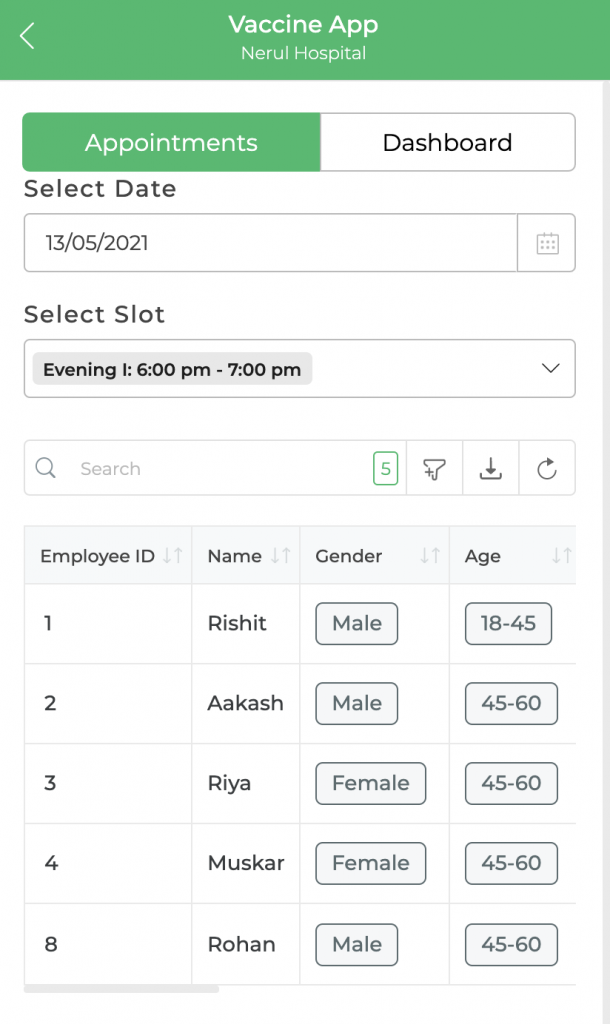 You can choose the date and slot in the appointments view and see all your appointments scheduled during that time. You can see all the important details of the patient in this view and can click on a record to see all details. Of course, you can search, filter, and sort list however you want to get speedy information. Once the patient arrives, the doctor just has to view his/her appointment and mark it as complete once the vaccination is done. Accordingly, the details are updated in the sheet (the patient status and the doctor who administered the vaccine), and even the vaccine count is reduced accordingly. The app also has a service to notify the hospital if the vaccine count falls below a certain threshold.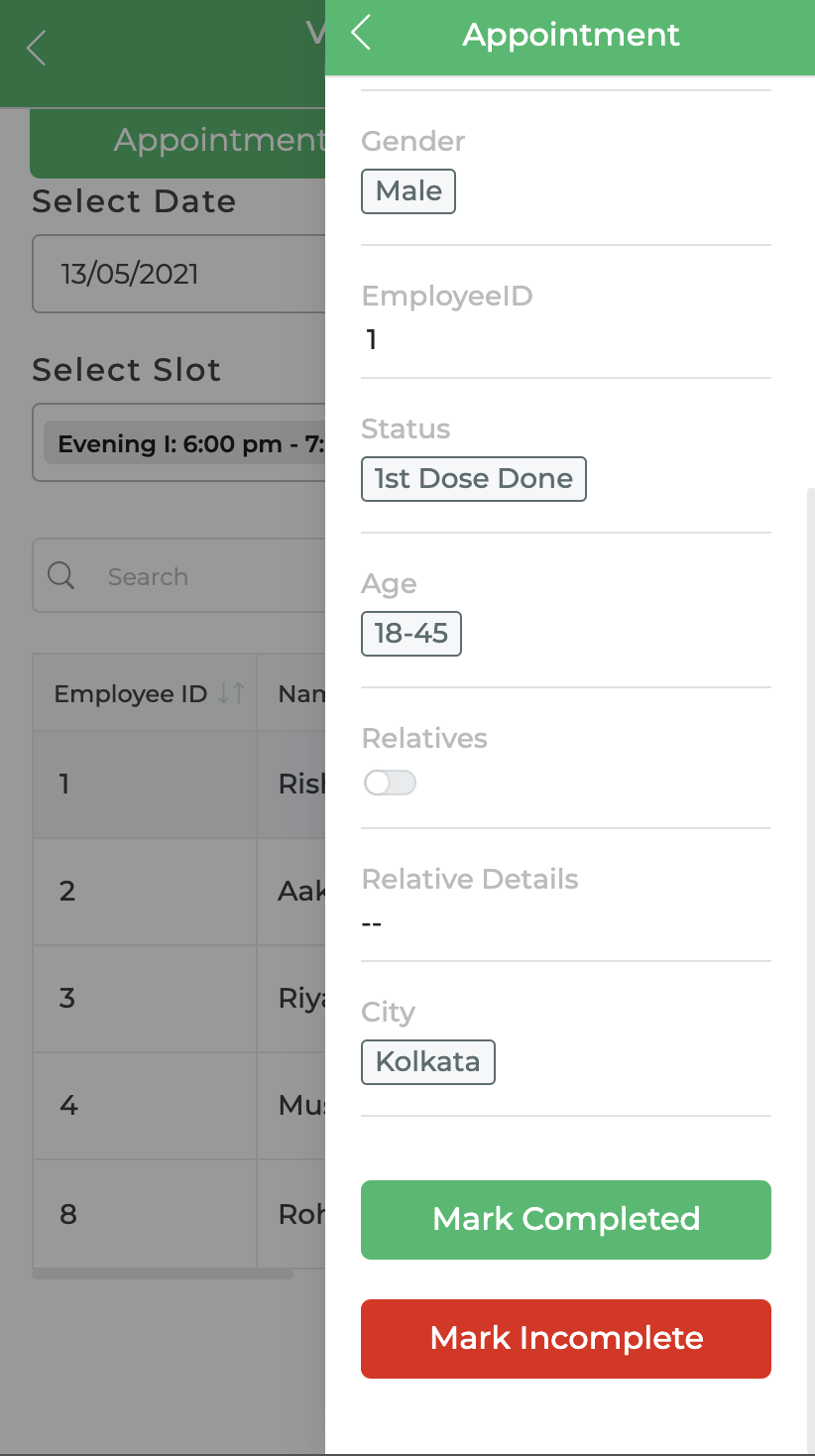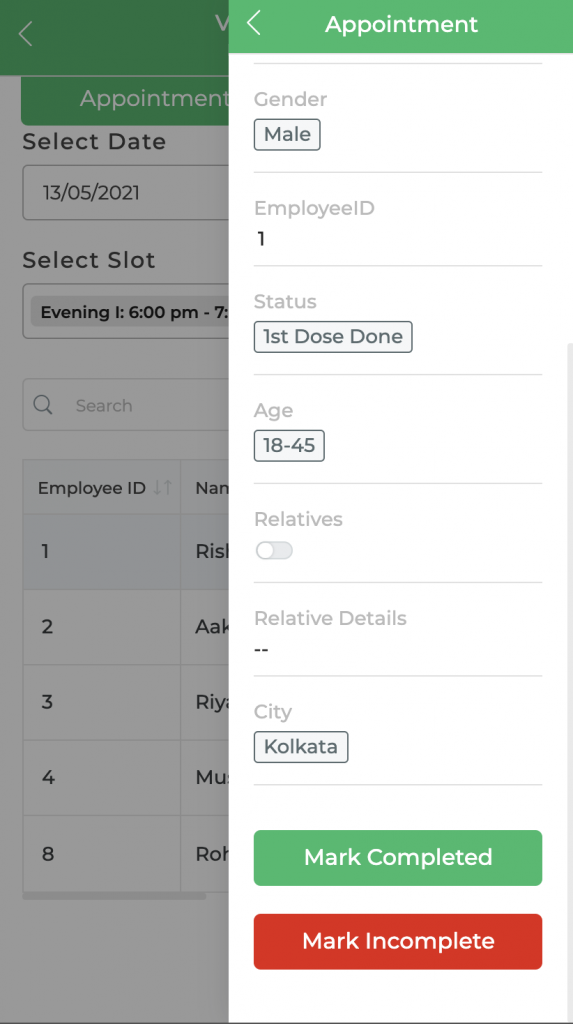 In case the patient doesn't show up, there is a provision to mark incomplete, where the details will get updated accordingly, and the patient will have an option to reschedule in his/her app.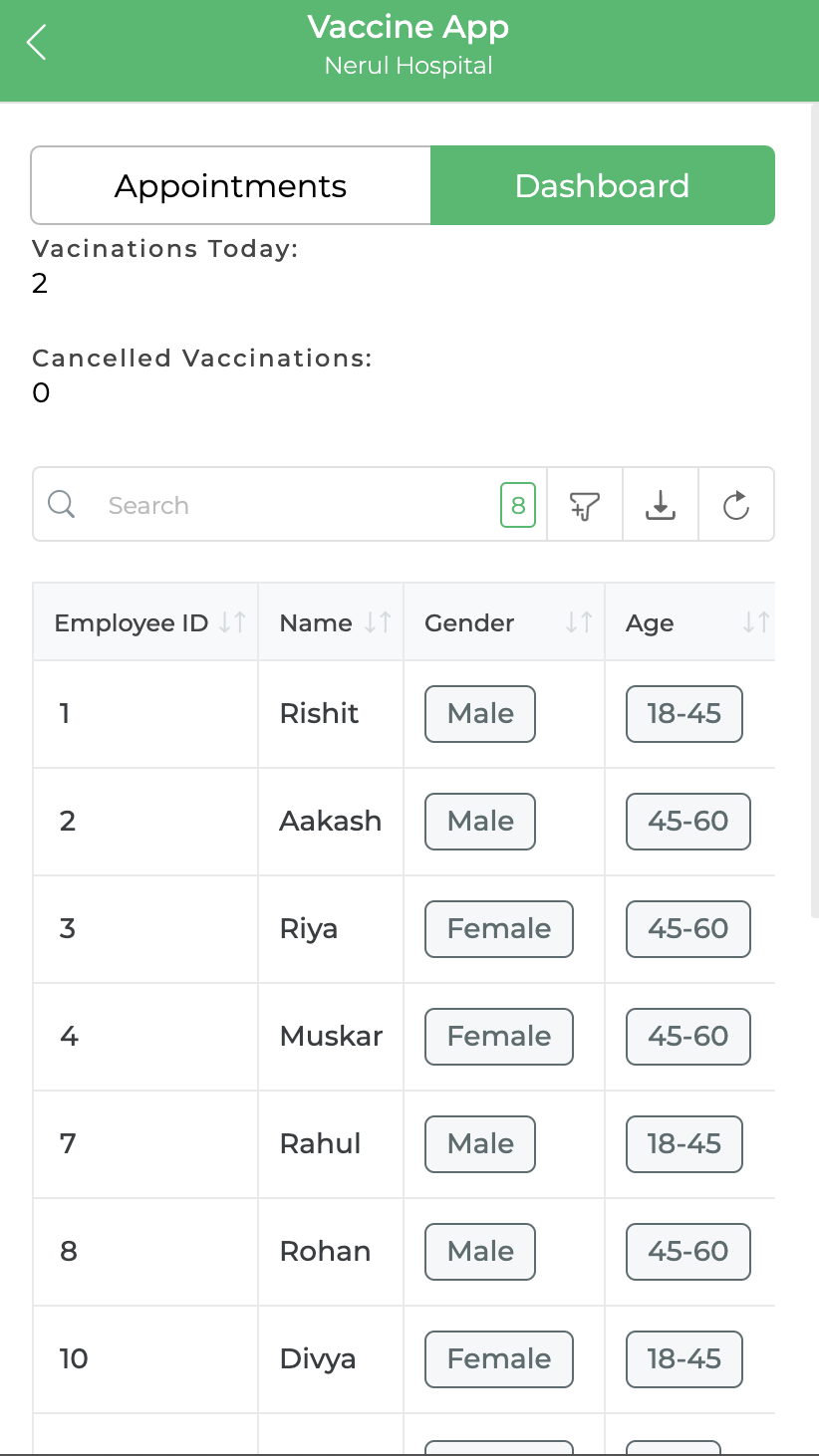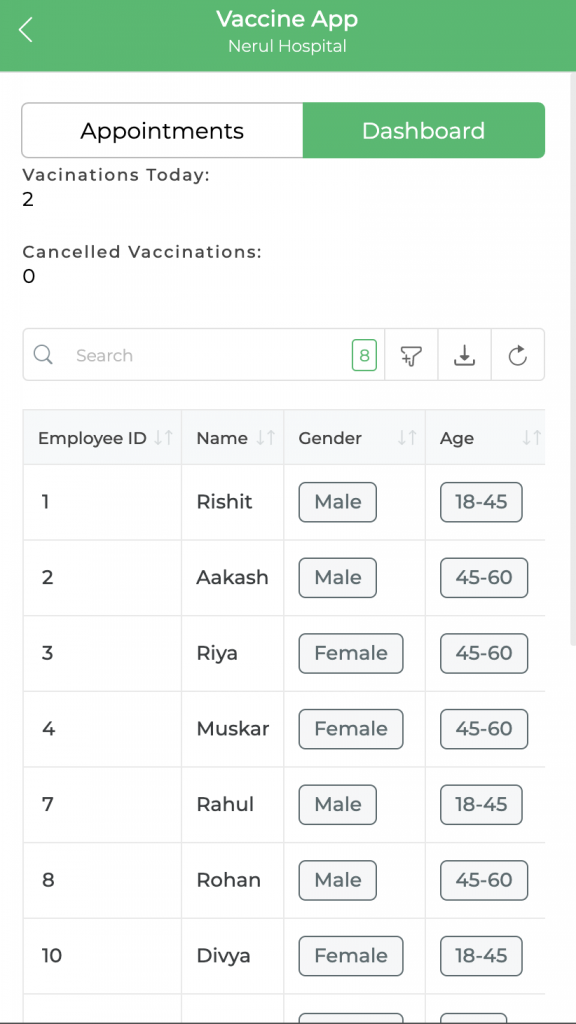 In the Dashboard, you can see the number of vaccines given on a particular day and the number of cancellations. You can also see a table view for all the appointments which were made during the day. There is also a display label to show the number of vaccines left in the hospital and an option to increase this count when the hospital receives its vaccine supply and manage the slots where the patient books vaccines.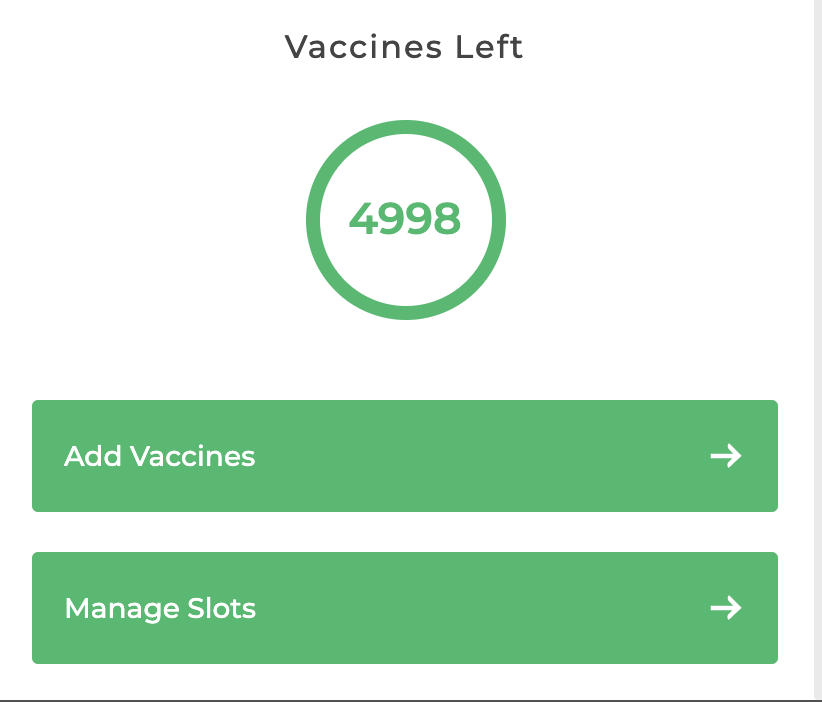 The add vaccines option is pretty straightforward; just add the number of vaccines you received to update the count. The Manage Slots option allows you to view all existing slots and add new slots for vaccinations by choosing the date and time, which will immediately reflect on the customer apps and enable them to book for it too!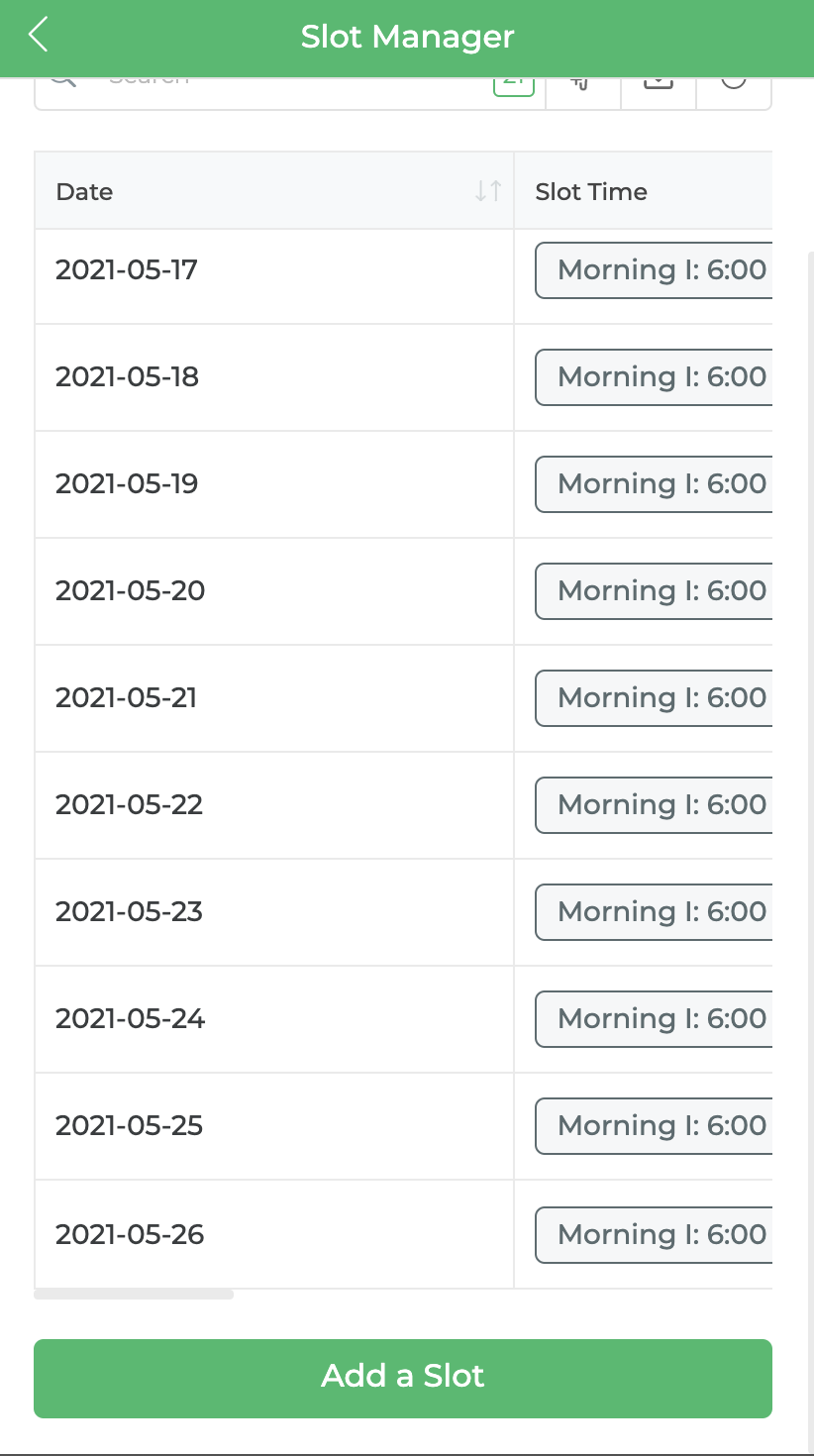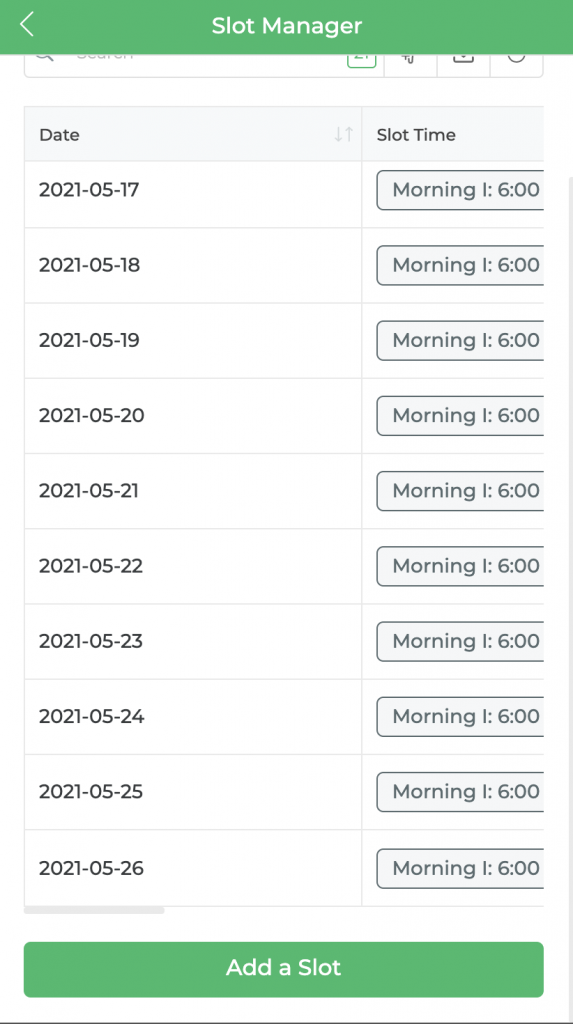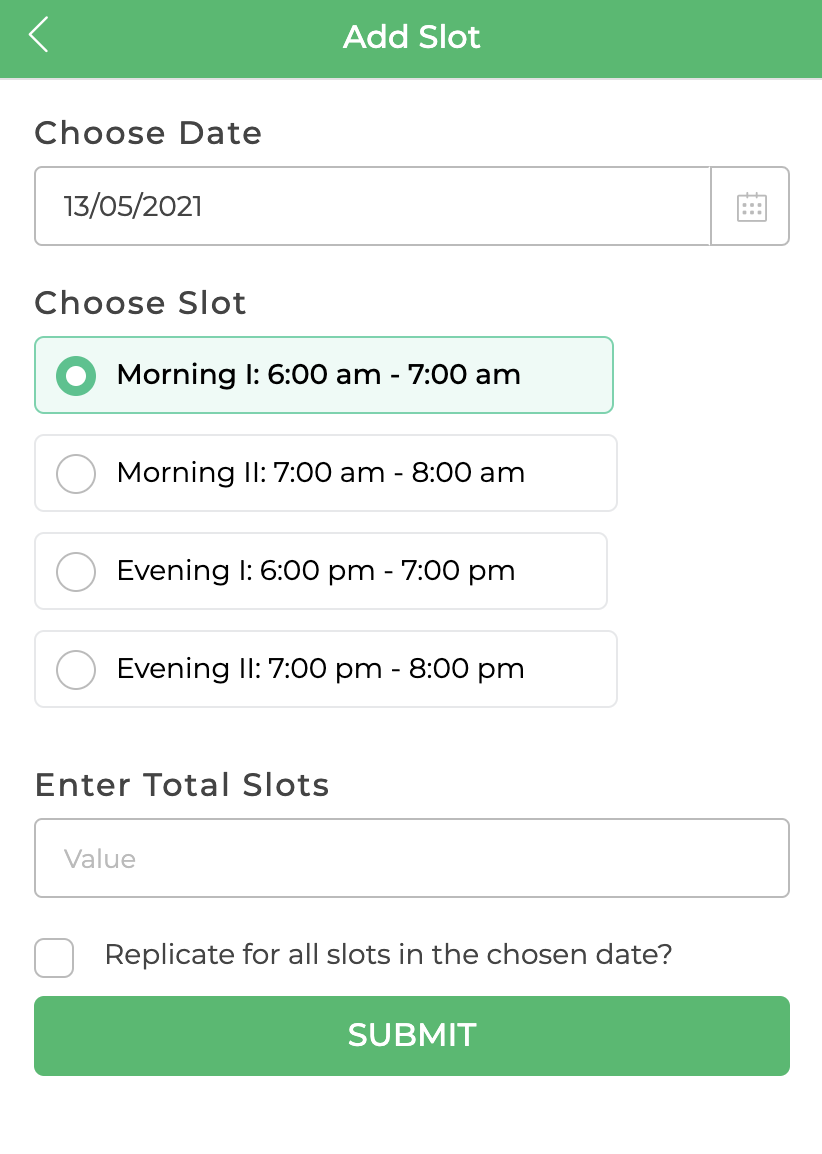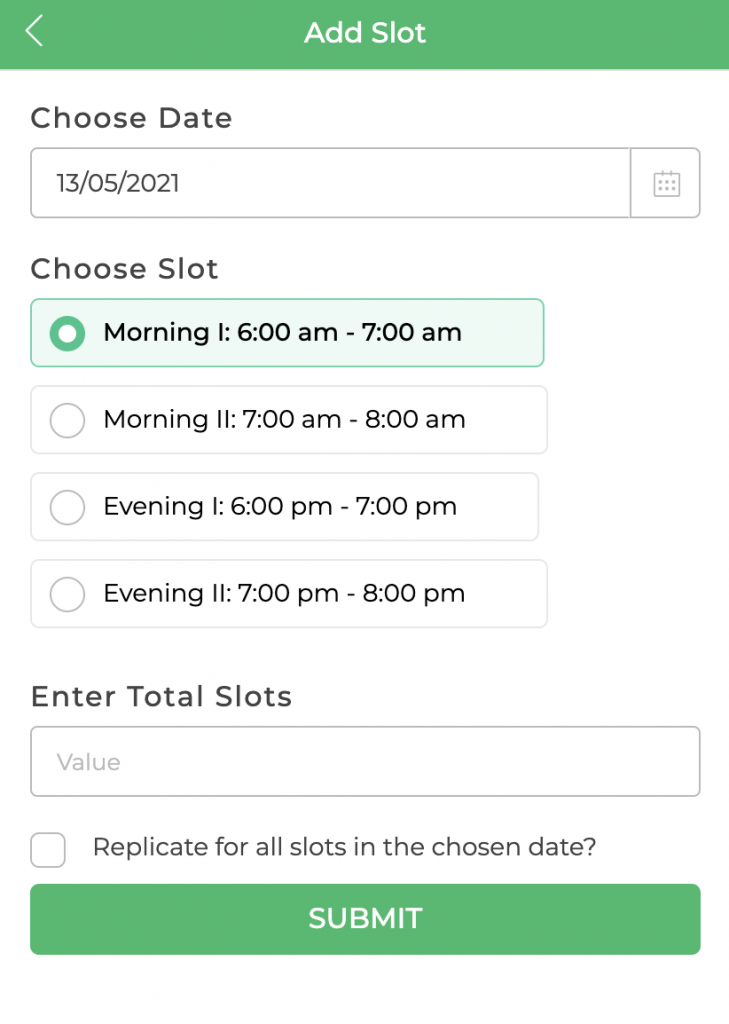 There is also a checkbox here to replicate the same total slots number across all four daily timings to reduce repetitive work!
3. Vaccine Admin Dashboard 
The dashboard will allow company and clinic healthcare admins to view all the critical data in one glance.
First and foremost, the dashboard will display the number of vaccines available.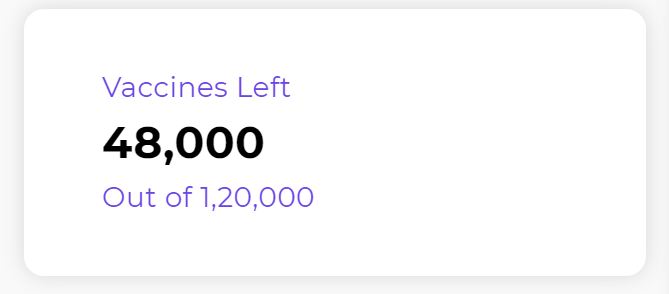 The companies based in various locations will display the number of people vaccinating themselves, i.e., both the doses done, 1st dose done and pending for both.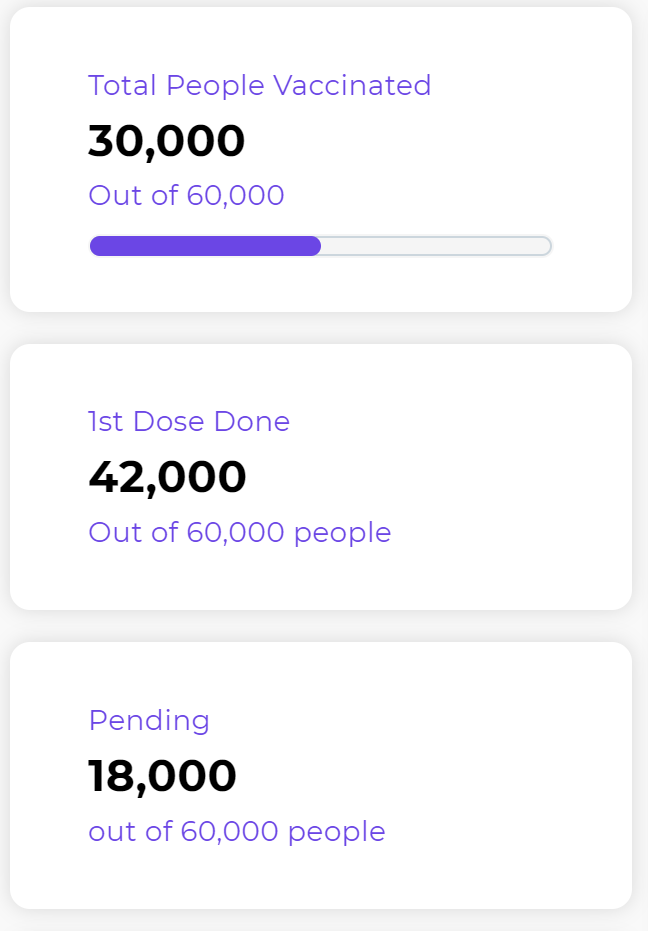 For a detailed list of who comes in which category, when the official will click on the app, it will show people and their details.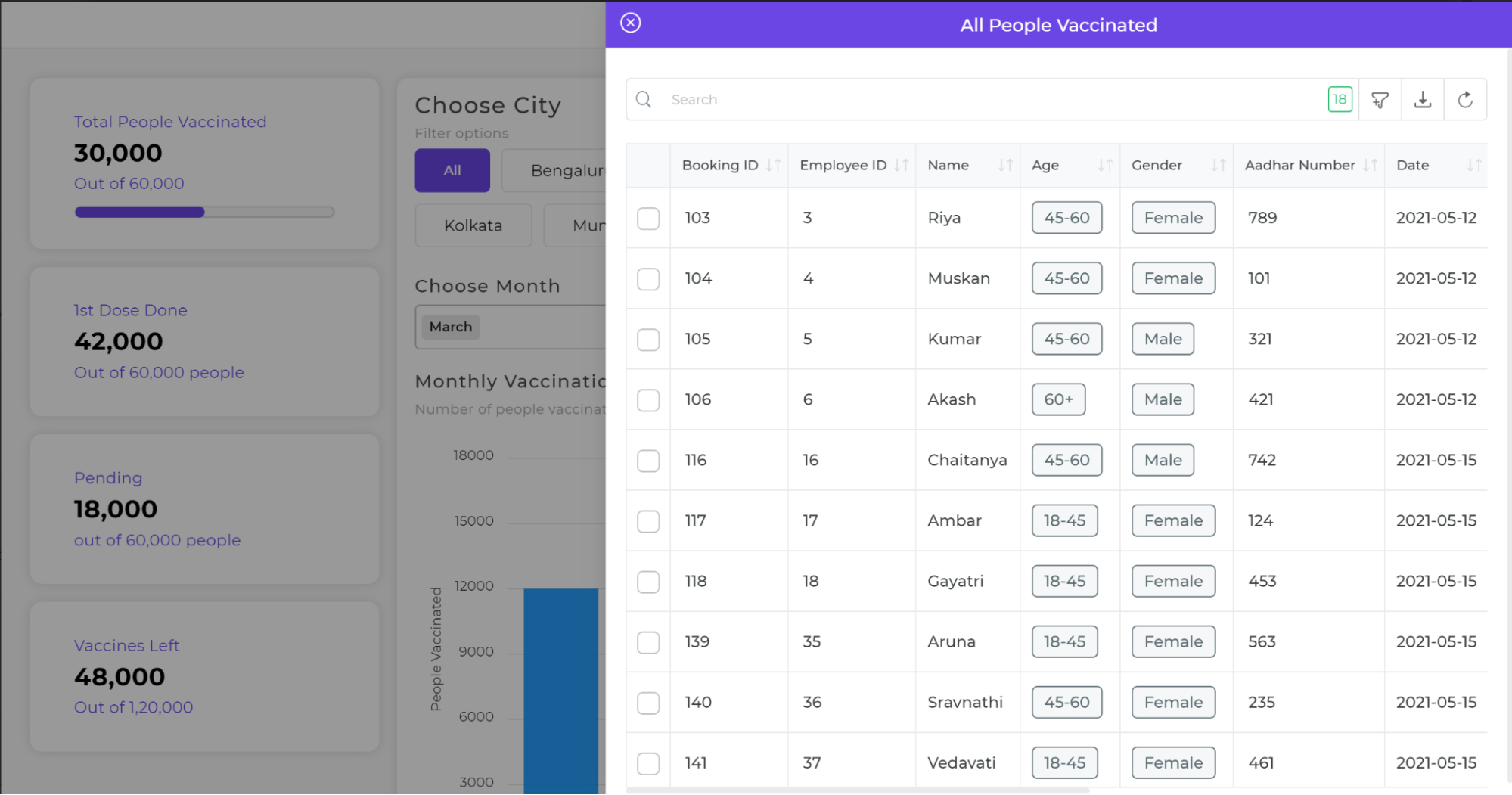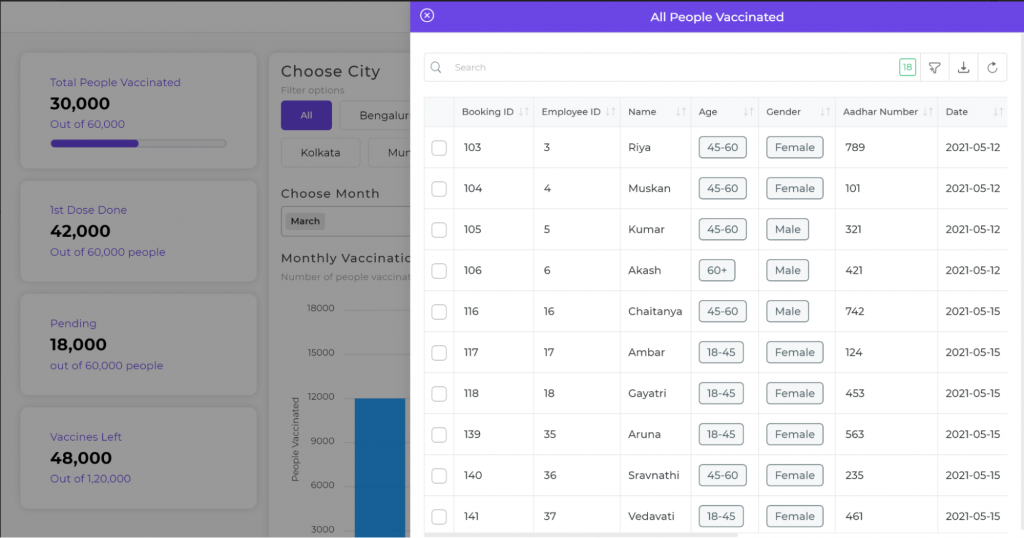 It will allow setting companies a location-vise filter to see the number of people getting vaccinated in that particular location month-vise. It will even give the option to get a detailed view of the names of people getting vaccinated in chosen location, date, and slot. A bar graph shows how many people got their 1st dose or 2nd dose or missed the appointment.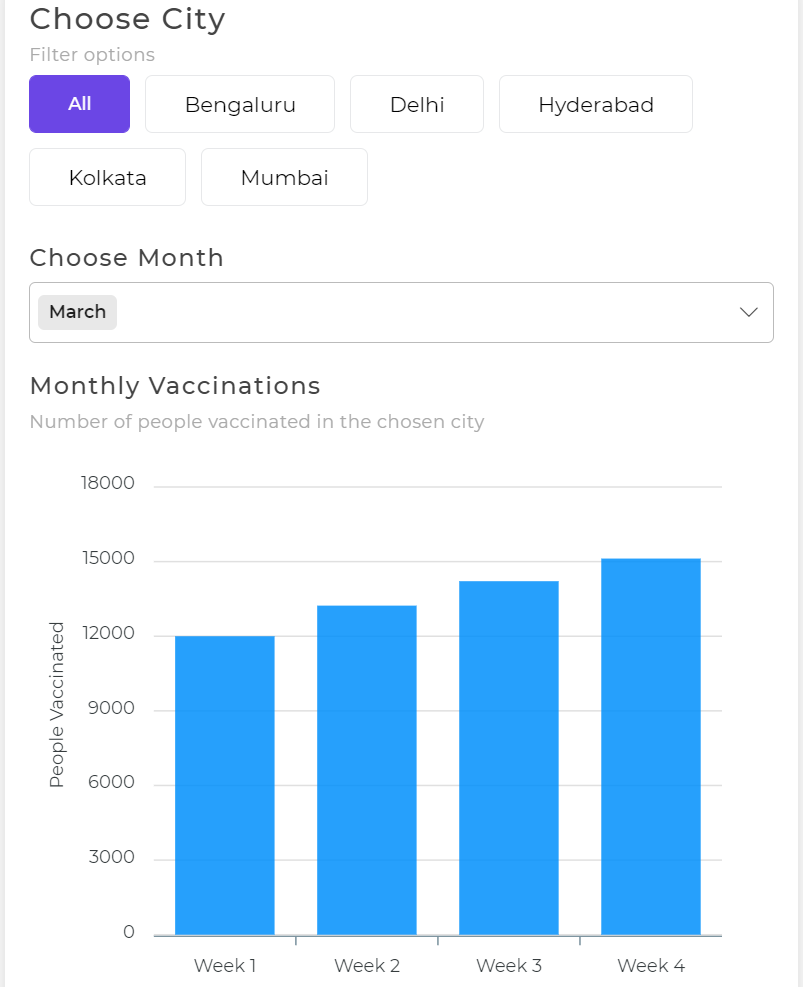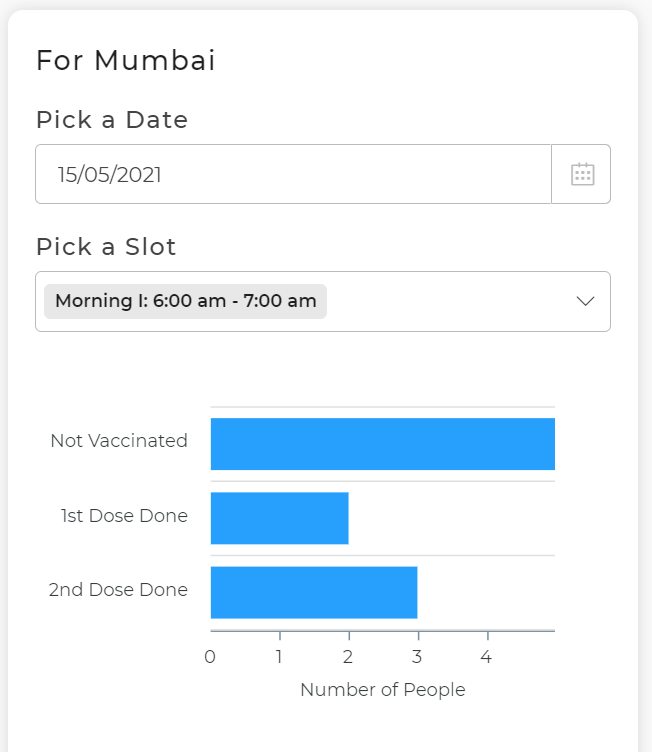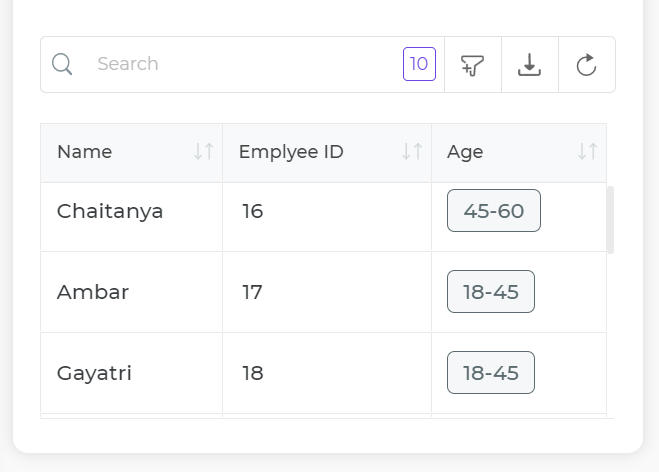 Features and Benefits of Vaccine Management System
A vaccine management system built on the DronaHQ low code platform offers several features and benefits to healthcare organizations. Here are some key features and their corresponding benefits:
Customization: The DronaHQ platform allows organizations to create a fully customized vaccine management system. They can tailor the app's features and functionalities to their specific requirements, ensuring it aligns perfectly with their workflow and processes.
User-Friendly Interface: The custom app can be designed with a user-friendly interface, making it intuitive and easy to navigate. This enhances user adoption and reduces the learning curve for healthcare providers, leading to increased efficiency and productivity.
Integration Capabilities: DronaHQ's platform supports seamless integration with existing systems and databases. The custom app can integrate with electronic health records (EHR) systems, laboratory information systems (LIS), and other relevant systems. This allows for smooth data flow, eliminates data silos, and ensures a unified view of patient information.
Scalability and Flexibility: As vaccination programs expand or new requirements emerge, the vaccine management system built on DronaHQ can easily scale to accommodate changing needs. The platform provides flexibility in adding new features, expanding user access, and adapting to evolving guidelines and regulations.
By leveraging the features and benefits of a custom vaccine management system built on the DronaHQ low code platform, healthcare organizations can enhance their vaccine administration processes, improve data accuracy, and ultimately contribute to the overall success of their vaccination programs.
Copyright © Deltecs Infotech Pvt Ltd. All Rights Reserved