No code software revolution in 2023
No Code is the future
Uncertain times undoubtedly set the ball in motion, but No code is neither an accident nor a fad. It is here to stay. 
There are Web flows and Bubbles of the world to design no code websites and customer apps, DronaHQs and Appsmiths to design internal tools, and Zapiers and Integromats for no code automation. No doubt that additional No code tools will be created and this style of app development will become the new standard all thanks to the No Code revolution accompanied by the Low Code revolution, now that businesses are discovering its strength and simplicity. 
Gone are the days when a simple CRUD interface would take months to be developed, tested, and deployed. 
According to a recent Gartner report, by 2024, 75% of large businesses will be adopting at least four Low Code / No Code development tools for citizen development projects as well as IT application development.
> Here are the top trends driving the no code revolution in 2022
Why no code revolution?
According to Business Wire, the Low code/No code industry is expected to grow up to $27.23 billion in 2022 (up from $4.32 billion in 2017). The question that arises now is – Why are No Code platforms getting so much attention leading to the no code revolution? 
1) Addressing the escalating need for business apps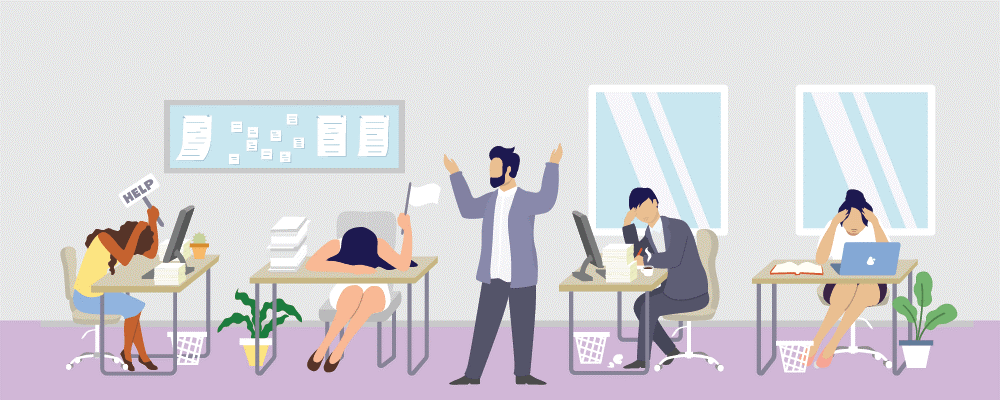 Prevent your IT team's exhaustion in creating internal tools and save their time and efforts by taking up Low/No code and speed up the process of internal tool development so that they can focus on core technology products.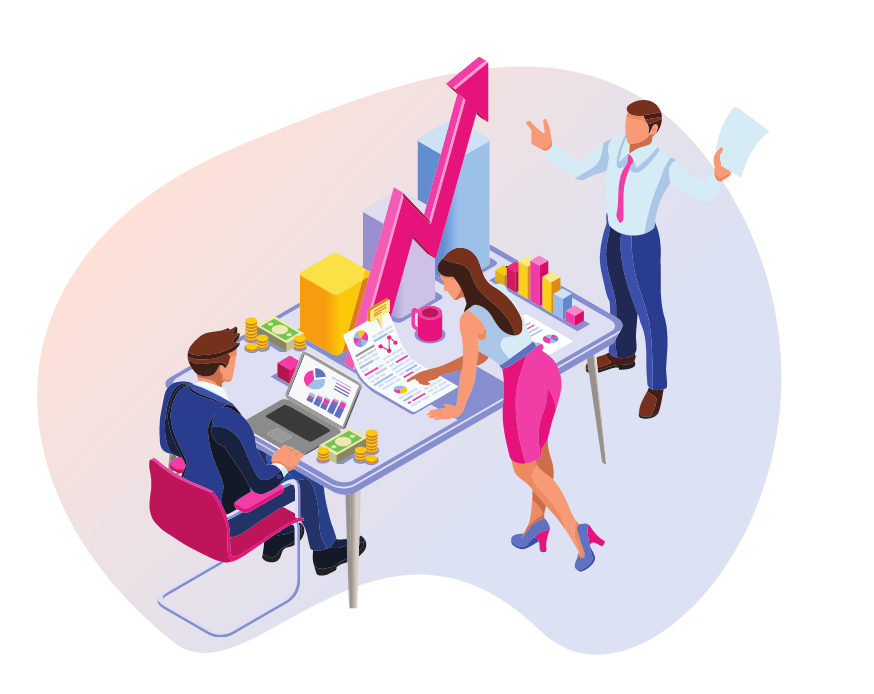 The market for app development services will expand at least 5 times more quickly than IT can provide them, predicts Gartner. The continually rising demands of custom internal apps can be met with No Code development. Developers may concentrate on essential issues since No Code citizen app development frees their minds.
2) The key to success is agility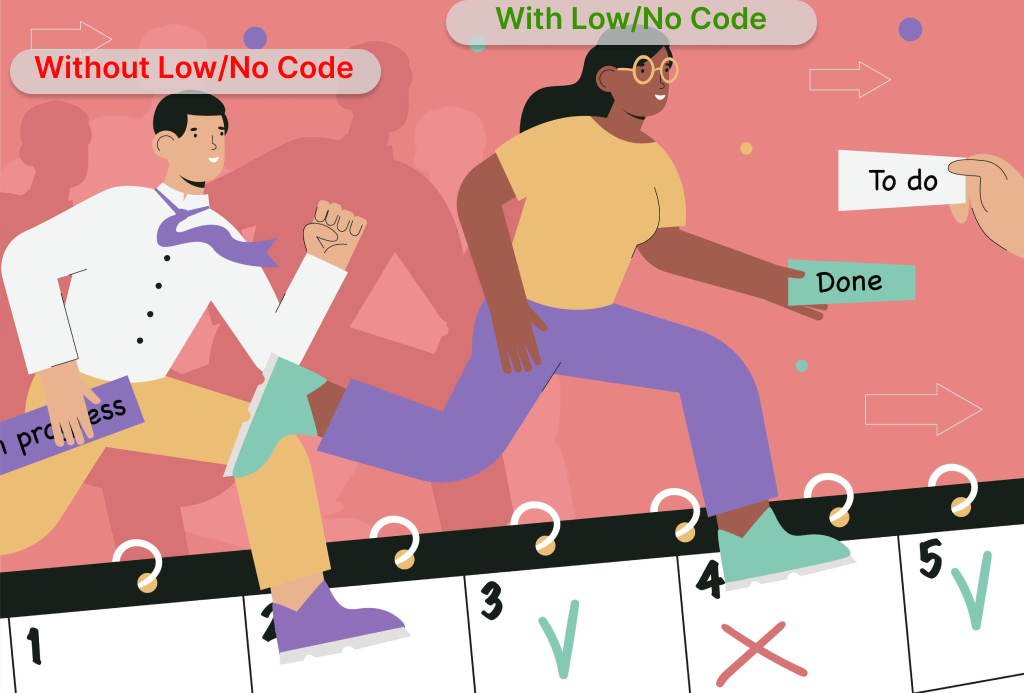 The crucial reason responsible for the no code revolution is that it provides businesses with the ability to quickly adapt to the constantly changing business environment and shifting client needs. No Code/Low Code platforms let users modify applications fast and simple, in contrast to traditional development. Applications can easily be updated and redesigned because of No Code platforms' straightforward drag-and-drop development capabilities. As a result, businesses can benefit from market possibilities and eliminate any dangers.
Agility to roll out simple MVPs and keep adding new features and updating iteratively.
Have a look at this article to see how low code platforms can assist you regarding the point mentioned above.
Also have a look at how DronaHQ is helping Purplle, Mondelez, Endy, and many other businesses to develop faster.
3) Cloud disruption has democratized access to technology.
Do you remember when elites were the only ones with access to technology? Huge companies could only use it to create apps. This was due to the prohibitively high hardware and application development costs. The cost and difficulty of changing them were identical. Systems stayed stiff as a result. Due to dependence and financial constraints, small enterprises suffered greatly in this area. The visual drag-and-drop functionality of the no code platform makes it easier to build applications. Using best practices, all project components, including configuration files, and frontend, and backend code, are generated automatically.
A no code development platform uses agile application development tools and fourth-generation programming languages to restore massive amounts of hand-coded data, allowing you to reorganize, streamline, and accelerate product delivery by reducing significant backlogs.
No code can eliminate many of the faults that manual coding introduces. By utilizing the cloud, you can launch a number of scenarios after minor initial increments. It guarantees that you may test scenarios in a flexible, integrated environment. This also significantly contributed to the no code revolution.
4) It is fast and easy to use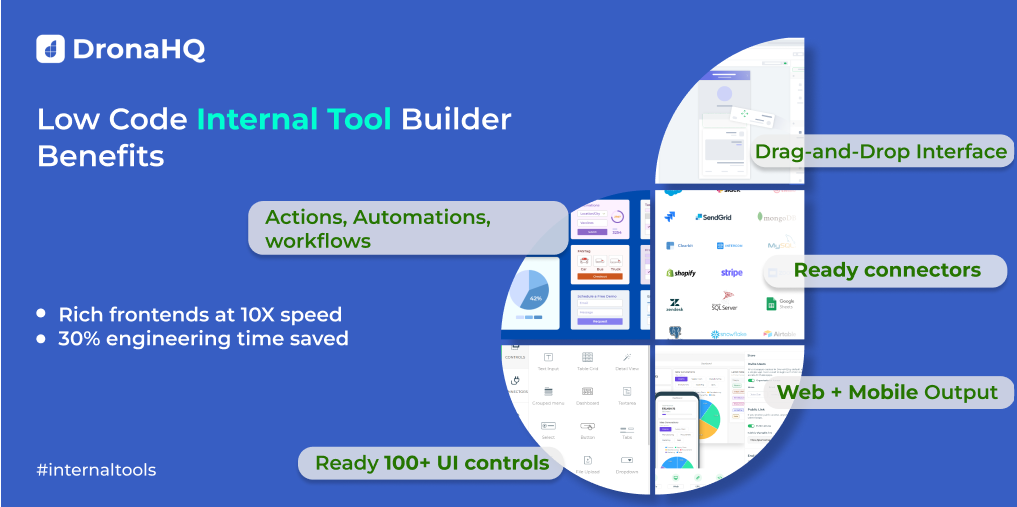 LOW CODE DEVELOPMENT
TRADITIONAL DEVELOPMENT
TIME TO MARKET

Easy drag and drop components which speed up the process of app development.

Slow and time-consuming manual coding.

INTEGRATION

Use prebuilt connectors to database and service APIs for instant linking 

Requires heavy investment and time of developers along with loads of documentation and testing periods.

SCOPE

Used for comparatively smaller projects.

Used for comparatively larger projects.

DEPLOYMENT

Easy deployment on Cloud or On-Premise with few clicks.

Involves DevOps team with multiple slow and complex steps to deploy apps.

EASY TO UPDATE

Simple to understand and simply add/remove new components/business logic required.

The complex method of coding and decoding requires skilled developers' time..

DEVELOPMENT

RAD: Build up to fix quicker Efficient testing. Proven ROI.

Slow turnaround times

Not aligned to business demands.
A simple app won't take more than a few hours, while a complex client business application won't take longer than a few weeks. On the other hand, standard development schedules begin with "months" and can be quite long. 
No Code platforms make it possible to create custom business solutions 10 times faster than with conventional development. Low code tools speed up the learning process and are intuitive.
Most of them include drag-and-drop features that let you easily and without any programming experience develop any customer enterprise-grade application. 
Citizen developers can see what they are doing in real-time and adjust as necessary because everything is visual.
5) No Code apps are easy to update
Software programs need to be updated frequently to include new features and fix bugs, and other issues. Traditionally, this has been a laborious process that occasionally necessitates users shutting down the application. On the other hand, there are no restrictions on No Code apps. A new feature can be created with no code quickly and while the app is being used. Furthermore, implementing modifications goes much more quickly than was initially anticipated.
Industries That Will Benefit from the No code Revolution
In 2024, no code/low code platforms are anticipated to handle more than 65% of app development. Within the initial 3 months of introduction to the platform, over 72% of users can use the tools to create apps hence making it easy to adapt.
For viewing the mind blowing statistics of low code/no code visit this.
All these factors help understand why no Code platforms swiftly rose to the top of these creative solutions introduced as a part of the no code revolution, and their significance will endure far beyond the pandemic that sparked their development. The fundamental goal of the No Code revolution is to level the playing field for developers and lower the barrier of entry for digitalization. Graphical user interfaces (GUIs) and configuration, as opposed to conventional computer programming, are now capable of producing enterprise-grade application software for programmers and non-programmers alike. Here are four of the sectors most impacted by the No Code revolution, along with recommendations on how businesses in each can keep using No Code products successfully.
1. Retail
The importance of internal tools for industries is widespread as most retail industries require sales monitoring tools, onboarding tools, analytics tools, and many more.
For example – Mondelez international has used DronaHQ for building their internal tools, the company gamified its salesforce engagement process by building apps for its salesforce which helped them in deriving essential market KPIs and effectively increasing market penetration for the new products. Apart from this even many other tools like the HR Analytics tool, Dashboards, performance indicators, etc can be built using no code/low code platforms.
Not only for internal tools but the transformation from a "customer-friendly storefront" to a "customer-friendly front end" is happening faster and easier than ever thanks to the No Code revolution. These technologies will surely be one of the keys to success as the retail industry battles through the epidemic and look toward a sustainable future by enabling merchants to create brand-tailored digital storefronts and progressive web apps that are as simple to design as they are to use.
The future of the retail industry was already in doubt when the COVID-19 pandemic struck after a decade of battling to stay up with the expansion of online giants. A lot of the companies that initially started to fail in the early days of the pandemic were retail behemoths that placed an excessive amount of reliance on their brick-and-mortar allure. The "why" for firms that failed is not a great secret: they did not adopt cutting-edge digital technology and lost the support of couch-bound consumers.
2. E-commerce
Usage of low code/no code platforms assists E-Commerce companies to cut down the time to launch tools. Endy and Purplle are effectively using DronaHQ for creating internal tools which assist them in their company processes and many other companies also use apps made on these no code/low code platforms for lead generation and process improvement by building customer support tools integrating various systems that allow representatives to access key data from all the third-party apps in one place.There are many other companies including the likes of Amazon which have been using such low code/no code platforms to create solutions that enable their non-technical analysts to control the supply chain, procurement, and inventory operations. Provide the resources your customer service teams require to handle everything from promotions and gift cards to GDPR compliance. This is sufficient evidence to prove that E-Commerce companies have already started shifting their focus towards no code/low code development from the traditional methods of internal app development and this will further contribute to the low code/no code revolution.
3. Health Care
Low code/No code platforms can be used to develop highly scalable digital tools that enhance the clinical experience for all the stakeholders involved; this could be in the form of a medical billing solution or a practice management solution for medical practitioners and physicians to manage day-to-day activities in. 
Interactive dashboards, reports, charts, tables, graphs, etc are some features essentially important for people in the healthcare industry and are also provided in apps built on low code no code platforms making the job of those who use these apps easier to create and manage them. Calendaring and scheduling platforms may be created that make it simpler for patients to schedule appointments and for physicians to keep track of them. Only made possible because of the No code revolution. No Code platforms are also among the simplest ways for developers to create applications for healthcare professionals to perform user-friendly virtual visits, saving time for both patients and doctors and reducing needless journeys to and from contaminated waiting rooms. Additionally, No Code platforms' capacity to instantly create apps that transform complex back-end data functions into a broadly usable tool will make it simpler than ever for healthcare organizations to safely and quickly log patient data, which can then be used to quickly track ailments and locate cures. 
A wide range of health care technologies has experienced significant growth as a result of the COVID-19 pandemic, especially in domains like telemedicine and remote patient monitoring. No Code platforms can offer creative solutions to several issues throughout the whole healthcare and treatment process as health institutions continue to use technology to increase efficiency and enhance patient outcomes.
4. Banking, Fintech, and Payments
No Code development solutions offer enormous potential in the constantly changing environment of banking and its surrounding industries since banking, another area replete with legacy firms, has suffered many of the same challenges as its insurance counterpart.
For example – Companies like Brex, Plaid, and Ramp use low code/no code platforms to build internal apps for operations teams that underwrite loans, ROI Calculators, measure risk, investigate fraud, etc.
DronaHQ has been used for creating forms to get the customer's preferences to assist the financial institutions in deciding their future policies for customer benefits.
Companies like Bajaj Finserv have been using DronaHQ for creating internal apps for their HR teams for fulfilling several purposes and assisting the HRs in analytics department as well as initiating hiring processes
You can also have a look at this if you are interested in knowing more about how to create such tools easily using low code/no code platforms.
The way that regular people think about, manage, and engage with their money has already transformed thanks to mobile banking applications. No Code tools can give financial enterprises of any size the chance to build, maintain, and update internal tools as well as consumer-facing platforms that meet customer standards, offer cross-platform integration, and uphold necessary private data security in a digital age where remote functionality is as urgent as it is practical.
Rise of no code revolution
Considering the evolution of technology and its uses, we can categorize time into 2 stages –
Collaborative Software

Create your Software
1) Collaborative Software
The Internet revolutionized society. Traditional enterprises were initially moved online, but productivity tools soon followed. JIRA debuted in 2002, Salesforce was established in 1999, and Google Docs was introduced in 2006. 
Together, you may create documentation, develop business models, organize team projects, and build user interfaces. Personal software began to be replaced by collaborative software.
No Code tools did evolve during this period. Spreadsheets transitioned to the web, and a few notable vendors, including QuickBase, emerged. 
Although users were ready for No Code, the technology had not yet reached that point. Creating No Code software on a PC at that time was useless, but developing No Code applications online was challenging. No Code revolution was buried in a technological abyss.
2) Create your Software
This is the current stage of technology which has already witnessed massive growth in development and demand. Web development grew muscles and is ready to attack any problem now. Complex web applications are a reality.
We have seen that now gradually, Google Docs and Sheets are being preferred over Microsoft Word and Excel, Notepad replaced by Dreamweaver, and so on. All this leads to one simple conclusion that traditional desktop programs are now being surpassed by web applications and this is the primary reason why the No Code revolution is happening now.
Conclusion – 
In a nutshell, web technology has finally advanced to the point where No Code development is feasible, and users are ready to embrace it to reduce feedback loops and iterate more quickly. It's surprising so many engineers spend a third of their time building and maintaining internal tools which can now be reduced to 10% , thanks to no code tools..A marketer may iterate and test different copies and ideas faster if she can design and maintain websites. A consultant can help a client more quickly and demonstrate the worth of her work if she can automate her unique approach into a tool in a matter of hours. Small business owners can boost business efficiency through automation and free up critical time to grow their company if they can create an app that suits their demands. Low code removes the stress of building custom tools and software.
Copyright © Deltecs Infotech Pvt Ltd. All Rights Reserved