Blog
Top 9 no-code communities to follow
Top 9 no-code communities to follow
No code is the buzzword. No-Code app development has gained immense popularity with its uniqueness to deliver and deploy business-critical solutions in less time as compared to traditional software development. 
The concept behind the No-code is to empower programmers and non-programmers to build software applications through a graphical user interface rather than writing scripts in programming languages.
Here is a curated list of Best No Code communities to follow and connect with no-code enthusiasts and evangelists to ask questions, showcase products, and deliver advice and views to help others with their no-code projects.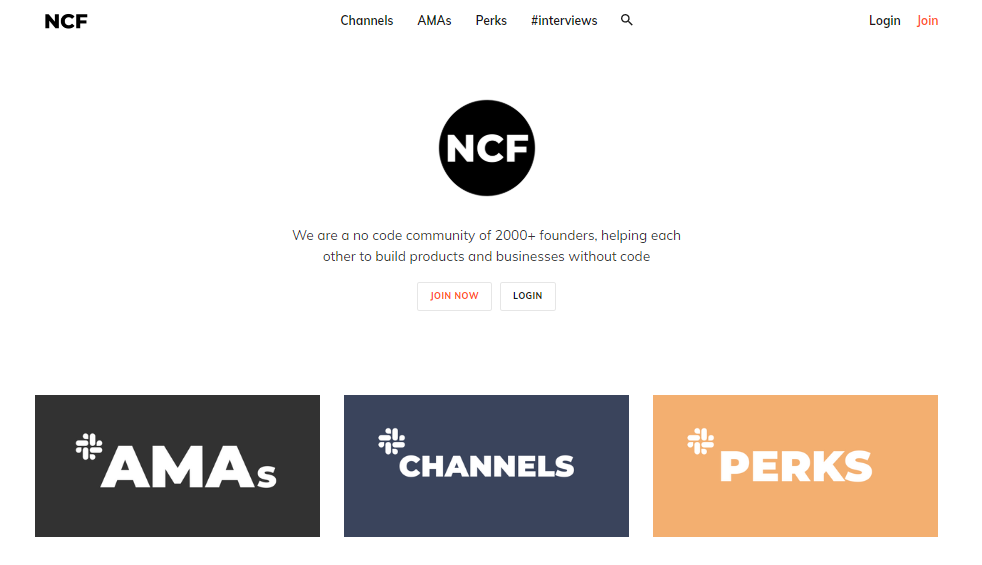 Joshua Tiernan is a maker, no code evangelist and founder of No Code Founder. No Code Founders community of 2000 + founders supporting each other to create products and businesses without coding.
They run a monthly AMA (ask me anything) in their Slack where they speak to influential people in the no-code community. AMA is a perfect opportunity to improve your knowledge and ask your questions for which you are looking for answers. They have something for everyone in their NCF Slack. They have channels for different countries and platforms to make it easy to communicate, help, and support each other. They share a perk every Friday with their NCF community which includes discounts for various no-code platforms and tools.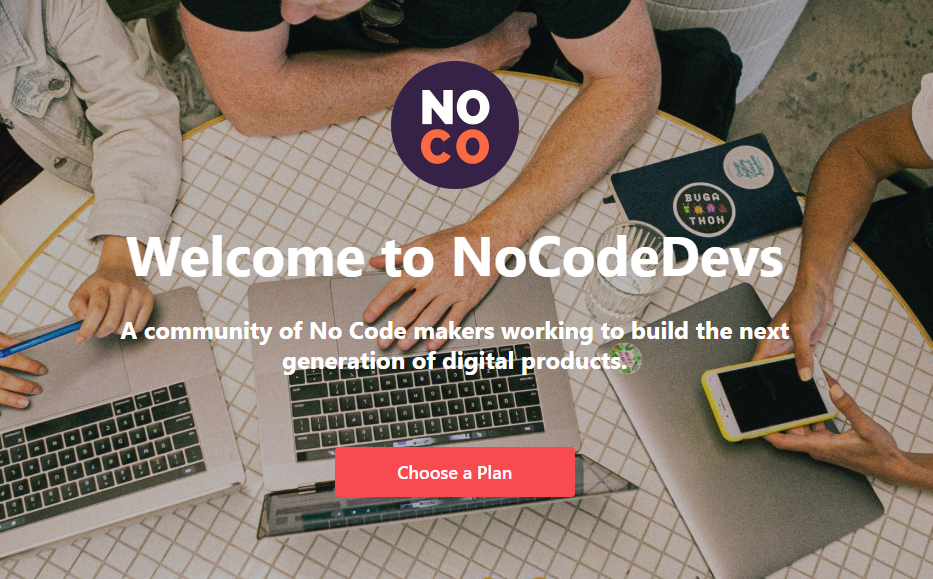 Art West is the no-code enthusiast and the founder of No Code Devs. NoCodeDevs is a community of makers to connect, interact, share, explore, and discover everything about no-code. Users can follow, ask questions, start discussions, comment, like, and share content.
Users can post quizzes, polls, tutorials, articles, webinars, product launches, stories, and press releases linked to no-code,low-code, and automation.
NoCodeDevs has over 900 members in 50+countries. Their member-base includes CEOs, freelancers, marketers, entrepreneurs, and managers. The NoCodeDevs community comprises people from several expertise and backgrounds who are exchanging ideas, sharing best practices, and discussing skills learned.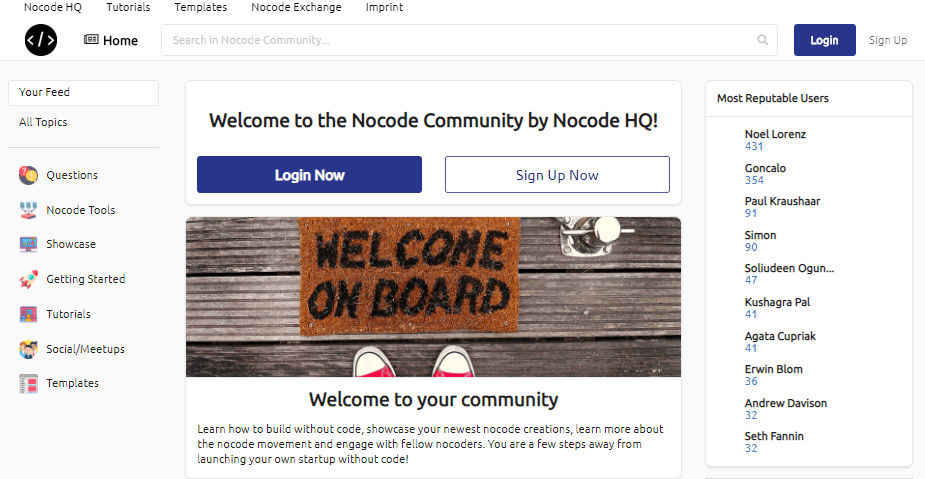 Noel Lorenz is a Tech enthusiast and no code builder from Berlin is the Founder of NoCode HQ. NoCodeHQ is a community of no-code enthusiasts where users can learn how to create no-code apps, can post questions, showcase their creations, can search for meetups/ workshops near your city. 
NoCode HQ Community presents users with no-code tutorials to help them accelerate the app development process. Their no-code tool is a directory of various no-code platforms to help you guide what fits best for your next project. Their no-code template helps you to easily create and launch your no-code apps using ready to use templates.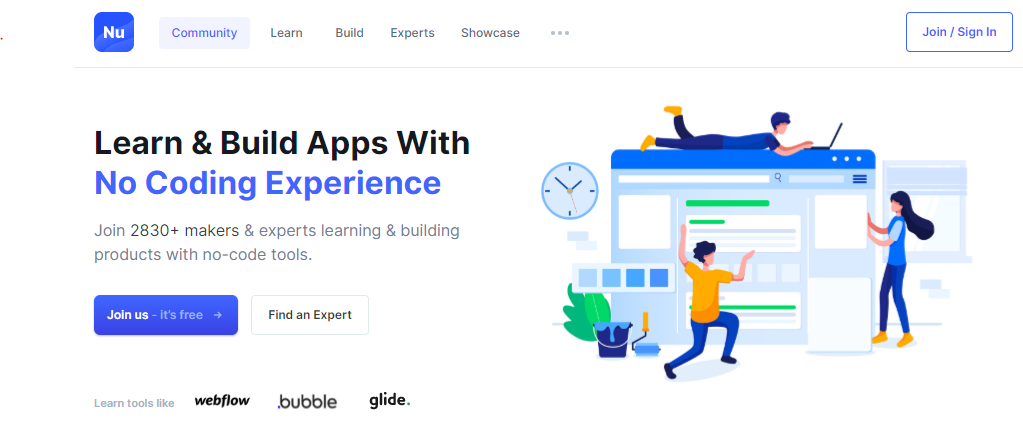 Nucode is the community of experts and makers sharing their knowledge and experience of creating products with no-code tools. Nucode community consists of  2830+ members who can post questions, showcase their creations, post tutorials, and their no-code stories to help other users build no-code products.
On Nucode you can learn how to create apps using no-code tools like webflow, bubble, glide. You can build apps using readymade templates. You can find an expert to help and guide you through your no-code projects. You can search for no-code events. Moreover, you can challenge other no coders to create apps for challenging situations to develop a sense of competitive spirit along with learning.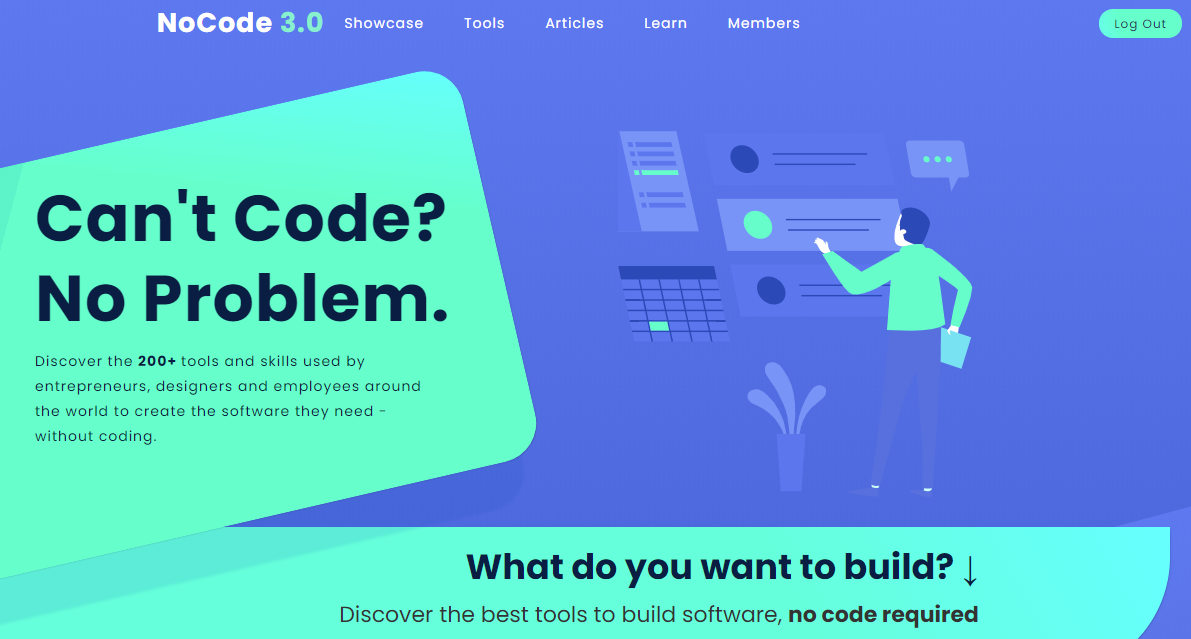 NoCode has a 500+ member Slack community who share their knowledge, experiences, and views on no-code tools to help others to create no-code applications.
On NoCode you can explore more than 200 tools that developers, designers, and employees use to create software they need-without coding. You can browse the collection of their no-code tools for different use-cases and categories. You can watch tutorials for common use-cases and can find the tools which fit your requirements.
You can also subscribe to their fortnightly newsletter for the latest NoCode tools and tutorials.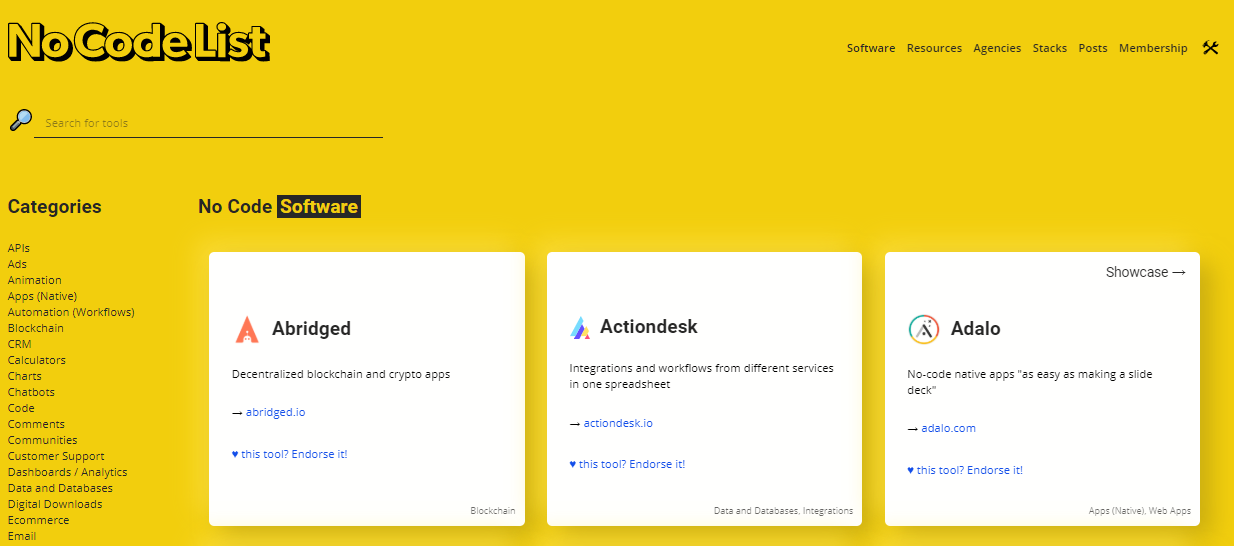 Drew Thomas is the no-code enthusiast who runs No Code List. No Code List has a repository of all the no-code tools and resources using which you can create your own no-code product.
No Code List split software into five categories:
Build- contains No Code Software to Build Products for a Business.

Grow- contains No Code Softwares to Grow a Business.

Run- contains No-Code Softwares to Run a Business.

Enterprise- contains Enterprise-Grade No Code Softwares.

Niche- contains industry-specific No Code Tools to solve a particular use case.
No Code List also contains No Code Agencies which can help you to build your no-code products or business. 
Their Resources category contains many other no-code communities, channels, blogs, tutorials, courses, and websites, etc. If you subscribe you will learn four new tools every Friday straight in your inbox.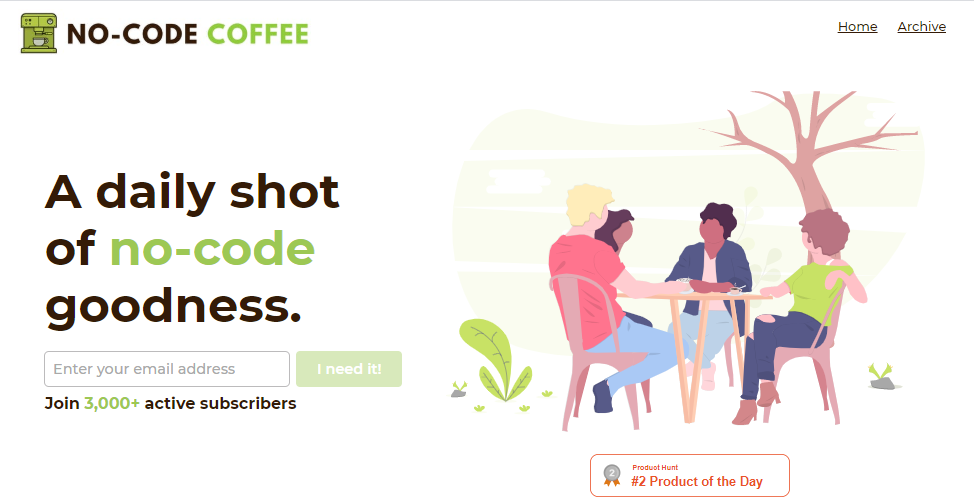 No Code Coffee has 3000+ active subscribers. Michael Gill is a no-code enthusiast who actively tracks creative ideas, programmers, and no-code tools. .He translates this information into a daily newsletter sent straight to your inbox to keep you updated on the happening in the no-code world.
Every day, the email newsletter of No Code Coffee contains three elements- a no-code tool for making something interesting, a no-coder to gain some knowledge from, and an amazing product to demonstrate what's possible with no-code.
For no-coders, the newsletter begins with a short introduction. Then, Michael gives his specific logic for trying each of the three items suggested.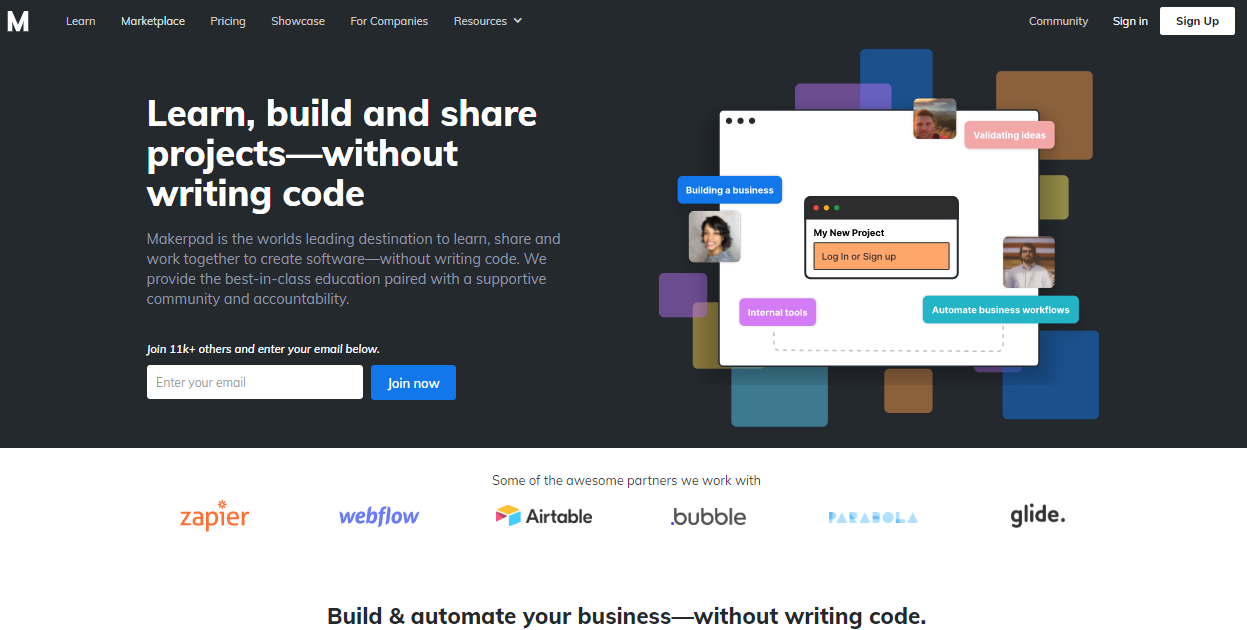 Ben Tossell is the no-code enthusiast and the founder of Makerpad. The Makerpad has 1500+ pro members learning, sharing, and building no-code projects. In the Makerpad community, members can showcase their new no-code products, ask questions, can watch video tutorials, can attend workshops to create no-code apps, and can create challenges to push their limits to solve various use cases using no-code.
Makerpad helps you to discover hundreds of no-code tools to get started with your no-code projects where you can get feedback and suggestions from like-minded people for your no-code products. 
The Makerpad community also enables members to make their professional public profile to attract clients who are looking for specialist skills to help them with their no-code projects.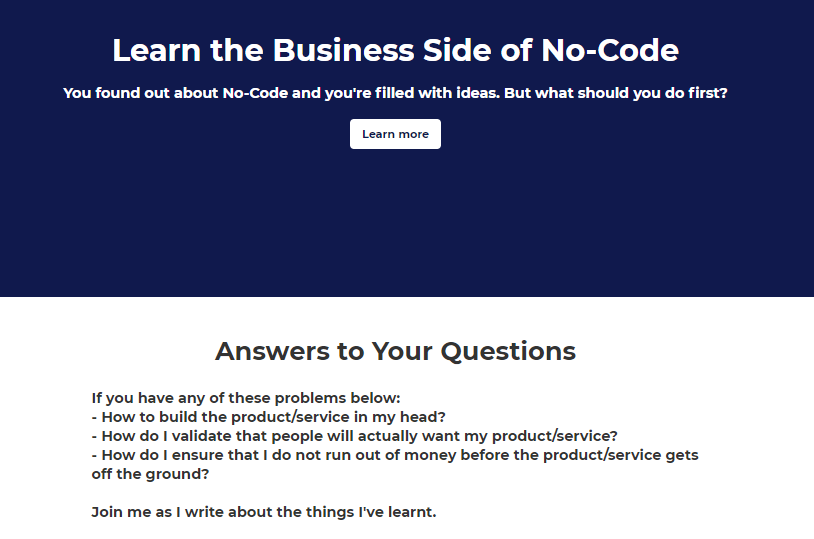 If you have any of the above questions in mind, the No-Coders club will be more than happy to help you out. If you have ideas, but not sure where to start, you can receive useful advice from chartered accountant Luqman Z.A.
You will find many valuable pieces of information regarding the business aspect of no-code like SWOT analysis, IPEI Framework, Blogs which Luqman regularly updates with new articles. You will also find NO-CODE Wiki which contains no-code tools and resources for various popular use-cases.
Wrapping Up
The bond in no-code communities has risen from just "technological clusters" to "extended families" where everybody is incredibly enthusiastic about sharing ideas, information, knowledge, and helping each other to achieve higher levels of success in their endeavours.
"There is no power for change greater than a community discovering what it cares about."

– Margaret J. Wheatley
Not that all no-code communities are the same, although, the one thing common in all is that they all are growing and have got something special to offer to their members. 
So follow these no-code communities to solve your no-code challenges and share your experiences and wisdom.
If you feel we haven't covered any no-code community that is worth sharing, feel free to share your views and write to us inquiries@dronahq.com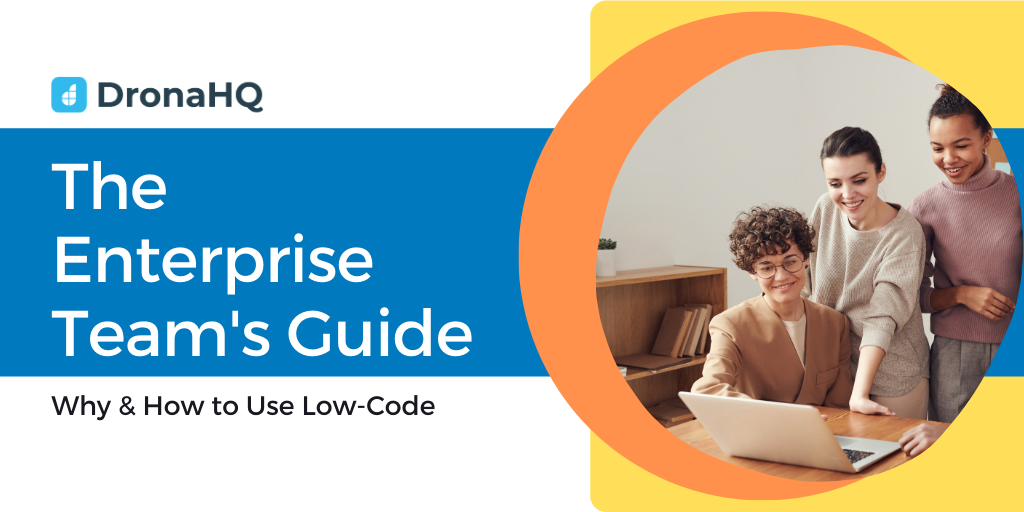 Enterprise Team's Guide to Low Code | Help Clients Understand Their ROI With Low Code 
Copyright © Deltecs Infotech Pvt Ltd. All Rights Reserved