No Code Answers Revealed
With the entry of big names in the no-code market like Google and Amazon, the no-code technology has gained immense popularity. What these platforms have in common is a technology that is deeply embedded into their roots and the cause of their existence -"no-code". No-code has created a buzz in the online communities where people are asking a great deal about the revolutionary technology and comparing various no-code platforms. 
In this article, I attempt to answer some sought after questions.
1. What is a no-code platform?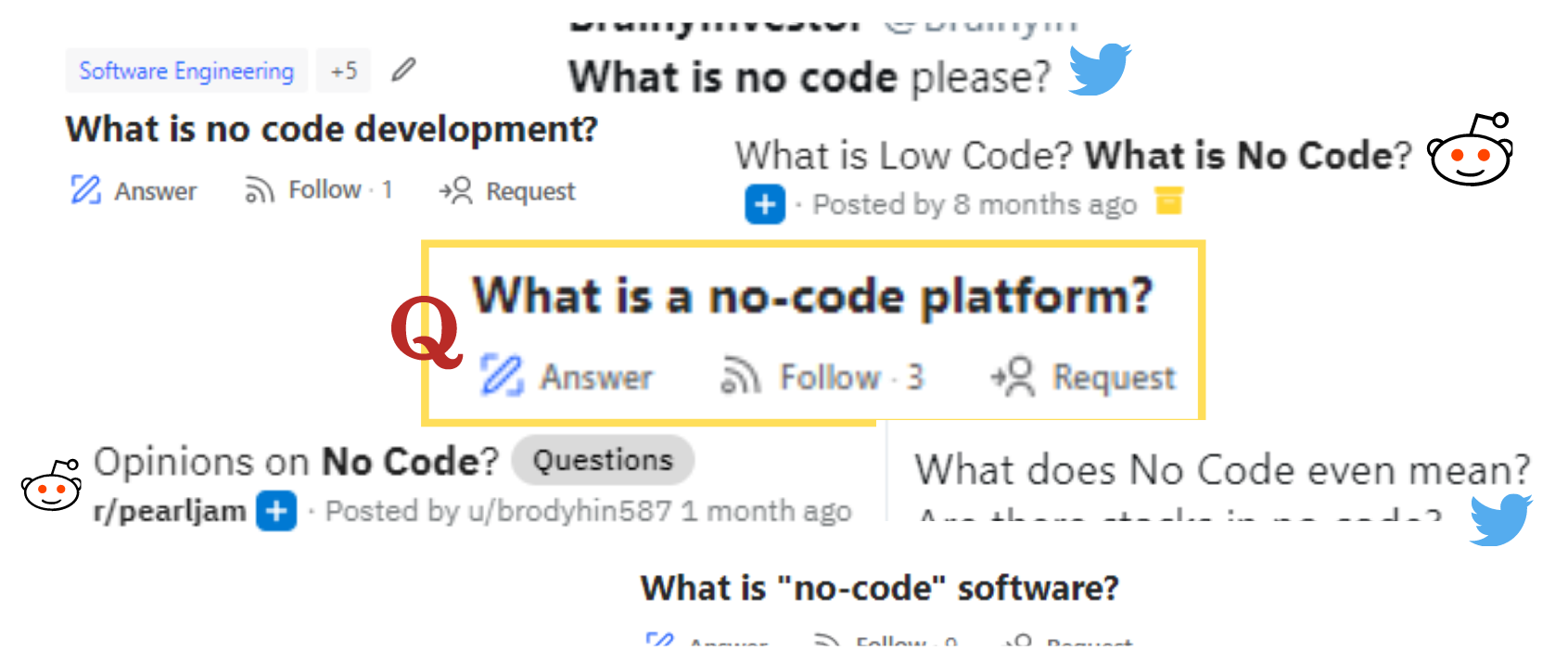 Traditionally software applications are developed with the help of a team of software developers, a huge budget, and a long development timeline.
No Code is the revolutionary movement that aims to make everyone a developer. The "No-Code" concept isn't new. It's the thought behind a theory that anyone without writing programming codes can create software. Any person who understands business requirements can create their software without a developer.
Typically a no-code supports visual app development that enables users to build applications using drag and drop methodologies, adding workflows and automation, connecting to a database and third parties, and adding UI components (like list, table grids, form fields, checkboxes, etc.) to create a complete application without coding.
Want to build apps with low code but don't know where to start? Book a Demo
2. Will the future of coding really be 'No-Code'?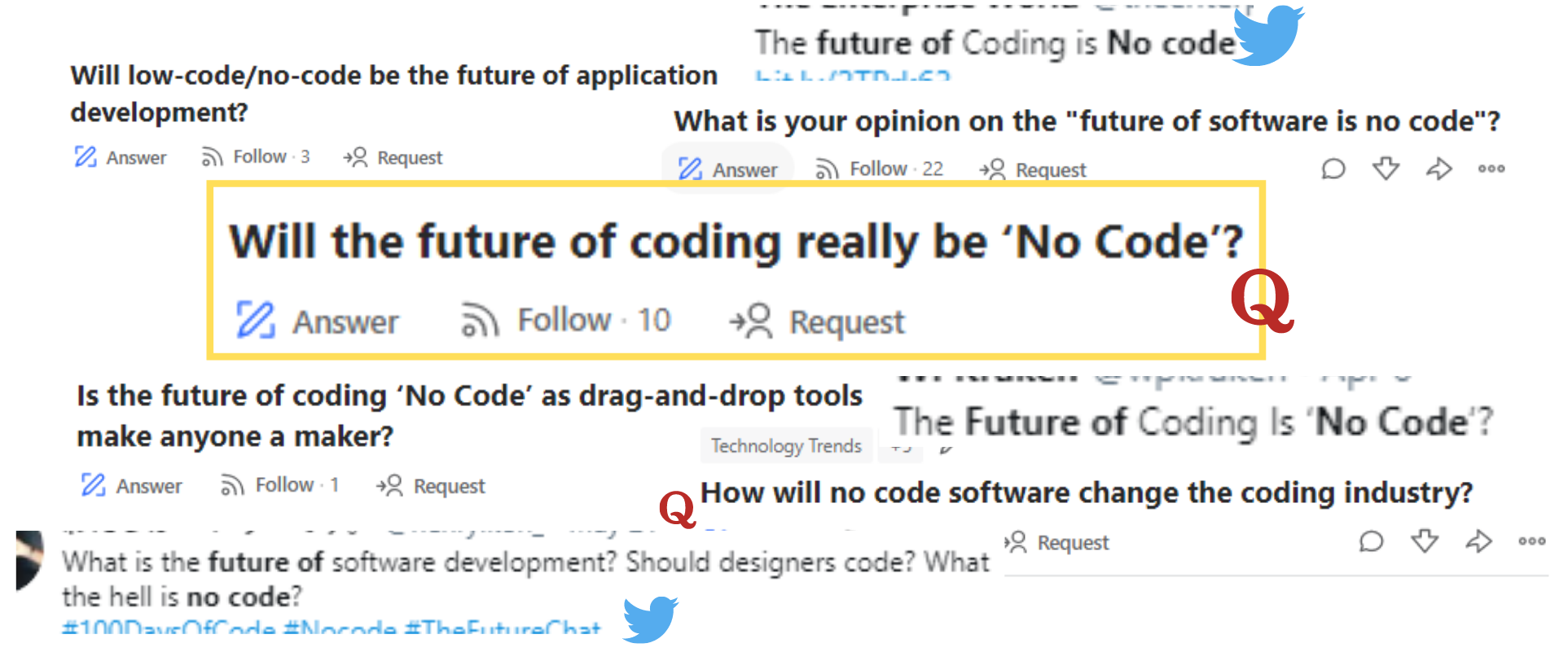 The popularity of no code is growing with the entries of big players into the no-code market with increasing the adoption of no-code platforms by organizations to develop trusted applications more quickly. 
No Code platforms are intended to support businesses by supporting their IT departments. When IT departments are busy in developing mission-critical applications, citizen developers can create their solutions to fulfill their business needs. Businesses are embracing the no-code platform as it provides them a solution to developing applications more quickly.
Nowadays businesses are looking for rapid app development platforms to fulfill their software needs and no-code platforms tend to do that by supporting the company's IT departments, enabling citizen developers to build applications according to their requirements.
According to Gartner, by 2024, the no-code/low-code application development will be responsible for more than 65% of application development activity with about 66% of big companies using a minimum of four such platforms.
This forecast shows that the No Code platform is the future of app development with its rising adoption among businesses.
COVID-19 pandemic has shown the value of the digital infrastructure and the need to accelerate the digital transformation that moved companies to adopt no-code technology for their business continuity.
The Big Five tech giants(Facebook, Amazon, Apple, Microsoft, Google) have invested in no-code/low-code platforms to acquire more users into their ecosystem.
Google's acquired Appsheet in January 2020 and recently Amazon launched their no-code platform Honeycode. All this adds to the credibility of no-code technology and shows that the no-code technology has immense potential.
Build enterprise-grade internal tools and custom apps, without burning out your IT resources. With mininal to no Coding. Here is a the definitive guide to building with no code
3. What are the best no-code and low-code app development platforms?

There are many no-code and low code development platforms in the market as well as there are reports by Gartner and Forrester which can provide some insights over this question. Each No/Low Code platform has a target audience. 
Some are targeted towards 
Developers, 

Business users, 

Data analysts,
UX Designers,

Citizen developers, etc. 
No/Low code platforms offer varying capabilities like 
Simple UI designing, 

Excel-like database, 

Ready to use and customizable use cases, 

Automation capabilities, 

Easy business rules/logic implementation,

Ability to integrate with other business platforms. 
There are various segments in No/Low development like
Simple App development

Enterprise App development

Container Applications

Support for microservices infrastructure
Every segment has many best platforms and winners. But in reality, the best always depends upon the fulfillment of requirements. Some platforms are low code (still requires a developer to rapidly build applications) and some aiming at No code ( Enabling power users, citizen developers and shadow IT to build business apps and integrate) Platforms like Salesforce lightning, Outsystems, Mendix, DronaHQ, and Zoho Creator are trusted by businesses for their rapid app development capabilities to support critical business solutions.
4. Is it possible to create an app without coding?

What kind of application are you aiming at? If you want to build the next Facebook, Tiktok, or Instagram or a gaming app, these low code / no-code platforms are not exactly where you want to start. This answer is for someone who has no coding skills but still wants to create a business app. Creating an app yourself is indeed a great idea. With No code platform, creating applications is no more difficult. The only thing that drives the creation of an app on the no-code platform is an idea followed by a clear picture of the requirements and flow of the application data in mind. 
With a clear picture of your requirements, anybody can develop an app on the no-code platform in a fraction of time. No-code platform enables visual app development by dragging and dropping modules, designing workflows, applying automation, and applying business logic without coding with just a few clicks. The greatest benefit of the no-code platform is the flexibility it provides to the app development where you can easily create and validate prototypes and can test your ideas in real-time. No Code platform is definitely a good choice to create an app when you have no coding or design skills where you can quickly validate your ideas without depending on any tech support.
5. How to turn your ideas into an app without coding?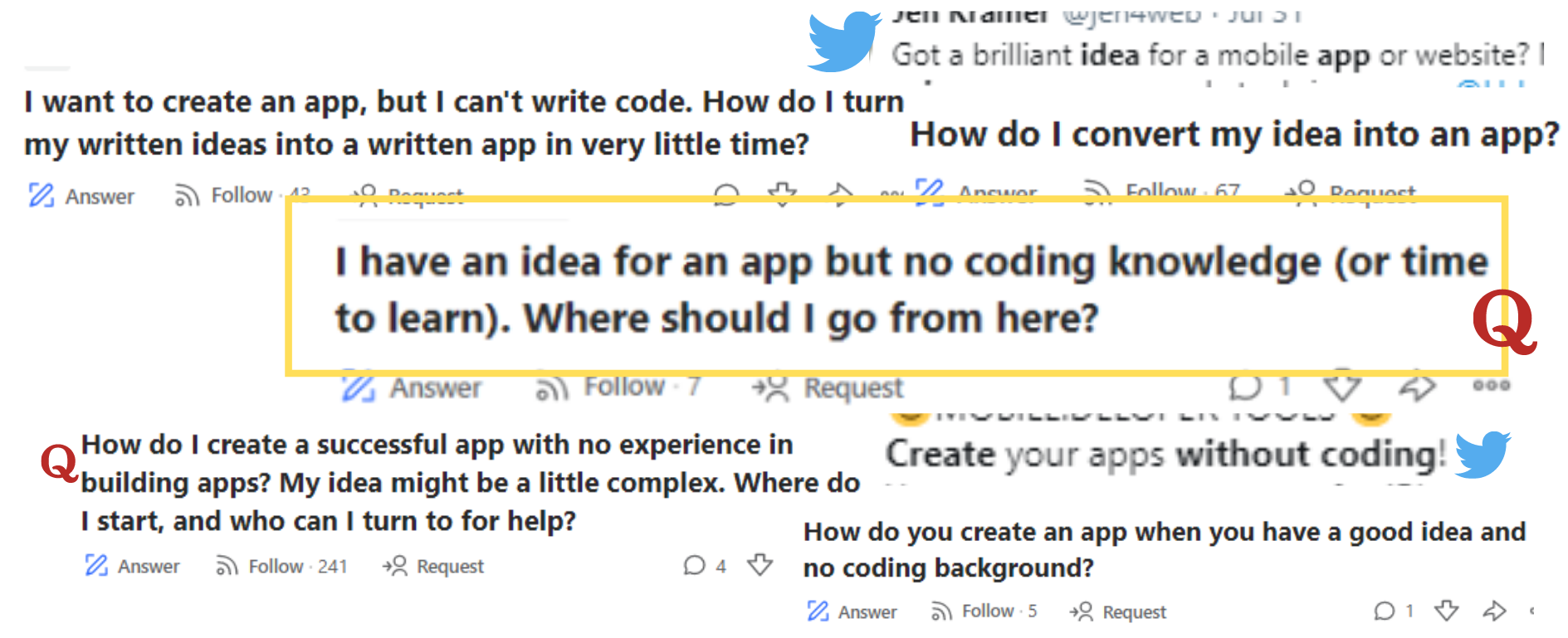 Wonderful, If you have an idea for an app. The only thing that keeps you away from creating your app is the coding skills, Right?
If you are trying to build business apps, you have the choice of using a no-code platform to transform your ideas into prototypes or into working models without coding. No Code platforms enable you to build business applications without coding. The biggest advantage is the agility the no-code platform provides enabling change management, version management, evolutionary development, incremental development. You can iterate, test your prototypes, and modify in real-time. Moreover, you can scale your app as per your user transactions. No code platform is a good choice to build your apps without any coding skills.
6. What are the best Business Process Management and Workflow Management tools?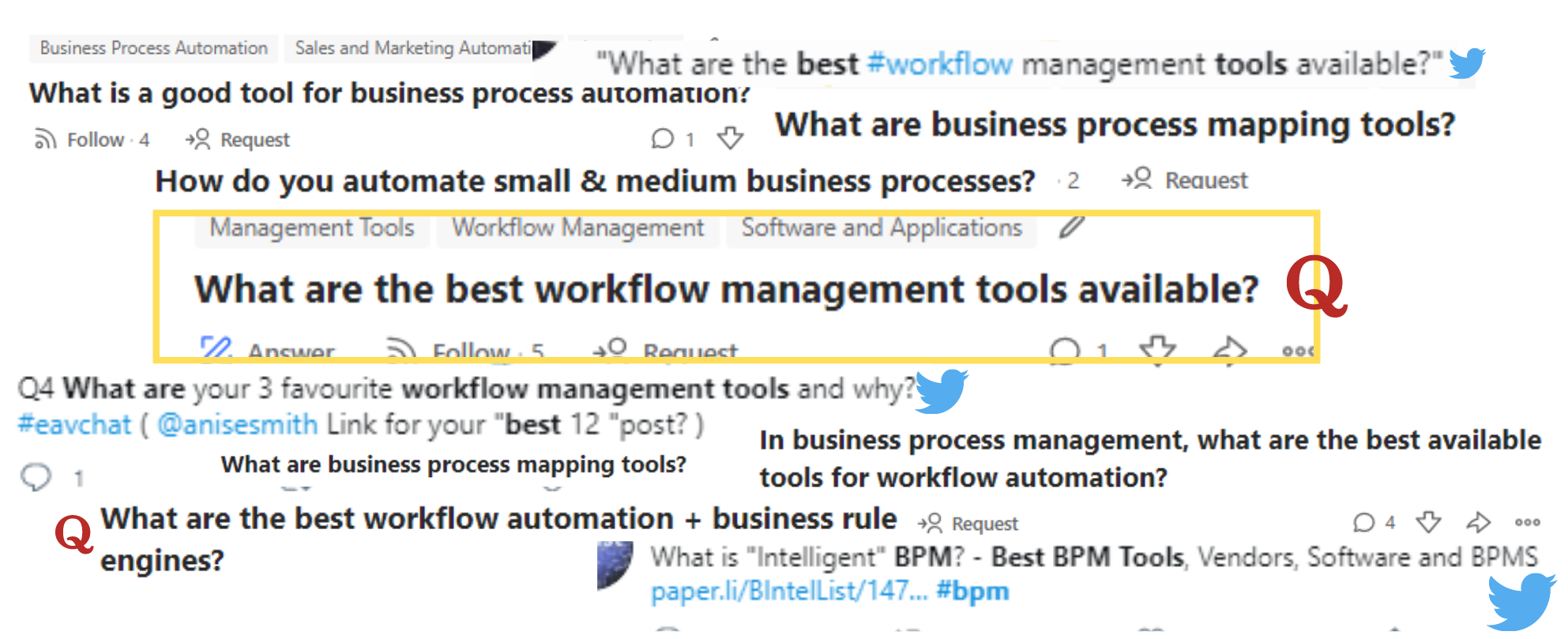 Managing workflow is indeed a very difficult task. There are already a no. of softwares present in the market for business process automation and workflow management. As every business has varying requirements and one size does not fit all, customized software can be a better choice. 
No-code platforms empowers business users to design and map the workflow of their business processes in an app without coding. You can define and automate your tasks, approvals, notifications, and repetitive activities without writing scripts in programming language. No code brings complete business transparency at the forefront with improved visibility and tracking of processes. 
Some no-code platforms also enable users to create customized apps by applying their business rules using a powerful rule engine to create highly customized and personalized apps that match your business rules and policies.
7. How to integrate your favorite tools with no-code apps?

Nowadays organizations use multiple apps every day. To track, monitor, and have an oversight of all the business processes in one place, integration becomes inevitable.
No-code platforms enable users to integrate various third-party apps into their applications using API's or Zapier. 
No code platform can make your apps future proof with Integrations that help you support current as well as upcoming mobile apps, web apps, desktop apps, chatbots, and more.
Some no-code platforms have provision for business users to use their own database by connecting apps through APIs. 
Also, some no-code platforms provide ready connectors to integrate various apps without writing custom code, facilitating teams to consume & expose SOAP and REST services.
Wrapping Up 
No-code is more than just a technology. It is about bringing ideas to life, embracing creativity, putting the power of innovation in the hands of users. The greatest benefit that comes along with no-code is the agility and flexibility to the app development process. From quick modifications, iterations to implementation no-code has gained the trust of organizations to create critical business solutions.
If you have any questions, queries in mind, please feel free to drop us an email or if you are looking for a platform to automate and streamline your business process.
Let us know or drop us an email at inquiries@dronahq.com
Connect with us:
Twitter- https://twitter.com/DronaHQ/
LinkedIn- https://www.linkedin.com/DronaHQ/
Facebook- https://www.facebook.com/DronaHQ/
Instagram- https://www.instagram.com/DronaHQ/
Copyright © Deltecs Infotech Pvt Ltd. All Rights Reserved