Automate your business processes — up to 10x faster
Kushagra Pal on September 10, 2020
Companies of all sizes experience complexities when competing and reforming in a software-driven ecosystem owing to the shortage of programmers, as well as IT resources that lack support for strategic objectives of a business. Every business wants to achieve more out of fewer efforts and resources. Automation has traditionally been the most effective way to do more with less. The formative years of automation begins with the industrial revolution in the period from 1790 to 1840 which paved the way to produce more without the need of any additional resources, making automation a revolutionary term that signifies the digital transformation of a business.
Today in the modern times – automation has entered in the digital world. There are three types of automation under the umbrella of business process automation.
Basic Automation-

simple automation to perform repetitive tasks to make the job simpler. e.g. centralised messaging tool for a group.

Process Automation-

automated management of business processes for transparency and control. e.g. automation of employee onboarding process.

Intelligent Automation-

machine learning-enabled automation with decision-making capabilities based on data. e.g smart AI chatbots. 
As a cumulative of all types of automation, business process automation is the application of technology in which manual effort can be substituted with technologically advanced apps and softwares to perform repetitive tasks and processes. This process streamlines and optimizes the workflow, reduces the cost and increases the efficiency.
Why should you embrace automation of business processes?
Major reasons to automate business processes are-
1. A step towards digitization
Digitalization can seem like a challenging ambitious target for organizations that are not into some type of IT business.  Automation of business processes can be a breakthrough in the application of the philosophy of continuous transformation. One can begin with some critical business processes that are vital to business success and can push forward to digitize its all activities gradually.
2. Standardize business operations
You can expect a clear quality of results for the consistent input whenever you automate a business process. Standardization helps to earn the trust of customers and increase the customer base, credibility and reliability of any organisation.
3. Optimization of business processes
Process transparency, customizable tasks, strategic insights and faster processing times reduces wasteful activities and by concentrating on improving value-adding tasks
4. Increase process efficiency 
Process automation is an outstanding method for improving the performance of business operations. You can optimize work processes, eliminate complexity, model the control flow and can enhance the productivity of operations using automation.
5. Increase satisfaction
Satisfaction is a notable distinguishing factor in any business. Effective management and operational performance helps you to easily match your employees and customers expectations. Employees and customers often develop an affinity towards business who meet their expectations.
What business processes can you automate?
In today's world automation is not restricted to any particular department. It has laid its roots across every vertical of organisations whether it is HR, sales or finance. At DronaHQ we empower developers and business users to automate their business processes. A while back we introduced ready connectors to integrate various third parties using APIs and database connectors to give more power to our users. 
"We are now enabling HR, marketing, sales & finance to build never before seen use cases in hours and that too without writing a single line of code. Given we are a very exhaustive tool and maybe one of its kind – we have an ability to take on a complex process and fully realize it within DronaHQ, " Jinen Dedhia, Co-founder at DronaHQ, writes in his blog.  
Let's take a look at some of the popular use-cases automated with DronaHQ for better understanding.
HR-
Employee onboarding

Employee offboarding

Timesheet & Attendance

Employee Investment Declaration

Employee self-service portals

Learning & Development solutions

Selection assessment solutions
Sales & Marketing-
Customer Relationship Management

Field salesforce solutions

Sales Support

Team communication & tracking solutions

Meeting scheduling apps

Virtual meeting Solutions
Finance-
Petty cash registers

Budget Planning

Agreement repository

Payroll management systems

AMC Tracking, and more.
Benefits of business process automation
You will observe an increase in productivity with improved access driven by cloud-based business process automation systems.

Automation brings more transparency to business processes. Any process can be tracked anytime resulting in better visibility and control.

Better visibility and transparency helps you to keep a check on errors and fix them as soon as they occur.

Fewer manual operations resulting in better turnaround time.

Saves cost in the long run due to fewer manual operations.
What's new in Automation with DronaHQ
With our latest offerings, connecting your existing low-code applications with your favourite apps has become much-more easy. We have recently launched database connectors and ready API connectors in the automation segment for instant integration with tools that make the most sense for your business and extend beyond their basic capabilities.
Database connectors
DronaHQ offers ready database connectors to build apps on top of your existing databases. With database connectors now you can integrate your existing MySQL, PostgreSQL, MongoDB and Microsoft SQL database with your low-code apps. You can now execute a wide array of database queries on your database, like SELECT, INSERT, UPDATE and DELETE directly from your low-code apps and can create CRUD apps within minutes.
"Database connectors will make process automation more powerful and will give more flexibility to users to connect to databases of their choice without worrying about behind the scenes of how the connectivity will take place, providing more power to the end-user," says Divyesh Kharade, DronaHQ Co-founder & CEO. 
Ready API connectors
DronaHQ offers ready API connectors for instant integration with systems such as Salesforce, Google Drive and Email solutions. With Ready API connectors, users can integrate their low-code apps with their favourite third-party apps like Zoom, Slack, Trello, Salesforce, Intercom, LinkedIn, Zendesk etc. to extend their apps beyond basic capabilities by leveraging simple point-and-click setup to integrate third parties and automate tasks in minutes.
Driving the digital change
At DronaHQ we enable organisations to create high-impact business applications. The world's leading teams are using DronaHQ to build and automate enterprise apps to improve their operational excellence and productivity. Create solutions for your Sales, HR, Project Management, Finance, Procurement, Field Services, Admin and Operations, Audit and Inspection and even more.
DronaHQ offers a unique approach to the automation of business processes. Sign up for a free trial and personally witness it.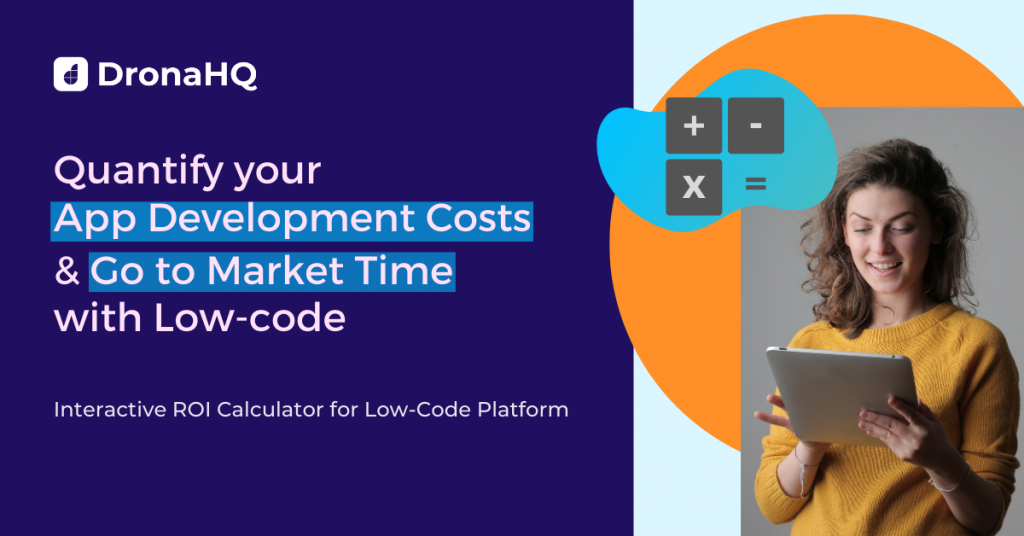 Copyright © Deltecs Infotech Pvt Ltd. All Rights Reserved