Exploring DronaHQ alternatives: Top 7 low code platforms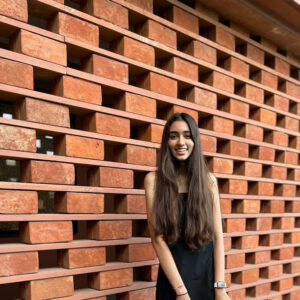 DronaHQ has emerged as a powerful low-code platform, enabling users to build business applications rapidly. However, depending on specific requirements and preferences, you may be searching for alternatives that offer different features and capabilities. In this blog post, we will delve into seven DronaHQ alternatives, highlighting their strengths, weaknesses, and unique offerings. By the end of this review, you will have a comprehensive understanding of alternative low-code platforms available to suit your development needs.
Before we begin, let's see what DronaHQ is all about:
What is DronaHQ?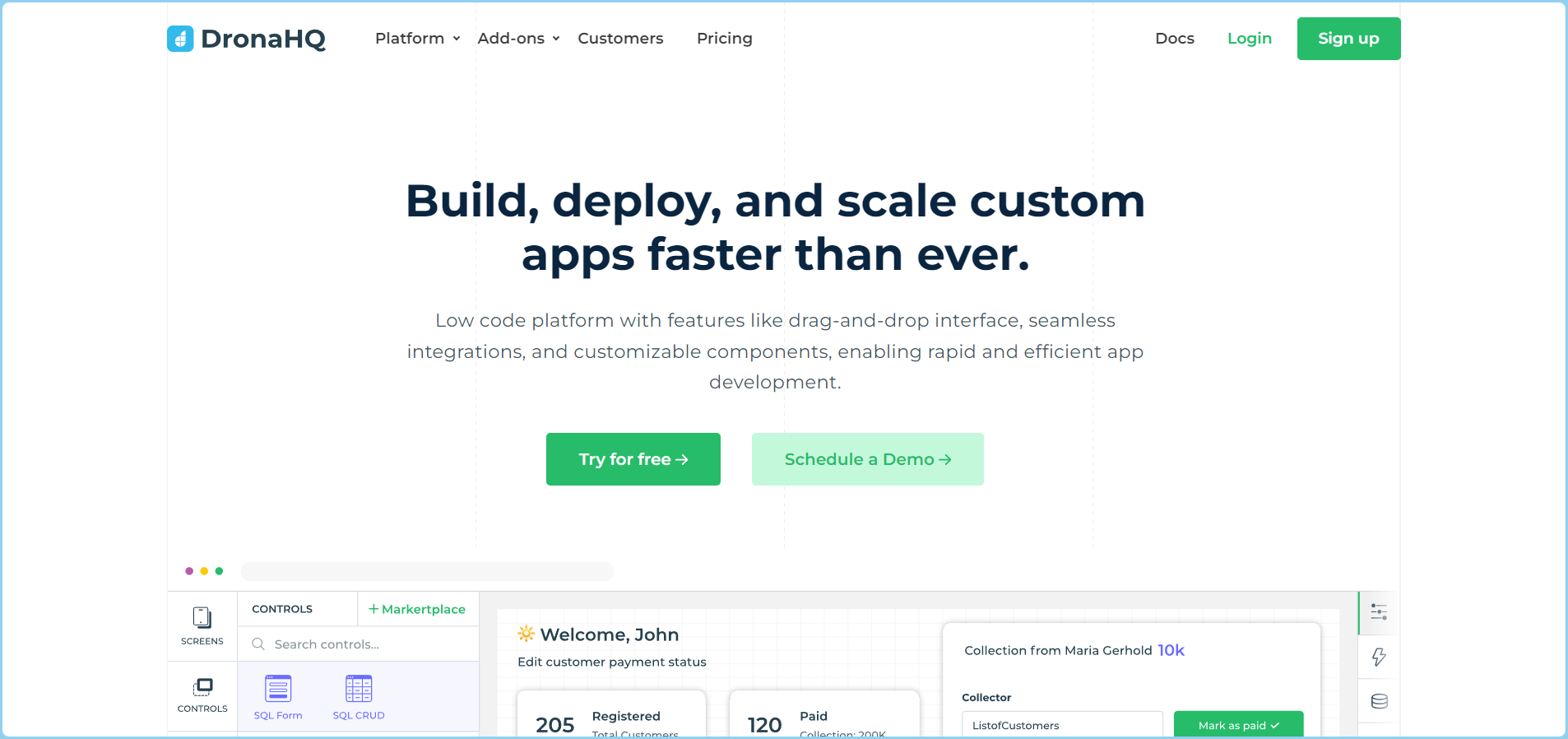 DronaHQ is a low-code platform with a rich history of over 15 years, catering to large enterprises. Its extensive experience has positioned it well in both the developer tool set market and the business user segment. With its intuitive interface and powerful capabilities, DronaHQ empowers users to build applications with greater efficiency and flexibility.
DronaHQ supports a wide range of applications, including progressive data capture forms, CRUD apps, interactive dashboards, CRMs, internal tools, operational apps, database GUIs, customer engagement apps, and MVP designing.
Pros:
1. Ability to build applications for both web and mobile platforms, with the option to generate public links for easy sharing.
2. Flexibility to code and create reusable UI components and functions using JavaScript, allowing developers to extend functionality as needed.
3. Advanced features like environments, SSO configurations, custom branding are available from the mid-tier plan itself.
4. Robust user access and role-based permission
5. Wide range of ready connectors to APIs and databases, including MongoDB, Airtable, and PostgreSQL, with support for custom API integration. Additionally, the platform supports writing SQL queries with Ask AI powered by GPT-3.
6. ISO 27001 and SOC-II certified, ensuring compliance with GDPR regulations.
Cons:
1. Currently not HIPAA compliant, but users can deploy their apps on-premises to meet security compliance.
2. Publishing apps is not available in the free plan.
3. Custom domain availability is limited to specific plans.
4. White Labeling of apps is only possible in the business plans or higher.
Alternative Low-Code Platforms:
Retool: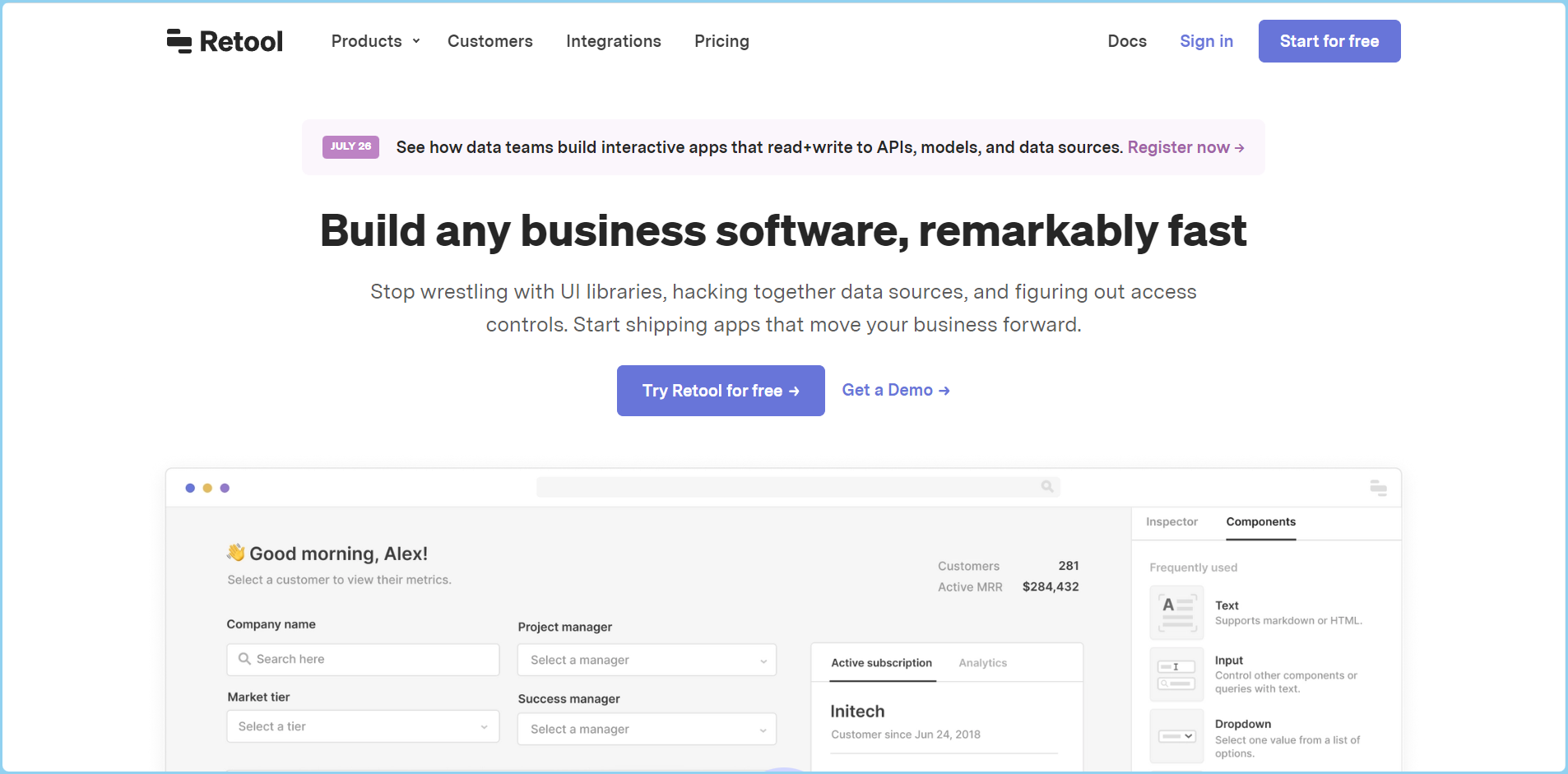 Retool is a versatile low-code platform known for building internal tools and applications. Contrary to other no-code options, Retool is specifically targeted at developers and technical teams. 
The platform involves a fair bit of deep tech know-how, including database understanding, SQL, JSON, REST API Coding etc. However, it still helps make the entire process faster for technical teams than developing everything from scratch.  
Pros:
1. Extensive library of ready connectors, allowing seamless integration with various data sources.
2. Supports both web and mobile application development.
3. Robust customization options using JavaScript for creating tailored solutions.
4. Flexible pricing plans suitable for different usage levels and enterprise needs.
5. Offers enterprise-grade security features for data protection.
Cons:
1. The visual programming interface may require some technical knowledge.
2. Primarily designed for internal tooling, may have limitations for consumer-facing applications.
3. Limited community support compared to more widely adopted platforms.
Appsmith: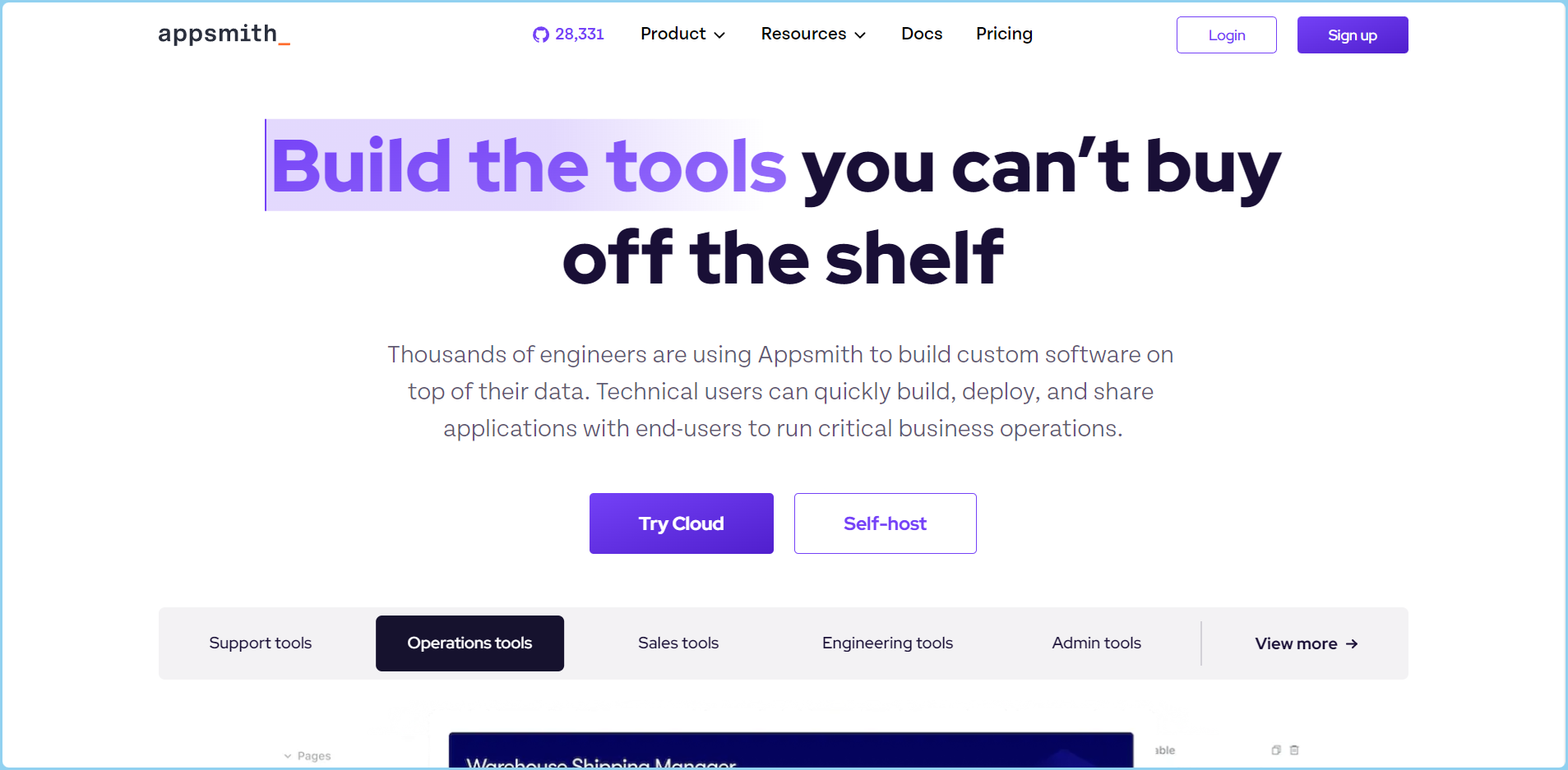 Appsmith is a user-friendly low-code platform for building custom web applications. It offers a visual interface and pre-built components to simplify the development process. With Appsmith, users can connect to data sources, customize functionality with JavaScript, and deploy their applications seamlessly.
Pros
:
1. Wide variety of pre-built components and templates for rapid app development.
2. Supports extensive customization using JavaScript for creating tailored solutions.
3. Provides rich UI capabilities for creating visually appealing web applications.
4. Collaborative features and version control for team-based development.
5. Offers a free tier and flexible pricing options for different business sizes.
Cons
:
1. Limited mobile app development capabilities compared to other platforms.
2. Learning curve may be steeper for beginners.
3. Some advanced features require technical expertise.
Budibase: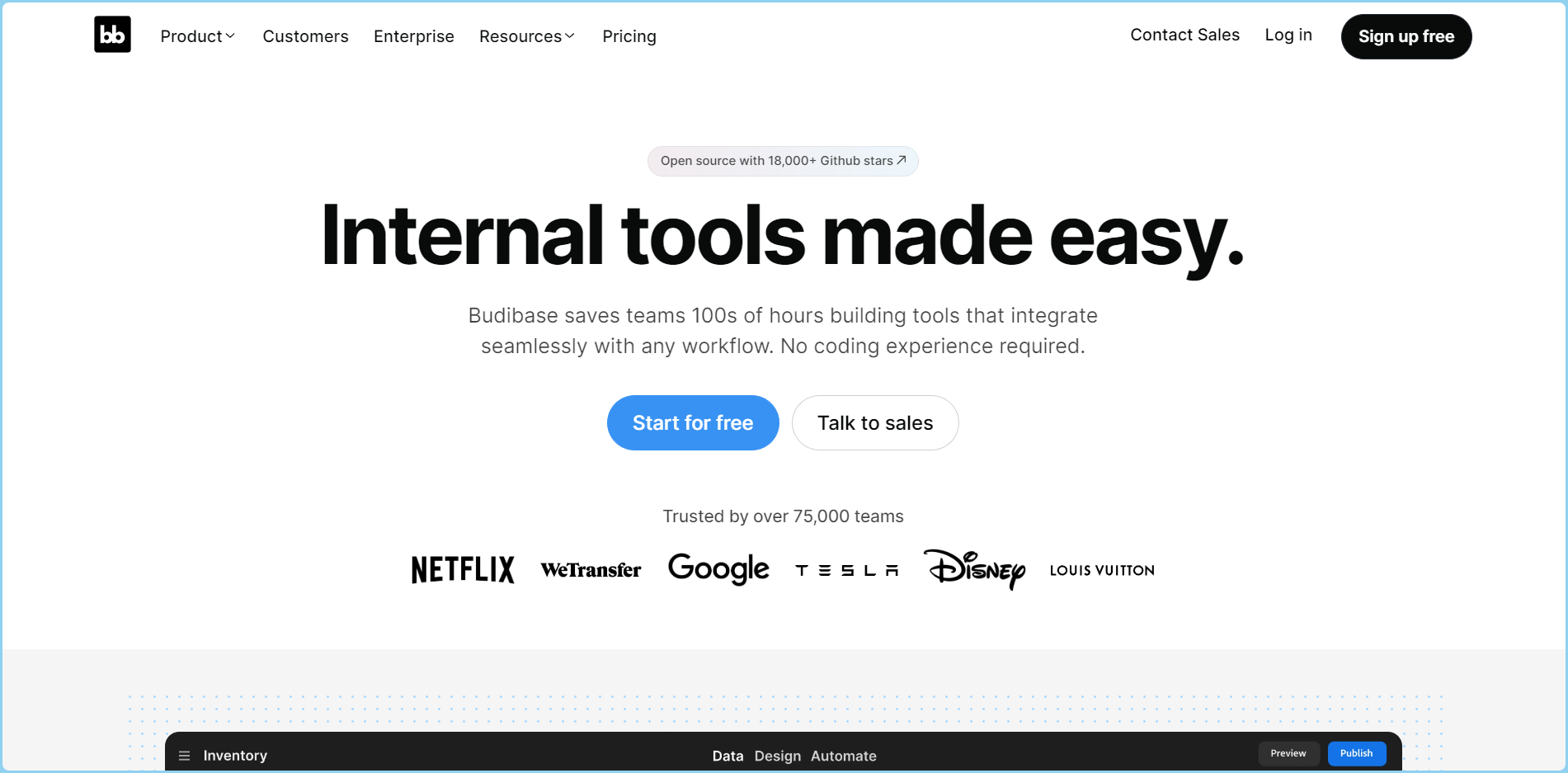 Budibase is a user-friendly low-code platform focused on simplicity and ease of use. Budibase differs from DronaHQ in some external and conceptual aspects. However, it does not offer a comparable range of features as DronaHQ.
Pros:
1. Intuitive drag-and-drop interface for quick app development.
2. Supports customization using JavaScript for building tailored solutions.
3. Affordable pricing plans suitable for startups and small businesses.
4. Offers hosting and deployment options for hassle-free application management.
5. Provides collaborative features for team-based development.
Cons:
1. Limited advanced features and functionalities compared to more robust platforms.
2. Fewer ready connectors and integrations available.
3. Limited community support and resources.
Softr: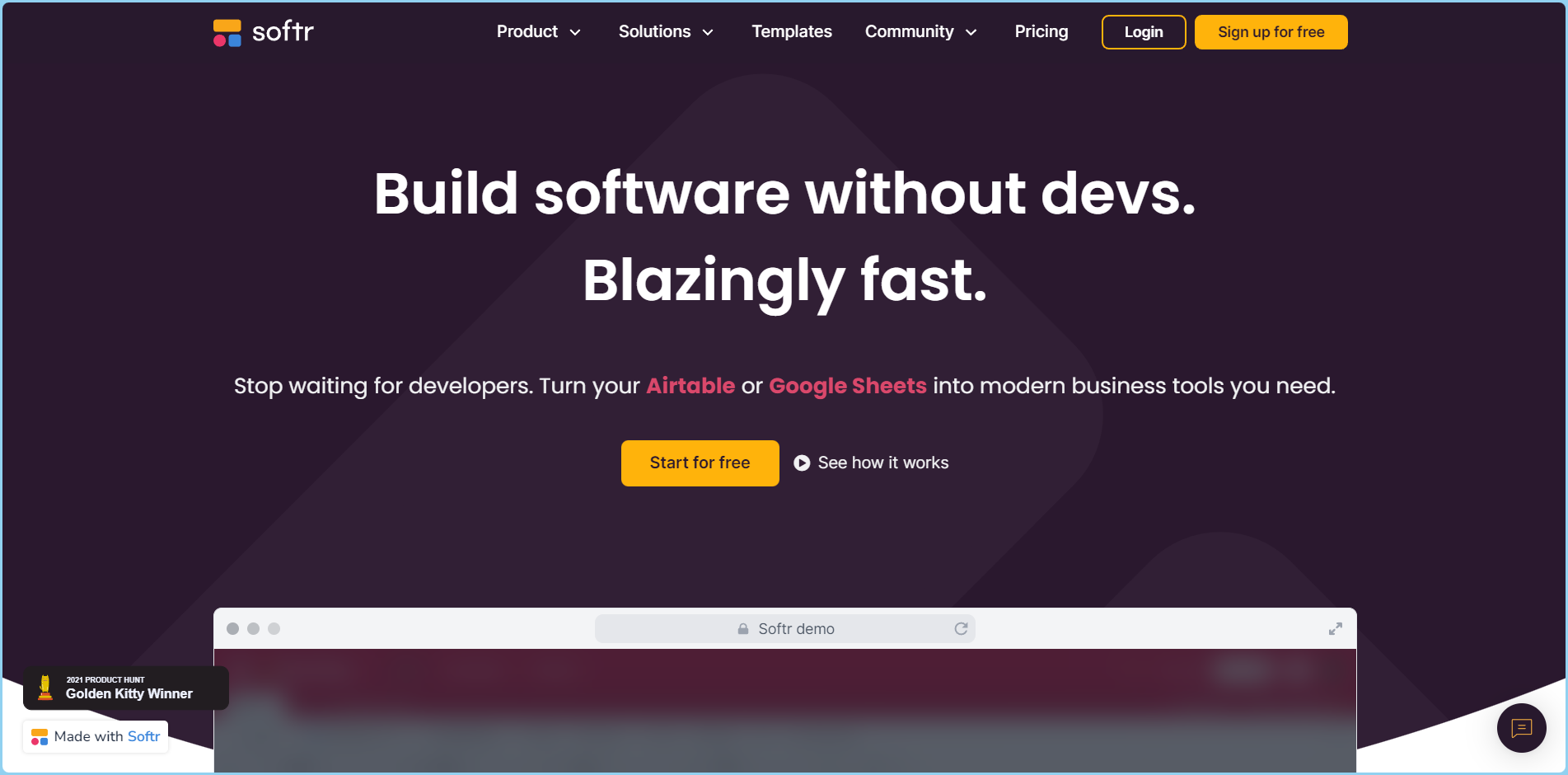 Softr is a user-friendly platform that empowers non-technical individuals and teams to build web applications without writing code. It offers a wide selection of ready-to-use templates, including internal tools, and integrates seamlessly with Airtable and Google Sheets as data sources
Pros:
1. Enables the creation of internal tools and other web apps on top of Airtable or Google Sheets data for non-technical users.
2. Offers a responsive design by default, ensuring optimal user experience across devices.
3. Advanced custom permissions and team collaboration features
4. Comes with a diverse range of ready-to-use templates for various purposes
5. Supports the creation of mobile applications as Progressive Web Apps (PWAs).
Cons:
1. Relatively higher pricing compared to some other low-code platforms.
2. Limited customization options for highly specialized functionalities.
3. Dependency on third-party services for certain integrations.
Zoho Creator: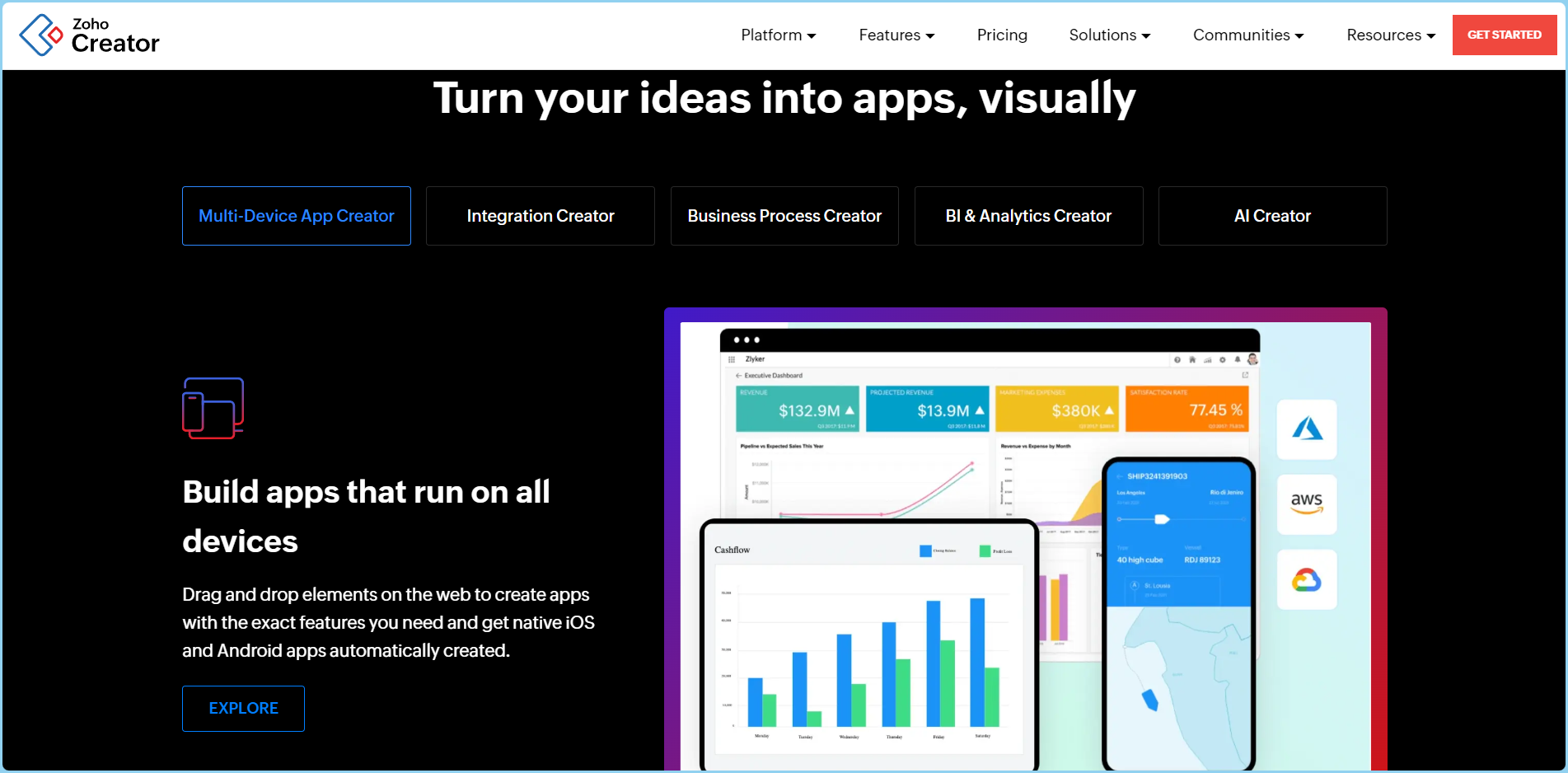 Zoho Creator is a no-code platform that allows business users to build simple web and mobile applications without coding knowledge. It provides a visual interface and a range of built-in features, making it accessible to non-technical individuals and teams.
Pros:
1. Wide range of ready-to-use app templates for quick application development.
2. Supports customization using Deluge, a simplified scripting language.
3. Robust security features and role-based access control for data protection.
4. Seamless integration with other Zoho products and third-party services.
5. Offers flexible pricing plans for businesses of all sizes.
Cons:
1. Limited customization options compared to custom-coded solutions.
2. Dependency on the Zoho ecosystem for integration with other Zoho products and services.
3. Pricing structure may not be suitable for all budgets, especially for larger-scale applications.
Tooljet: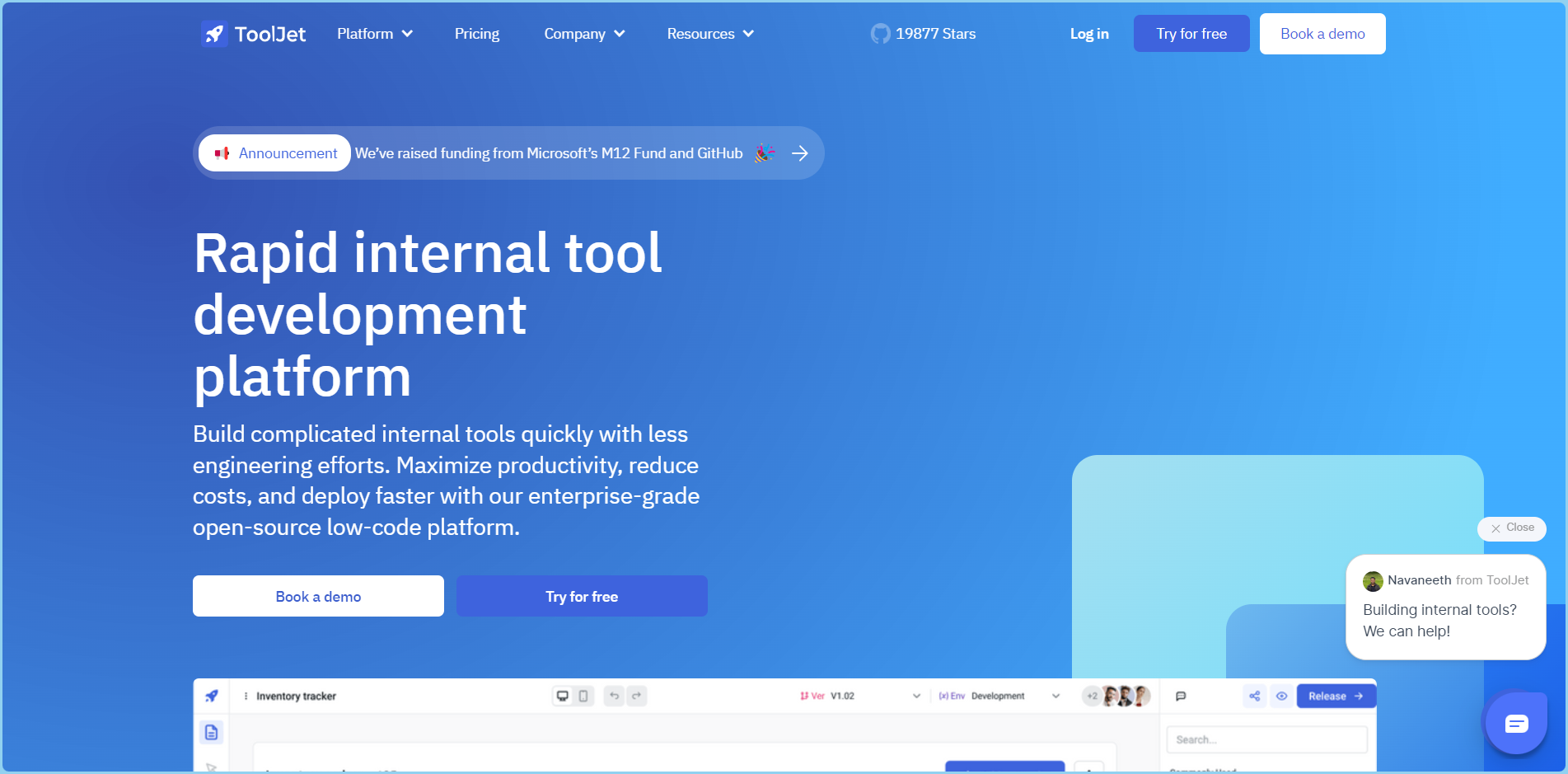 ToolJet positions itself as an open source platform. It is remarkably similar to Retool's low code platform available for users however a lot of quality issues are reported.
Pros:
1. Extensive customization options using JavaScript for tailored solutions.
2. Has only two plans: Free and Enterprise; same for the Self-hosted version.
3. Open-source allows other developers to potentially audit the code they write.
4. Offers light and dark UI builder mode.
Cons:
1. Limited mobile app development capabilities compared to web applications.
2. Does not offer as many ready connectors and integrations as other platforms.
3. Does not have Git integration, but has its own version control.
4. Does not have Workflows/Automation features.
Internal.io: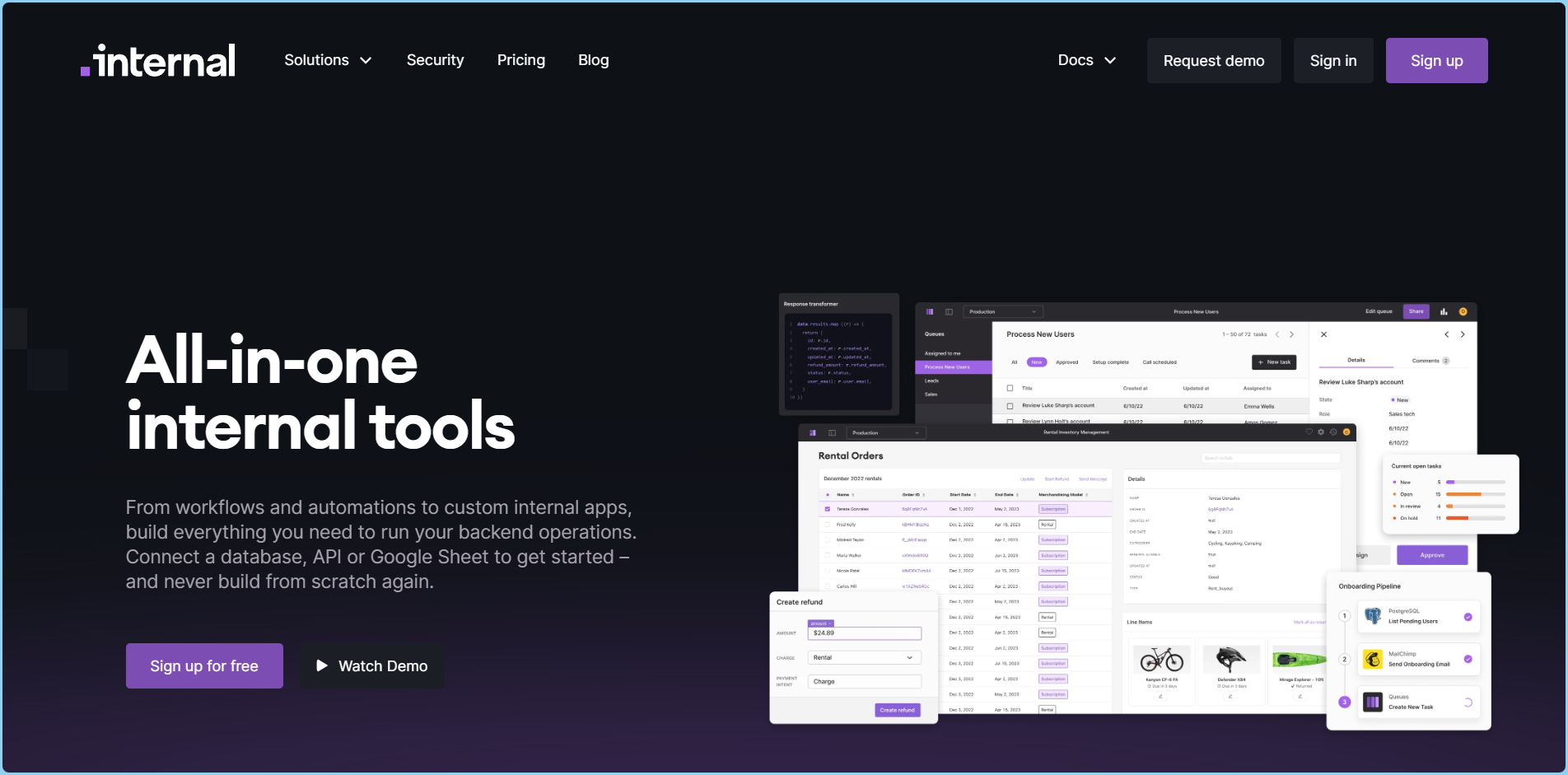 Internal is an established player in the internal tooling market, with the primary objective to enable individuals without coding expertise to develop secure internal applications. Though it has limitations in terms of application scope and customization options, its user-friendly interface makes it an attractive choice for citizen developers.
Pros:
1. No coding skills required for building UI. But it is necessary to be familiar with the general concepts.
2. Easy to build CRUD apps.
3. Streamlined interface for rapid development of internal tools and applications.
4. Offers role-based access control and enterprise-grade security features.
5. Provides collaborative features for team-based development and project management.
Cons:
1. Limited options for consumer-facing applications compared to internal tools.
2. Has a smaller user community and fewer resources available.
3. Integration options are limited compared to more comprehensive platforms.
When exploring alternatives to DronaHQ, it's crucial to consider the specific requirements of your project. Each alternative low-code platform offers unique strengths and weaknesses. Retool excels in ready connectors and internal tooling, while Appsmith focuses on web application customization. Budibase emphasizes simplicity and affordability, while Builder.ai incorporates AI-driven features. Zoho Creator provides a range of app templates, and Tooljet emphasizes productivity. Internal.io specializes in internal applications. Assess the pros and cons of each platform, considering factors such as ready connectors, web/mobile support, customization capabilities, pricing models, tool complexity, types of apps, security features, and UI richness. With this knowledge, you'll be equipped to choose the best alternative for your low-code app development needs.
Note: Pricing models and features mentioned in this article are subject to change. We recommend visiting the respective platforms' websites for the most up-to-date information.
Copyright © Deltecs Infotech Pvt Ltd. All Rights Reserved