DronaHQ introduces new Table Grid control for Internal Tools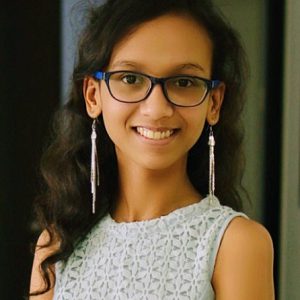 Announcing new and advanced table grid control that is set to change the face of internal tools like admin panels and dashboards for business
We are thrilled to announce an upgraded table-grid control. This control is aimed to equip teams to build custom interactive visualization tools quickly on the low-code platform. The Table Grid control can be used to display tabular data in a grid format. It can be used as a standalone control to show data or it can be made interactive where users can filter datasets that can be passed to display details. 
The need of the hour is better visualization of business data to optimize processes. More business users need actionable data handy in order to make decisions and that is exactly where the table grid comes into the picture.  With the new control, app makers can easily build a Shopify customer order dashboard, a PostgreSQL admin panel, a monitory inventory management system using dashboards, SDR dashboards, Salesforce customer locators, and much more.
The table grid control makes it easy for internal teams to build drill-down reports, admin panels, and visualization dashboards. It is simple to create these tools out of the box with all basic features like sort and filter, search by, and mixed chart type included in the platform. The table grid control makes the discovery of key data items easy and interactive. The action you take on the data reflects in your database using DronaHQ's API integrations.
Say, a customer success manager building a customer support tool needs to keep all user details with orders placed in a single place to manage support tickets, order returns, and payments efficiently to boost ticket resolution speed. Using DronaHQ's ready connectors, the manager can connect with Zendesk ticketing systems, PostgreSQL database, and Shopify to get customer and order details. The table grid can list down Zendesk tickets that the customer success team can sort through using priority filters and get instant access to supporting customers and order details to speed up the ticket resolution and provide their customers with faster solutions.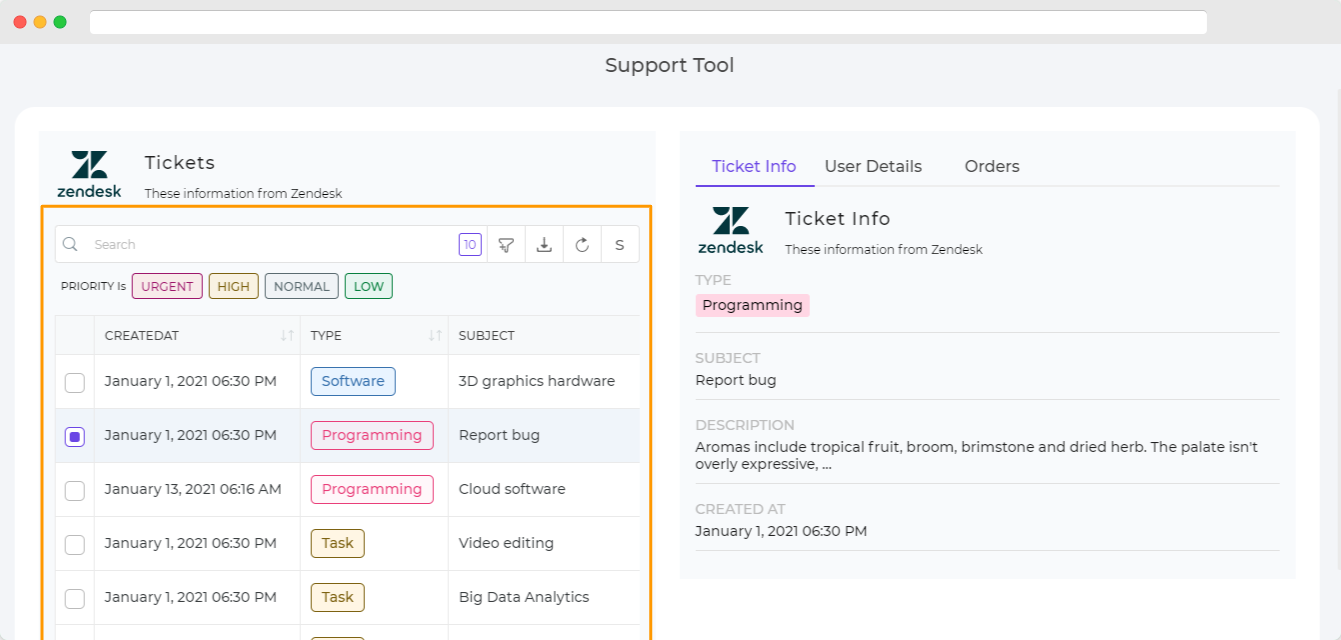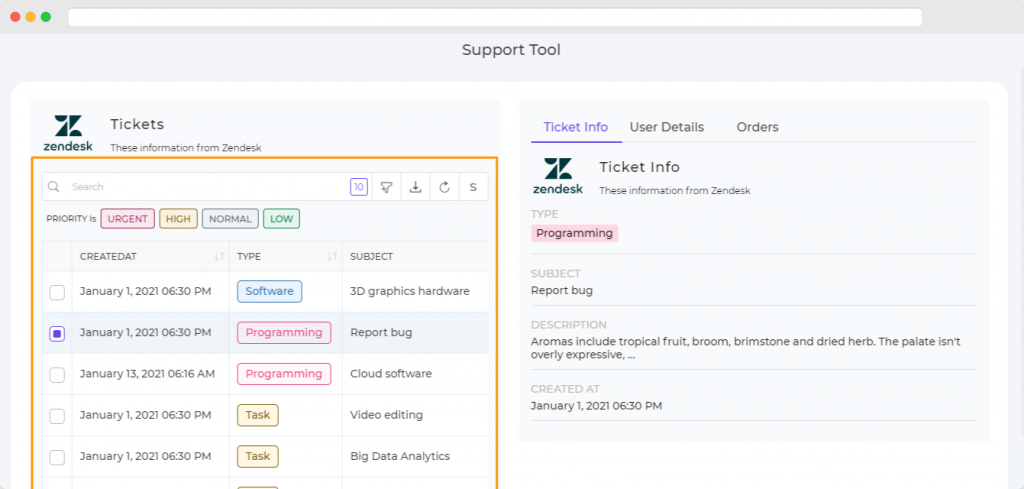 "We have data scientists and product managers who are using the table grid to create robust and interactive internal tools by giving the end-user an advanced level of visibility into their data. DronaHQ is allowing users to quickly create powerful interfaces that integrate with users' business apps and databases to improve the entire chain of events a process needs to follow." 
"Table grid has proven to be instrumental for all the applications that we are making to exhibit the data. The component has evolved so much. It allows us to change the formatting of individual columns and that really changes the entire perspective for things that need to be highlighted. We are able to trigger actions on top of this component and it enhances the overall user experience," shared Yash Gandhi, DronaHQ partner and Algoware founder.
The enhanced table grid control is the latest addition to our library of over 150+ pre-built UI controls that also includes checkboxes, action buttons, rich text editor, and the popular Stripe payment control that works in integration with the STRIPE payment platform.
By bringing together display controls like charts, bar graphs, images, tags, and now the interactive table grid to the UI builder, every business that builds internal tools on DronaHQ is better equipped to make data-driven actions. We're excited to see the new tools users build with the table grid.
The new control is generally available to all platform users.
For more information on how the table grid control can be applied to build internal tools, check out  https://community.dronahq.com/t/table-grid-control/190.
Copyright © Deltecs Infotech Pvt Ltd. All Rights Reserved