How CXOs can Accelerate Returns on Digital Investments – Guest Article at ReadITQuick
Explore how a holistic strategy combining core digitalization technologies of app refactoring, RADP, and unified mobile app model can help CXOs accelerate returns on their digital investments.
Digital is the key point of discussion at CXO roundtables today. Enterprise mobility, the torch-bearing digital technology is the primary area of interest for CXOs due to the transformational business impact it delivers. The journey to a mobility-led digital transformation, however, is not free of risks.
A modern-day CXO—C-level executives, such as CEO, CFO, COO, CIO, and CMO—has several challenges to deal with. Besides cut-throat competition and an uncertain economic environment, there are other difficulties that CXOs have to tackle. Let's examine some of the top challenges faced by CXOs in the context of digitalization.
Expensive digital talent
Identifying talented people and ensuring they stay in the organization has been a perennial challenge faced by HR executives. According to a global Talent Shortage Survey of 40,000 employers surveyed, nearly 40 percent are found to be facing talent shortage. This scarcity becomes a serious issue when it comes to advanced digital technologies. As a result, the cost of talent in digital technology domain has gone up substantially.
Even as the global mobile apps market is forecast to reach $94.15 billion by 2024, the app building expenses are on the rise. Thinkmobiles estimates that the cost to develop a mobile app can be anywhere from $25,000 to $100,000 today.
Legacy Bottlenecks
A legacy application is a business-critical but outdated software that an organization continues to use for a long time despite the operational restrictions and technical issues it is beset with. Like bad habits that hamper human development, a legacy system prohibits the growth of an organization.
Legacy applications also come with a range of costs including maintenance, manpower, integration, and compliance. From enterprise mobility perspective, the higher cost, however, is opportunity-loss due to the slow pace of changes a legacy system can accommodate. Digital transformation, given this rigidity, looks like a distant dream.
User Adoption Issues
Even as organizations proceed with their enterprise mobility programmes, there are further hurdles on-the-way. The lethal challenge is the lukewarm user adoption of mobile apps. Companies witness alacritous user acceptance of their initial mobile app releases but the user-energy drops with every next release.
An organization spends heavily on developing and testing apps, promoting them internally, and maintaining and upgrading them on an ongoing basis. With poor user adoption, all these investments can go wasted, placing a question mark on tenability of the digitalization project(s) spearheaded by the CXO leadership.
Talk to us about your mobility strategy
Navigating Through the Choppy Waters
Against this backdrop, a few core digital technologies promise to address the CXO challenges discussed above comprehensively. These core technologies include app refactoring, low-code rapid application development platform (RADP), and unified mobile app model.
App refactoring can help organizations create APIs directly from the presentation layer of their legacy applications. These APIs can be orchestrated and managed using API gateway and thus open doors to new business models, modern apps, monetization and third-party integrations, ensuring the protection of existing investments in legacy systems. With a nutritional boost of APIs and cross-platform capabilities, the technology can help the business take wings with minimal investments and in a very short time span.
Increase Speed and Adoption, not Costs
Modern digital technology for app development, low-code rapid application development platform (RADP) can accelerate the development of multiple mobile apps (and drastically slash down the development costs). Combining the technologies such as low-code app design and development, ready integration connectors, SDK toolkit, app marketplace, and mobile CMS, a low-code RADP suite can help CXOs accomplish their digitalization goals without hiring special talent across development, DevOps, security and IT domains. With low-code RADP, citizen developers—business users with basic HTML knowledge—can develop modern mobile apps, helping CXOs keep costs under control even as their organizations score high on efficiency parameters.
Lastly, organizations can employ unified mobile app model along with container app approach to achieve 100 percent user adoption for their mobility-led digitalization drives. A unified mobile app approach involves users installing only one app—the container app—on their smartphones.
Watch Raja Ukil, SVP and CIO, Wipro Technologies talk about how they implemented an all-in-one mobile app for their employees using DronaHQ's Unified Endpoint Container Architecture.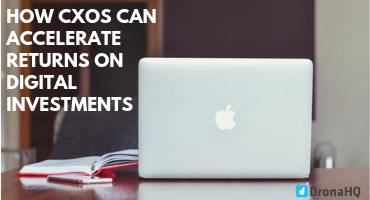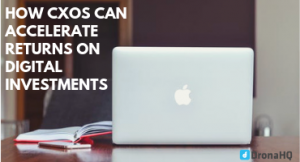 Every new app that the organization releases gets automatically added to user-containers, neutralizing the app discovery or installation challenges faced by users. A unified strategy combining all these core digitalization technologies can thus help CXOs gain accelerated returns on their existing assets as well as new investments in digital.
Guest Article by Jinen Dedhia at ReadITQuick
Copyright © Deltecs Infotech Pvt Ltd. All Rights Reserved