Grow your business with powerful form features
Explore the form features below to learn how DronaHQ can help you streamline data collection processes and make better business decisions. Customize your forms, create and share reports, configure push notifications, and track your form's performance—all with one simple form builder.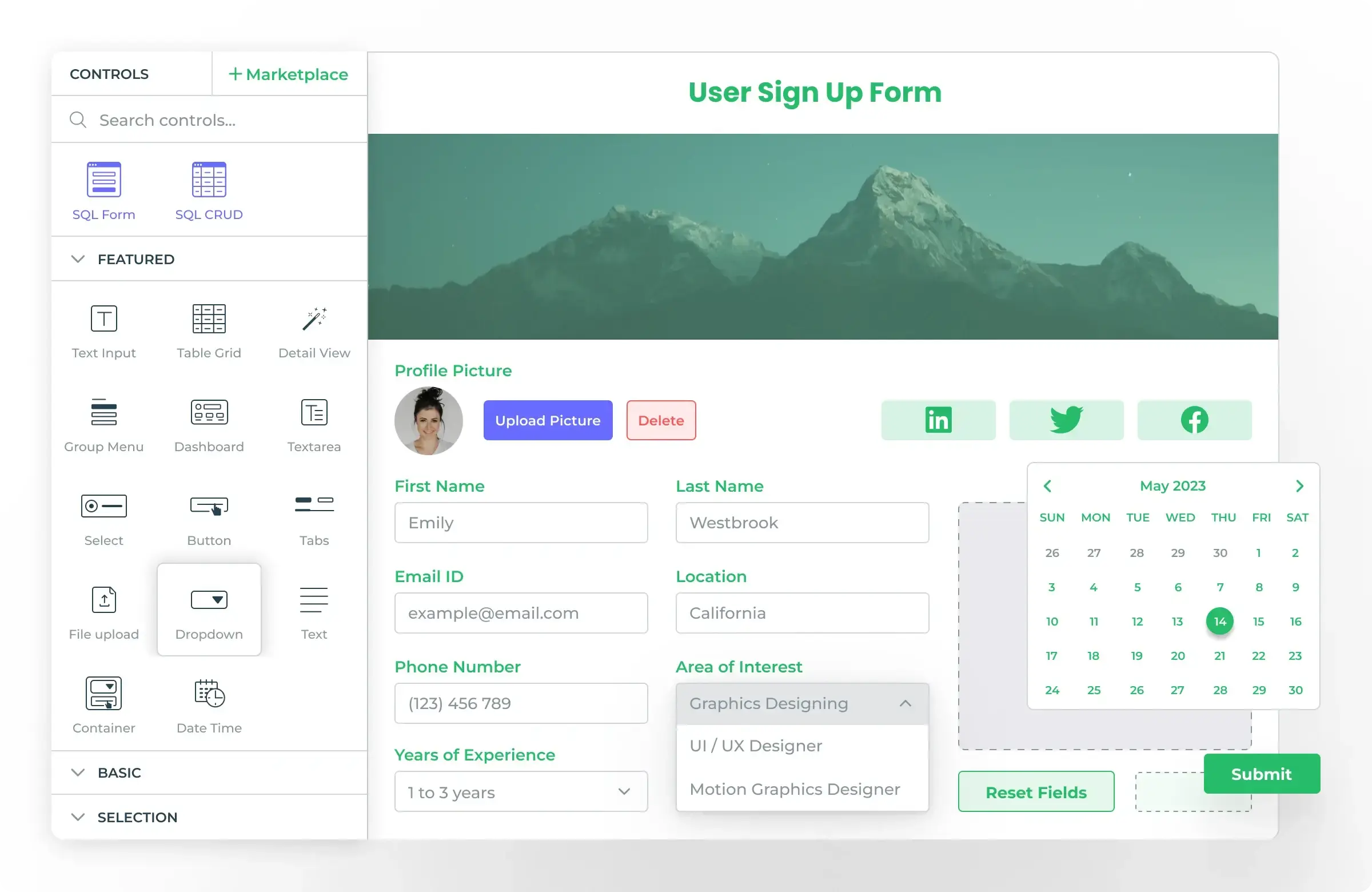 Drag drop form builder
Dynamic form builder to visually design pixel perfect forms using pre-built components.
100+ UI controls
Find over 100 pre-built UI controls like text, checkboxes, numeric data, date time and more.
Dynamic forms
Set up rules to conditionally hide or show form fields and sections based on user inputs.
Form validation
Set validation rules on form fields to ensure user inputs accesptible information to your database.
Multi-page forms
Break down forms into sections and pages for a enhanced user experience.
Form repeat
Enable users to duplicate a form field for multiple entries easily.
Push notification
Configure Push Notification alerts to get notified instantly on receiving form entries.
Navigation
Redirect users to other page, url, app after form submit.
The brand needed a solution to go from ideas and concepts to working apps fast. With DronaHQ, they are rolling out multilingual form apps like store inspection form, counterfiet product reporting form and more, using mobile-native UI controls for field team to seamlessly capture business critical data on-the-go.
Scheduled automations
Automate form-related tasks at specific times or intervals or webhook triggers.
PDF reports
Generate PDF reports based on the collected form data.
Analytics and tracking
Monitor and analyze form usage, entries, and performance.
Task assignment
Assign and manage tasks related to form submissions. Auto assign tasks upon receiving form entries.
Calculation fields
Perform real-time calculations within your forms based on user input. Use APIs, JS or formulas.
Offline forms
Create forms that can be used without an internet connection.
Scan barcodes
Capture barcodes using your forms and process the captured barcode data into your form workflow.
Capture images
Allow users to upload images within the form.
Upload documents
Collect various file types as form attachments.
Collect esignatures
Enable digital signatures for document approvals, forms, contracts, and agreements.
Geolocation
Capture location data with GPS information.
Kiosk mode
Set up forms for kiosk or self-service environments.
Captcha
Implement Captcha for enhanced form security.
OTP
Use OTP field to capture one-time passwords for user verification.
Encryption
Secure form data through encryption techniques.
Hidden fields
Include hidden fields for additional data capture.
Pre-fill forms
Populate form fields with predefined information.
Public forms
Share forms with the general public.
Embed forms
Integrate forms into websites and applications.
Custom domain
Use your own domain to brand form urls.
Custom branding
Whitelabel forms and customize themes and styling to match your branding.
Conditional logic
Create rules to display form elements conditionally.
Gated forms
Add login screen to your data collection tools.
Mobile forms
Forms you build on DronaHQ are mobile optimized. Share with a link or download as an app.
Try online form builder for free
Effortless build secure and compliant forms with awesome UX for data collection.
Form integrations
Connect forms with other software, databases, APIs and services.
Approval forms
Set up approval workflows behind your forms.
Form section
Group related form elements within a container.
Responsive forms
Design forms that adapt to different screen sizes.