DronaHQ Architecture supports Digital Transformation
When Digital Transformation comes up as an Agenda in Enterprises, it immediately is followed by two things, deciding the roadmap and an array of procurements of different solutions to solve a matrix of new problems that comes up at the particular point in the roadmap. Honestly, going digital is not a rocket science, but it does come with almost the same amount of disruption.
Organizations decide to go digital mainly because the planet, as whole, is going digital. Everything, and we mean everything, is jumping to the Green and Blue ships. And rightfully so, digital transformation has enabled processes to be executed within nanoseconds, things that used to take days and weeks before. Organizations see the point in that investment, 'it simply speeds up things a lot while sustaining the planet'. Going digital primarily means taking their legacy systems and making them accessible over the Internet and that is scaled up to the point that the legacy data, which was once dealt with manually, now, is a matter of bits and bytes between machines talking to each other, the darling child of today's digitization, Internet of Things.
When organizations set the wheels of procurement in motion; right from solutions for development and deployment of internal and business apps, mobile or web, to defining policy of digital media, used to access enterprise data; organizations unknowingly fetter into uncharted territory where they get primarily educated by vendors, pushing their solutions. This is where they get introduced to terms like "Mobility Ecosystem" and "Enterprise Mobile Management" or "Mobile Enterprise Application Platform". Then the solutions like "Mobile Application Management" or "Mobile Backend as a Service". These terms drop heavy cost and knowledge bombs on the newcomers but they exist to serve a specific purpose.
Below is a holistic view of Mobility Ecosystem.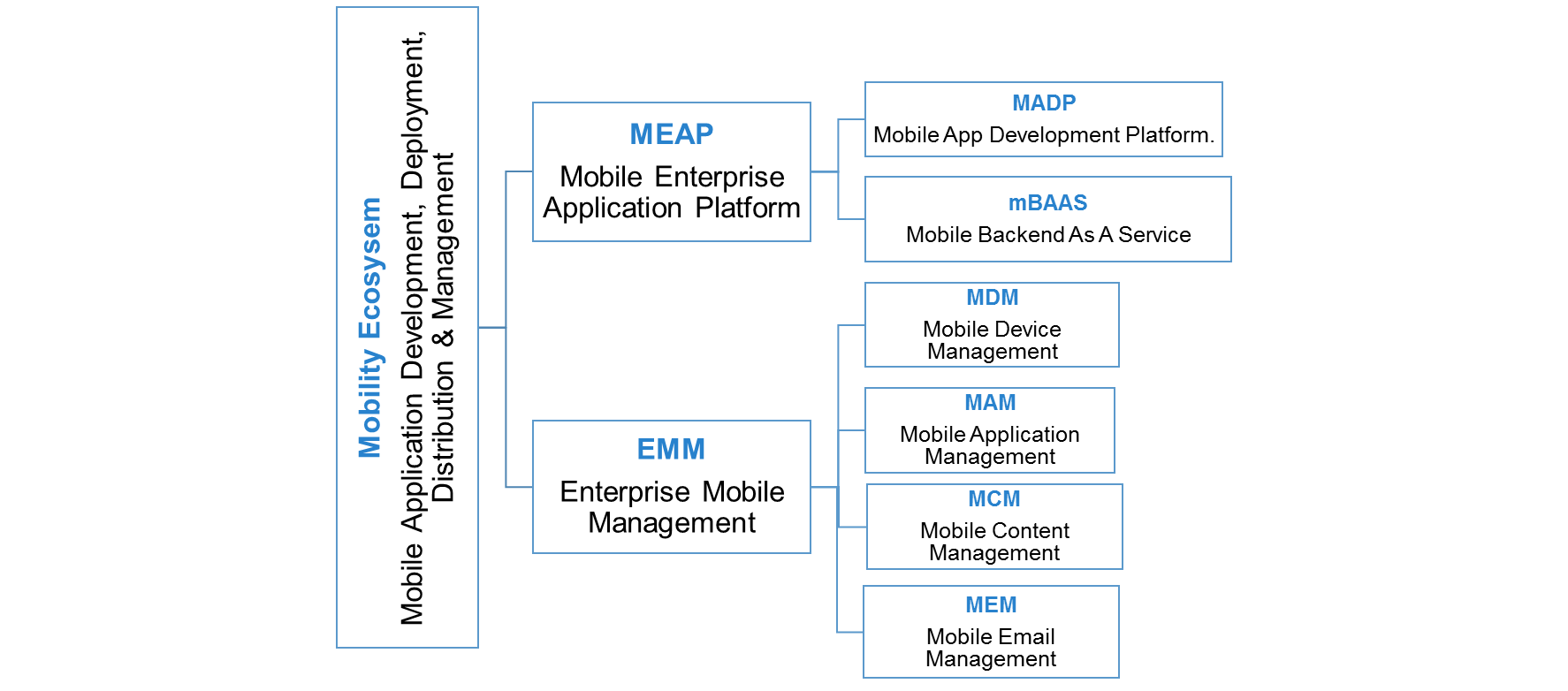 So while decrypting the chart above, organizations start deciding the roadmap for their digital transformation. Are they standardizing their internal apps development, if yes, web or mobile, and again, are they adopting a hybrid platform? When it comes to managing the data for these apps, are they managing the data and APIs internally or they are looking to move that segment out of house? Have organizations figured out the Dev-Ops involved in their transformation journey? How adept and agile is the development and deployment to user adoption?DronaHQ comes into the picture at this stage. DronaHQ is a "Mobile Container as a Service" player and by that we mean, we provide a Container to the organizations which acts like their own pseudo-OS, one of its kind, available on Web, Mobile and Desktop, that works on a basic principle, "Develop once, Deploy instantly, Access everywhere".The Platform empowers the organizations to develop hybrid apps with a native feel for devices across the chart including Smart Devices, Web Interfaces, Mobile Platforms as well as Desktop applications. DronaHQ Architecture, at its core, supports Agile development and deployment focused on achieving maximum user adoption. Building Native features within the apps along with other components is a highly rigorous and resource consuming task in itself but with DronaHQ, the entire app building aspect is broken down to merely plug and play.Enterprises also need to create a secured API Gateway which is exposed to the public internet in order to facilitate working of their apps and DronaHQ Platform is adept in facilitating this. The simplicity with which the Architecture welcomes Integrations of all sorts with the Platform is pure beauty and a state of the art masterpiece.App Management and the needed features of MDM packed in a User-friendly and Enterprise-friendly BYOD policy is the star of the DronaHQ platform, new adopters whereas find it adequately feature-rich, seasoned organizations who are way ahead in their transformation curve do find it useful to have a dedicated console to manage internal apps. When it comes to the above solution stack, DronaHQ Platform does provide a lot of modules, which are streamlined to achieve the goal of transforming the organization digitally and not focused on selling our Bill of Materials (which in itself is highly comprehensive).

When it comes to developing Apps, the platform supports Agile Methodology and when it comes to deploying them, the platform does that Over The Air, inline and above-line the industry standards accepted globally when it comes to security practices (App, Infrastructure and otherwise), user experience and system integrity.

Feel free to obtain our free case study on how it was our honour to go hand-in-hand with one of the leading organizations on the planet, in their journey to transform digitally.
Copyright © Deltecs Infotech Pvt Ltd. All Rights Reserved