DronaHQ launches new UI Editor
At DronaHQ, we believe speed is the name of the game & today we launch one of the most important missing links in our tooling – a simple UI editor.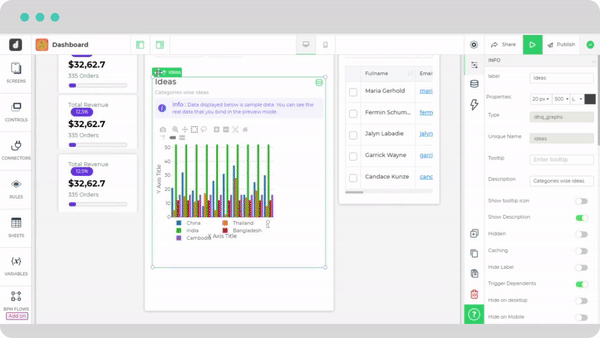 All this while DronaHQ had only one option to build UI – a sophisticated and advanced UI editor. While the advanced editor is extremely powerful but it also meant a need for a very high level of expertise around CSS and HTML to build the pixel-perfect user interface. Sure it helps to build professional-grade UI with an ability to go responsive on its design and hence support mobile, tablets, desktops or any form factor. But when it comes to building internal tools or workflow apps – seldom our customers are finicky about the Ui. They rather cared for:
Building everything for a single form-factor
Ability to do it fast
Do it with simple drag & drop
Ability to place it anywhere
Ability to resize any control
This deep customer understanding seeded the path for building a new editor for this specific user persona. Today after three+ months of laborious building and testing we are proud to release this new WYSIWYG editor in beta for all our customers. We would love to have you give it a spin and also send your feedback. We do have a roadmap to further strengthen this new UI editor to make it more powerful for the user persona who is not design or CSS savvy.
Just for the curious souls:
Both the advanced and the new UI editor are going to exist simultaneously. End-user will have a choice to choose the editor
The choice for the editor would run at a screen level and not an app level. This means that your app can have a mix of highly pixel-perfect screens and simple screens.
Take the new UI editor for a spin here.
Copyright © Deltecs Infotech Pvt Ltd. All Rights Reserved