Give your Management teams the Dashboard Apps that matter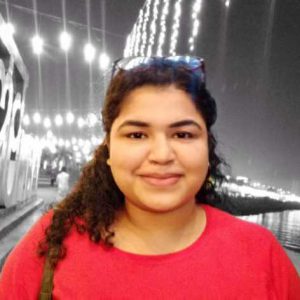 Enterprise systems can be complex.
They consist of multiple subsystems that hold crucial business information such as financials, resource and material (inventories), sales leads, customer relations and much more. Each task-based system stores its own (redundant) datasets and it is difficult for these to be correlated efficiently. In the long run, the maintainability as well as the adaptability gets impaired as data exchanges between the systems and organizational departments become increasing complex and inconsistent, in turn presenting a challenge to become agile. A unified dashboard giving all the key data a single view can go a long way in your business's success.
In today's fast-track business ecosystem, it is crucial to be agile. Different data sets from multiple disconnected enterprise systems will continue to grow rapidly. Getting actionable insights at the right time, anywhere in a secure manner is going to remain key to business success.
An alternative to bringing the data together so it speaks one language is collating it on spreadsheets, say Excel. What starts as a simple project grows and grows to a point where it becomes a behemoth – a point where you start facing speed, stability and multi-user issues. Moreover, there will never be enough time to sift through multiple spreadsheets and workbooks to find the needed information to make the best decisions.
User Scenarios 
 1.  You are the Marketing Head of a SaaS platform company. You use a bunch of SaaS platforms like Intercom, Active Campaign, Pipedrive, Slack, Freshdesk. In addition, you also collect website traffic information (GA), leads from your social media engagements (LinkedIn, Facebook, Twitter). You want to see how your activities on each of these platforms are performing, the engagement level, number of new leads and so on.  
A prospect retweets your blog post and you want to take a note of that and send a targeted email minutes later. The next time they engage on your website, you want the chatbot to display a reference/discount code along with the offerings. While you want all the data represented on one single screen for easier KPI evaluation and planning, you also want to drive cross-platform, targeted communications, all in real-time.  
 2.  Let's consider another user scenario: As the Operations Head in a large manufacturing company, you are tasked to manage manufacturing plant across various geographical regions. You need real-time and accurate data on the performance to track and optimize processes; information like plant downtime, turnaround time, raw material inventory, production rate and so on. Each of these functions in every plant is creating reports of its own. A dashboard can provide the right information, trends, historical data and more for you to identify which facility if performing better and which is lagging along with real-time alerts on non-routine attention. 
Any goal-oriented manager will benefit from a customized unified dashboard summarizing information that will provide with immense value in getting real-time updates on the KPIs you want to track.
Enable seamless standardization to discover patterns
Having a single dashboard for all enterprise systems can help. It can significantly improve the lead time and the quality of insights. A mechanism to automate repetitive fetching of data, compiling it and making sense out of it, extracting and generating KPIs will make the jobs of the managers and the employee a lot easier, giving them more time to be productive and make business plans efficiently. 
Key benefits of a unified dashboard

– Graphical presentation of real-time data
– Ability to generate detailed reports for multiple levels
– Improved productivity with faster access to information
– Ability to make more informed decisions based on collected business intelligence
– Complete visibility into all systems instantly
– Clear, concise results illustrating patterns, trends and pain points
How to achieve this unified dashboard?
In-house development of a dashboard can take up your IT teams already limited time and resources. The smart solution to this situation is empowering the person who understands the requirements best to take the app approach. No-code platforms enable managers to create solutions without writing any code, at 10x the speed and 1/10 the cost- no traditional development skills required.
Connect the app with your CRM, Email tools, social media platforms with API Integrations to push and pull data from your favourite enterprise systems
Control the best visual tool for each data type with Drag and drop UI builder to design your screen and how the data will be represented and interacted with; pie charts for team performance, line charts for SKU sales over the month
Group data logically with Columnar Database  to aggregate the KPIs you need to monitor; ensuring only the important metrics to make clutter-free dashboards
By taking the task in your own hands you can factor in who the audience of the dashboard is going to be based on the scope of requirements.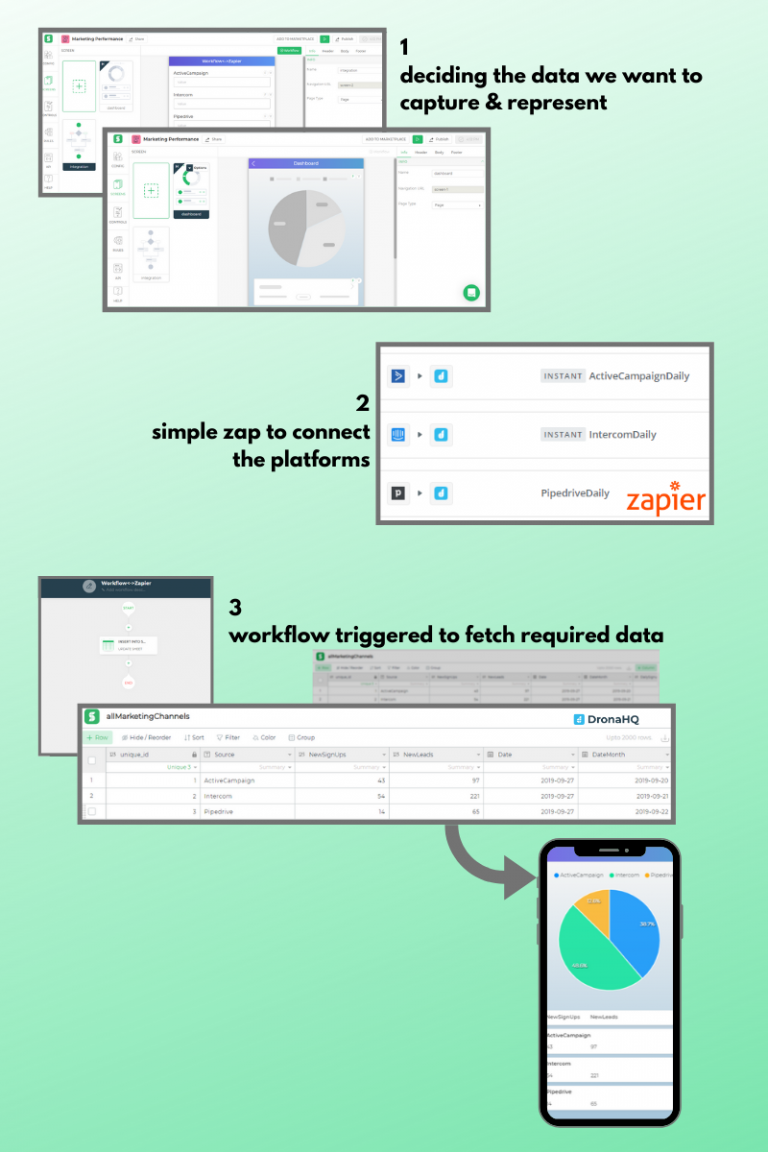 Why you should build your own dashboards?
Purpose-based, off-the-shelf products/software may meet the dashboard requirements, but they do not offer users the flexibility to select the features they require or don't require. In addition to non-flexibility, they need additional work to get the system ready for its optimal use in your organization. Customization, training and migrating data; all this can take time away from your other business tasks. 
With a custom-built dashboard, you achieve a 360-degree view of your business-
1. Track Relevant KPIs
2. Role-based views
3. Visually analyse trends
4. Secure apps to safeguard your corporate information/data
5. Anytime, anywhere mobile dashboards
6. Multi-user editing 
7. Shared spreadsheets
8. Data validations
9. Unify online as well as offline data (for instance Google analytics + CRM)
Are you ready to give it a try?
Now that the scenario is broken down to you, we would love to see you take action and make your dashboards. Don't hesitate to reach out to us with the challenges you face or the solutions you need. 
Copyright © Deltecs Infotech Pvt Ltd. All Rights Reserved