Low code app development makes it easier than ever to create custom apps with great flexibility and agility. By providing the building blocks that IT users need to assemble complete applications, low code abstracts away the code behind actions and commands, making it possible for IT to create apps and tools at a very high pace.
Why is Low Code Important?
Low code platform drastically reduces the amount of custom code that needs to be written and increase the amount of reusable code and components, helping businesses stay ahead of market trends and user demands. They provide direct integrations with major databases and apps and enable IT to inject custom code where required, rendering the technology highly extensible at the same time.
Time-to-value
Low code removes complexity from building modern business apps. With low code, organizations are better equipped to adapt faster and respond quickly to rapidly changing business requirements.
Scalability
Low code enables you to develop a variety of tools ranging from innovative automations to legacy systems modernizations, easily delivering continuous updates to create engaging mobile and web experiences.
Business and IT Collaboration
Low code development empower literally anyone within an organization to speak the same development language and create apps of any complexity on one platform. It helps break down silos to foster a strong business-IT partnership.
Security & Governance
Low code include important security features like access control and threat assessments that allow security to be configured and monitored easily. Role-based permissions allow the admin to add extra layer of security.
Low Code Platform Features
Low code development dramatically reduces the amount of time required to build and launch cutting-edge internal tools and apps.
Visual modelling tools
The visual modelling tool, usually a drag-and-drop interface, helps developers by reducing the lines of code that needs to be written to a minimum. Using the interface, app makers can design UI, write queries, model workflows, and declare front-end logic.
Connectors
Low code development offers various kinds of native integration to database, APIs, and back-end services. This allows to work with all data sources seamlessly. Users can register APIs with just few or zero lines of code if a ready connector does not exist.
Component Reusability
Low code app development tools come with pre-built controls as well as the ability to create new controls. These controls can be reused to develop different solutions more quickly, making app development more efficient over time.

App Lifecycle Management
With developer-friendly capabilities like version control, audit logs, authentication, user access permissions, debugging and app testing across dev, beta, staging environments, low code promises speed and agility across the application lifecycle.
Frequently Asked Questions
Is low code the future?
Gartner predicts that more than 65 percent of all business apps will be built using low code by 2024. The total market for low code development platforms, is expected to hit as high as $45.5 billion by 2025. Low code is expected to have a dominant position in the future of business application development.
How Can I Learn Low-Code
Anyone in the organization can learn to use a low code platform. Capabilities like drag and drop, visual workflow builder, and ready UI templates help users easily visualize and build apps on low code platforms.
What Is Low Code BPM?
Low code platforms give app development capabilities into the hands of users who understand the process best to design workflow management apps at speed. From simple processes like order tracking and approval cycles to complex workflows like inventory and work order management, one can build extensive BPM apps and workflows.
Low-Code vs Traditional Development
Contrary to traditional coding of apps, low-code app development takes advantage of visual development tools—like drag-and-drop modelers, smart services, components, and pre-built connectors—to enable the rapid creation, launch, use, and maintenance of powerful business applications.
What does low code mean?
Low code is a software development approach that enables one to build applications and processes using visual interfaces with simple logic and drag-and-drop features instead of extensive coding languages.
What is low code development and why is it important?
Low code development platforms provide building blocks that IT users and citizen developers can utilize to build apps and workflows using visual approaches. These building blocks abstract away the code behind actions and commands, making the app development process fast and seamless and accelerating the digital strategies of the organizations.
What is a low code app?
You don't have to code line-by-line to create a low code app or process automation. Instead, you visually design it like you would a flowchart.
Will low code replace developers?
By abstracting away repeating line of code and by empowering citizen developers to build apps, low code platforms speed up the jobs of the developers, freeing up their time so they can focus on more critical tasks.
What is the best low code platform?
Low code platforms come in all shapes and sizes. This is good news for customers as they get to choose from a large pool of low code vendors that may be specializing in specific domains. The best low code platform, however, is one that can single handedly deliver the output that may otherwise require separate software applications.
What is low code automation?
Low code automation combines the most critical capabilities needed to automate organization wide workflows that may be manual routine tasks, integrating disparate systems, execute complex processes, facilitate collaborative work, executing complex business logic.
Who can use low code at my organization?
Anyone from a line of business manager to a professional developer can use low code platform to build internal tools and applications. The platform's intuitive capabilities make it possible for technology leaders to empower anyone within the company to create apps and automate their work.
What can you create using low code platforms?
Low code helps to create a wide range of applications for employees, partners and customers. Most commonly low code platforms have been used to built employee and partner-facing web portals and mobile apps to innovate and optimize their functions, and extend or replace existing legacy systems. Some of the most common use cases created on DronaHQ include Database GUIs, Admin Panels, Data Capture Forms, Lead Management Tools, HR Apps.
How secure are low code applications?
Leading low code platforms ensure that application, infrastructure, and data protection controls are in place to protect your applications from the most critical security risks. Apps built using low code platform are more secure as with standard security certification, the platforms take care of many security concerns that are usually overlooked during the traditional development process.
What is the difference between low code and no code?
During app development, there are features that may require further customization. While no code platform lets users build highly complex apps, low code gives further flexibility to add heavy customization like a custom UI or a highly tailor made business logic on a cloud-native architecture. This make low code more readily acceptable by the development teams.
Try DronaHQ Low Code Platform
Easy to use yet powerfule low code app development platform to build Internal Tools and Operational Apps on top of your data sources

100+ Pre-built UI Components
Ready API and Database Connectors
Build Apps for Web, iOS, Android
Security and administration
Unlimited Users Supported
Trusted by Fortune 500 companies, SMEs and IT Consultants.
Grab resources to get you started with rapid application development for enterprise.
Tool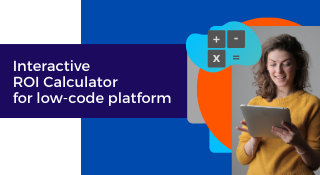 Low-code ROI Calculator
Objectively define the value low-code creates for business.
Guide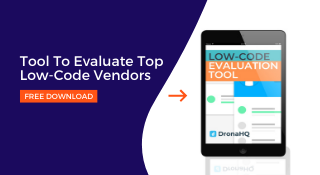 Vendor Evaluation Tool
How enterprise leaders select right top low-code platform vendors?
eBook
Enterprise Team's Guide
How low-code helps IT Leaders, Developers and Business Users.