MAM vs HTML5 app container
If you are currently working towards evaluating MAM vs MDM for your organisation then here is an important dimension for you to consider – HTML5 app container.
Before we start comparing here is HTML5 app container in brief for starters:
As the name suggests, HTML5 app container is a MAM like app container to host multiple HTML5 apps in a single container like app. Containers like DronaHQ comes pre-built with user management, upgrade management, push notifications & inbox, security stack that speeds up building your html5 app as repeat functionality need not be built and essential device features can be accessed by onboard cordova like bridge.
Lets compare the essentials of MAM with HTML5 DronaHQ container: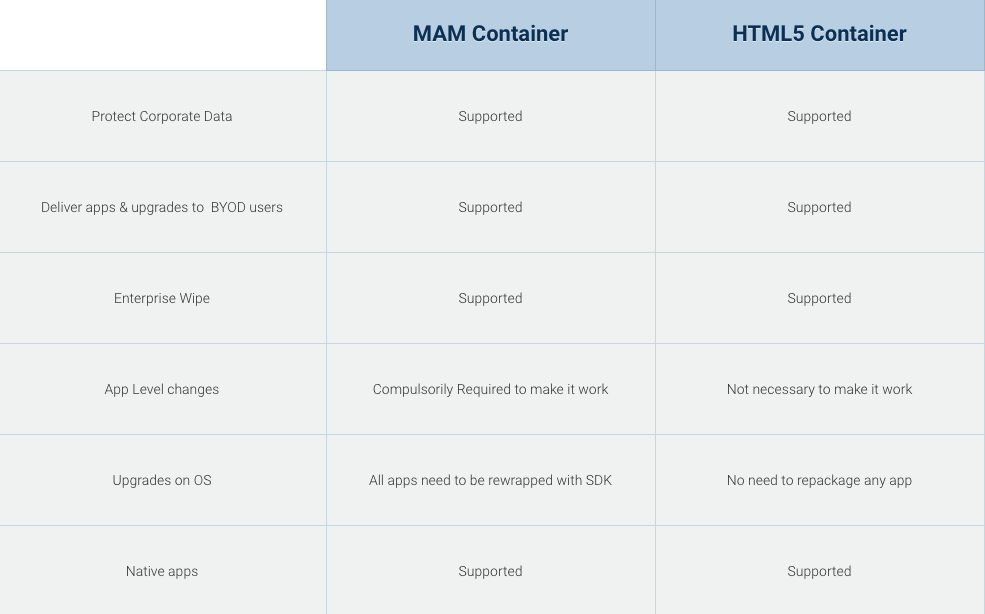 Corporate Data
In BYOD setup, you care about protecting data and apps rather than devices. Both MAM as well HTML5 container provides a way to do that. However the caveat is: HTML5 container only does it for HTML5 apps, while MAM can do for any app
Deliver apps
Both the containers can deliver apps and upgrades on real time basis. Difference is on MAM – for every app, installation is a must. However with HTML5 container, installation is not needed
Enterprise Wipe
Both the containers provide controls to delete a user's apps and data within the container. One thing that MAM can do is control deletion of native apps
App Level Changes
To deploy apps on the container, MAM needs all apps to undergo wrapping process. DronaHQ container has APIs to integrate SSO, but not a necessary step to deploy apps
Upgrades on OS
MAM needs all apps to undergo re-wrapping all apps with new MAM SDK to fix breaking issues on every app. DronaHQ container doesnt need any rework on apps to make it fixed – just the container undergoes an upgrade
Native apps
MAM has better control on native apps in terms of security and enterprise wipe. DronaHQ on the other hand just allows to hosts native apps but provides no mechanism to control it
We would love to hear your questions and answer them here on comments. You can always reach out to me at divyesh@dronahq.com to know more.
Divyesh Kharade
Co-Founder DronaHQ, on a quest to disrupt the Enterprise Mobility space.
Copyright © Deltecs Infotech Pvt Ltd. All Rights Reserved