Enterprise Mobility: Then, Now and Future
Admin on September 24, 2015
Enterprise Mobility first initiated with enterprises providing Blackberry to their employees and approach was mobile device management. But Apple iPhone and Android changed the complete mobility game. With Bring Your Own Device (BYOD) and Choose Your Own Device(CYOD) concept controlling and managing mobile devices typically owned by employees has turned out to be an impractical strategy.But ultimately enterprises found that they are more concerned with sensitive enterprise apps and data and not individual devices. Practically it is the use of data and apps that drives business productivity. Looking ahead, enterprise mobility has evolved with a clear focus on application management rather than focusing on entire device and there comes the concept of Mobile Application Management.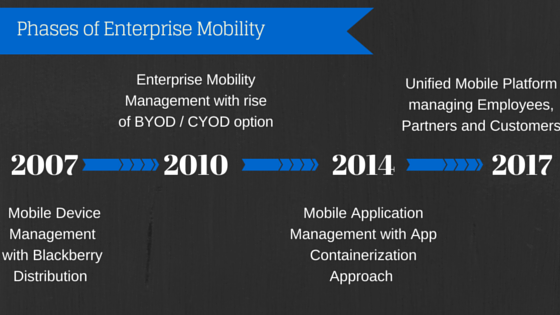 Now every enterprises who are thinking mobile are evaluating or at least considering mobile application management solution that has an enterprise app console, ability to secure mobile applications on the device, authenticate end-users, separate business and personal apps, and restrict apps whenever necessary.

According to IDC Report

"IT organizations will dedicate at least 25% of their software budget to mobile application development, deployment, and management by 2017"

But while evaluating Mobile Application Management solution, enterprise should keep in mind even after mobilizing apps, they may struggle hard with user adoption and usage. Typical reason is users hate logging into various 'Enterprise apps' and apps asking for 'update/upgrade' frequently. Fortunately Mobile Application Management with Containerization Approach has evolved in such a way that enterprises can push all business apps over the air for upgrade/update without bothering employee to take action every time.

Considering all the discussion above, product like DronaHQ, leading Mobile Application Management provider with 'Containerization Approach' comes into picture-helping enterprises to create and deploy multiple mobile apps on a single platform over the air. DronaHQ with Simplified Enterprise Mobility Platform has redefined entire game by:
Allowing quick mobilization of existing web content and apps
Eliminating platform specific development.
Eliminating individual wrapping of all your web content and applications
Improving distribution of web content and apps
Allowing over-the-air updates
Reducing burden of web content and app management.
Currently enterprises are focusing completely on mobilizing business for employees only.Companies will be working with their partners and customers to complete entire mobility journey. Finally, around 2017, enterprises will be looking to unify their mobile platforms to support employees, partners and customers, in what we are calling a Unified Enterprise Platform
Copyright © Deltecs Infotech Pvt Ltd. All Rights Reserved