DronaHQ will participate at CEBIT 2018 – Festival of Innovation & Digitalization
Press Release: 30th May 2018.
DronaHQ will launch new version of its product 'DHQ studio' at CEBIT 2018
To showcase its line of digital enablement products for enterprises 2018
Mumbai, June 11, 2018: DronaHQ, a digital enablement platform for enterprises, will launch the newer version of its product 'DHQ Studio' and showcase its product suite for digital transformation for enterprises, at CEBIT 2018 in Hannover, Germany.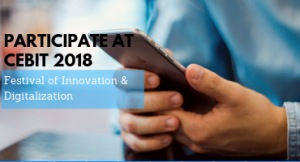 DronaHQ team will be available in Hall 27, Stall C62/8. The company is actively looking for channel partners and system integrators in Germany and across Europe who can help to empower organisations with tools and capabilities for effective digital transformation and frictionless operations.
"DHQ Studio is a visual front end composer for designing cross platform modern apps that can be accessed from smartphones, tablets, desktops, browser. Studio is most feature-rich drag and drop to create a rich user experience. Making it a perfect rapid low-code App Development platform"
Jinen Dedhia, Co-founder & MD, DronaHQ, says, "DronaHQ platform enables enterprises to unlock productivity by offering simple solutions at speed and scale.  We are delighted to be a part of CEBIT 2018 and will use this opportunity to present our latest version of products like DHQ Studio and API Genie – a tool that converts legacy apps to modern apps very quickly."
In essence, DronaHQ's digital enablement platform, delivers enterprise transformation by combining advanced tools and powerful analytics with speed and at scale. This enables clients to reach their full potential by extending the power of digital through their organization.
About DronaHQ
DronaHQ (https://dronahq.com ) is a digital experience platform for designing, developing, distributing & managing modern apps that span across multiple digital touchpoints like smartphones, smart devices, tablets, desktops, voice assistants, chatbots, browsers and more.
DronaHQ platform offers high-productivity development tooling for professional and citizen developers to easily build new apps and experiences with little to no coding. It enables enterprises to quickly digitize existing systems or build new fit-for-purpose apps while securing their existing investments. It supports continuous integration and delivery across a variety of apps and experiences, with broader DevOps tools and practices. DronaHQ address the requirements of diverse enterprise use cases, including external-facing and internal-facing scenarios, to support a unified digital experience.
DronaHQ has been a proven and stable platform of choice for many business leaders, CIOs and Innovation teams with its efficient, comprehensive business solutions.  Its customers include a range of industries, such as banking & financial services, healthcare, manufacturing, retail, technology, FMCG & telecommunications with clients including Colgate, LTI, Mondelez, Kotak Securities Axis MF, Pfizer, Wipro, Future Group, Essar, Tata Motors.
Founded in 2007, DronaHQ is an ISO 27001:2017 & SOC Type II certified company with operations in Mumbai, Bangalore and New York and works with over 10 SI partners. DronaHQ has over 300,000 users across 100+ enterprise customers with over 1000 apps digitized on the platform.
About CEBIT 2018
CEBIT is the biggest IT trade show in the world organized by the Deutsche Messe organization, which attracts exhibitors and visitors from all around the globe. This year, the theme is digitization of business, government and society from every angle.
CEBIT fair is an opportunity for investors, influencers and brands to know the latest markets trends, startups, innovations, and digitalization that encompasses all spheres of doing business. Besides these events, you can expect presentations on brand new technologies.
Press Contacts:
inquiries@dronahq.com
Copyright © Deltecs Infotech Pvt Ltd. All Rights Reserved