What is the DronaHQ Container?
Isolated containers are packaged with all that's required to make an app run. Each modern web app is sandboxed and deployed, offering needed resources and more security. Unlike native apps, containers do not bundle all the app features, only libraries and settings required to make the app work. That's how you get efficient lightweight fast modern apps.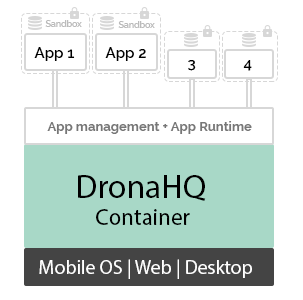 DronaHQ For Developers
DronaHQ allows developers the freedom to focus on one task – building a great app. It eliminates repetitive tasks of setting up policies and developing functionalities such as offline sync, LDAP, SSL pinning, SAML Integration, enterprise data sync, data encryption, data wipe, and enterprise data source integration.
Developers need not configure and build complex enterprise engineering layers for each OS platform nor worry about switching between incompatible OS versions. When an app is built on DronaHQ, that complexity is pushed into containers that are easily built, shared and run. Launching a new app need not take hours. Anyone with web skills or using the DronaHQ Visual Editor can build and debug the app in minutes.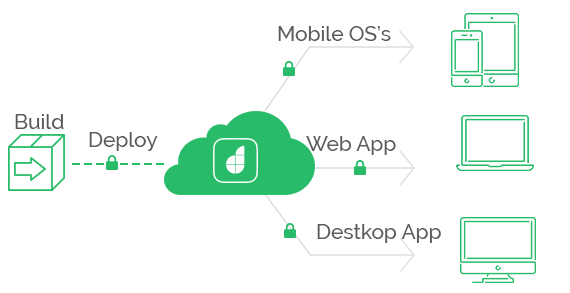 Build Once, Run Anywhere
Build, test, debug and deploy modern web apps and run on any container – mobile (iOS, Android, Windows), desktop (Windows, Macbook) or browser (Chrome, Safari) without the risk of incompatibilities or version conflicts.
Build, Test & Deploy in Minutes
Reduce development effort by 75%. Build, test and run complex multi-container apps quickly. Stop wasting time installing and maintaining apps for different OS, platforms and versions. Do all this on DronaHQ with just web development skills. No re-writing code for enterprise or security polices or reworking user management for every new enterprise app.
DronaHQ for DevOps
DronaHQ streamlines deployment and maintenance of apps. Develop and deploy bug fixes and new features without app store delays and roadblocks. Scale applications in real time.
DronaHQ is the secret weapon for developers and IT ops teams to build, ship, test, and deploy apps automatically, securely.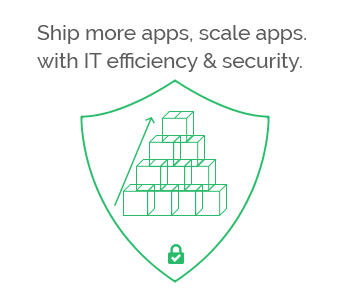 Ship 7X More Apps
DronaHQ platform users ship apps on average 13 times more frequently. Teams using DronaHQ push software updates quickly and get fixes and new features to users faster.
Scale Quickly
Built in orchestration scales to n number of enterprise apps and managed and unmanaged devices. DronaHQ cloud spin up and down in seconds, making it easy to scale application services at peak and low user demand.
Improve IT Efficiency
Save up to 700 in personnel hours per app development, maintenance and support project. DronaHQ makes it easy to build cross-platform, cross-device apps, and deploy and upgrades apps over-the-air and reduce overall IT operational costs.
Guaranteed App Security
DronaHQ Cloud offer provision to set enterprise controls and security policies for IT team. Get CISO approval for your container once, all modern apps deployed thereafter don't have to go through the process.
DronaHQ for Enterprise
DronaHQ is just the right platform for your Digital Transformation esp. Mobility needs. DronaHQ supports Mobile, Desktops & Browsers. DronaHQ cloud, core, container, visual editor, API gateway launcher make a powerful suite for enterprise to embrace Digital Transformation. It enables all apps to be cross-platform, cross-device accessible, agile, cloudy-ready and secure at optimal costs.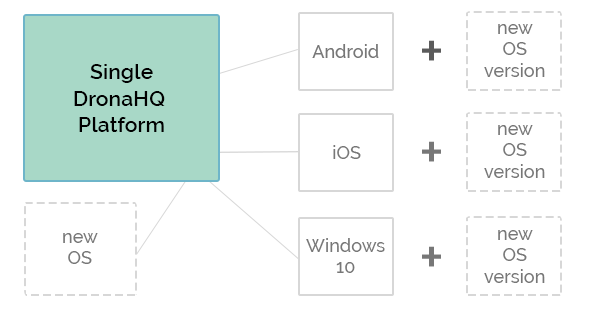 One Platform for All Apps
DronaHQ provides a unified framework for all apps - Mobile, Desktop, Browser - a container and modern web apps for secure, agile and scalable apps.
Smart Development
Open interfaces, APIs, and plugins makes it easy to integrate DronaHQ into an existing environment and extend DronaHQ to different systems.
Innovate Faster at Scale
DronaHQ containers accelerate delivery of new apps with Over-The-Air upgrades. New features can be released (or rolled back) frequently to quickly address user needs. New users on managed and unmanaged devices can be added with
Get started today
Android, iOS, Windows Phone 8+